The Northern Football Netball League's best footballers, netballers and umpires were recognised at the 2018 Rosbrook Medal Night on Wednesday.
Heidelberg skipper Michael Brunelli and Macleod midfielder Lucas Hobbs shared the Frank Rosbrook Medal as the best and fairest player in Meadows Greyhounds Division 1.
Brunelli was runner-up to Matthew Dennis for the 2017 award and this year went one better. It capped a big three seasons for Brunelli – who guided the Tigers to the premiership in 2016.
Hobbs is the first Macleod player to win the Division 1 seniors best and fairest since Geoff Noble won the award for Macleod-Rosanna in 1969. A four-time NFNL representative, he represented Vic Metro this year and helped steer Macleod to a fourth-consecutive grand final.
Brunelli and Hobbs polled 21 votes to finish two ahead of Macleod defender Ned McKeown. Bundoora livewire Peter Hood, West Preston-Lakeside ruckman Mark Kovacevic and North Heidelberg midfielder Jesse Tardio finished on 15 votes.
Lower Plenty skipper Patrick Flynn capped a massive week by taking out the A Plus Labour Solutions Division 2 best and fairest. Just four days earlier Flynn was best afield in the Bears' remarkable six-point grand final win over Eltham.
Heidelberg West ruckman Jarryd Coulson went back-to-back for the Heidelberg Golf Club Division 3 best and fairest. In doing so, he became the first multiple winner of the third division award.
Keilor's Sarah Wright won the ANZ Women's Division 1 best and fairest – polling 24 votes to finish 10 votes clear of her closest rival. Wright also won the 2017 Western Region and Essendon District Senior Women's Football League best and fairest award.
Catherine O'Bryan triumphed for the ANZ Women's Division 2 best and fairest after also winning the best on ground medal in West Preston-Lakeside's grand final win, while Bundoora premiership star Rainbow Ebert won the ANZ Women's Division 3 best and fairest.
Diamond Creek star Stacey Gannon won her third Section 1 netball best and fairest after this year guiding the Creekers to their ninth-successive premiership win, in which she was best afield in the grand final win. Gannon also won the best and fairest award in 2012 and 2010.
Other netball best and fairest award winners were: Chloe Gray (Diamond Creek) and Lauren Henderson (Ivanhoe, Section 2); Holly Denholm (Craigieburn) and Crystal Phillips (Heat, Section 3); Ciara Hanlon (St Mary's, Section 4); Natalie Montanari (Epping, Section 5); Natasha Atkinson Brown (Keon Park, Section 6); Amy Goodwin (Whittlesea, Section 7); Montana Powell (Reservoir, Section 8); Holly Ditchfield (Montmorency, Section 9); Maddison Filev (Watsonia, Section 10) and Michelle Soon (Thomastown, Section 11).
Northcote Park defender Paul Dirago was named the Division 1 Coaches MVP. Eltham midfielder Brent Macaffer took out the award in Division 2, while Laurimar's Mitchell Thompson was the Division 3 winner.
Meanwhile, Sarah Wright did the double to take out the Division 1 Women's Coaches MVP. La Trobe University's Kate Bond won the Division 2 award, while St Mary's Stephanie Trkulja was the winner in Division 3.
St Mary's was named the 2018 Senior Club of the Year, Adam Walker was awarded Best Senior Umpire, Laura Crowther the Netball Umpire of the Year, while Kilmore's John Atkinson and Panton Hill's Carol Jenkinson shared the Volunteer of the Year award.
Below is the list of award winners from the 2018 Northern Football Netball League best and fairest awards.
For the full football and netball best and fairest vote listings, as well as the Coaches MVP votes listings, please click on the links below.
DOWNLOAD: 2018 NFNL Football Best and Fairest Vote Listings
DOWNLOAD: 2018 NFNL Netball Best and Fairest Vote Listings
DOWNLOAD: 2018 NFNL Coaches MVP Vote Listings
2018 MEN'S FOOTBALL BEST AND FAIREST RESULTS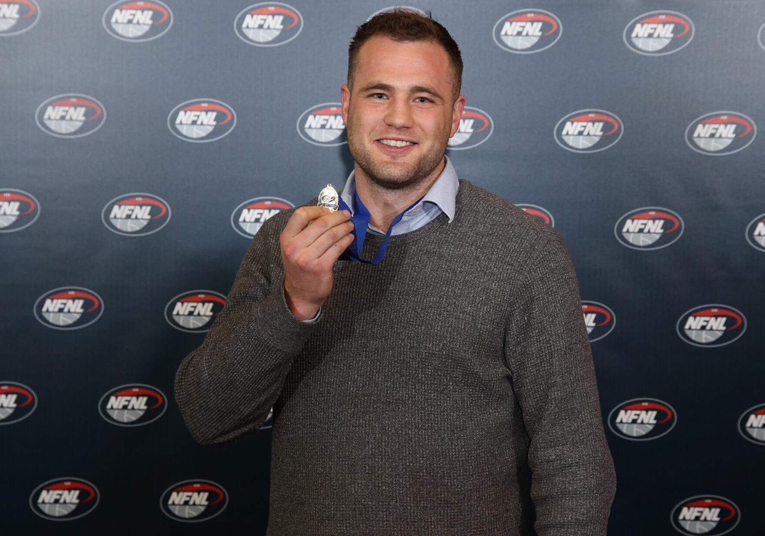 Division 1 Seniors – Frank Rosbrook Medal
1st – Michael Brunelli (Heidelberg) and Lucas Hobbs (Macleod) – 21 votes
2nd – Ned McKeown (Macleod) – 19 votes
3rd – Peter Hood (Bundoora), Mark Kovacevic (West Preston-Lakeside) and Jesse Tardio (North Heidelberg) – 15 votes
Division 2 Seniors
1st – Patrick Flynn (Lower Plenty) – 22 votes
2nd – Tom Keys (Lower Plenty) – 20 votes
3rd – Brent Macaffer (Eltham) – 18 votes
Division 3 Seniors
1st – Jarryd Coulson (Heidelberg West) – 17 votes
2nd – Daniel Caruso (South Morang) – 16 votes
3rd – Dillan Ronalds (St Mary's) – 13 votes
Division 1 Reserves
1st – Michael Finn (Heidelberg) – 17 votes
2nd – Josh Saw (Hurstbridge) – 16 votes
3rd – Jeremy Page (Whittlesea) – 15 votes
Division 2 Reserves
1st – Jarrod Shaw (Lower Plenty) – 21 votes
2nd – Mikael Avramov (Eltham) – 19 votes
3rd – Costa Missailidis (Thomastown) – 13 votes
Division 3 Reserves
1st – Zac Johnston (St Mary's) – 13 votes
2nd – Michael Arcus (Mernda) and James Girolami (St Mary's) – 12 votes
3rd – Carson Dawson (Panton Hill) – 11 votes
Division 1 Under-19
1st – Tane Cotter (St Mary's) – 18 votes
2nd – Ahmad Ahmad (Northcote Park) and Jason Pannam (Bundoora) – 15 votes
3rd – James Williams (Macleod) – 14 votes
Division 2 Under-19
1st – Danny-Lee Rigby (Mernda) – 22 votes
2nd – Patrick Molony (Banyule) – 20 votes
3rd – Lachlan Turner (Banyule) – 19 votes
2018 WOMEN'S FOOTBALL BEST AND FAIREST RESULTS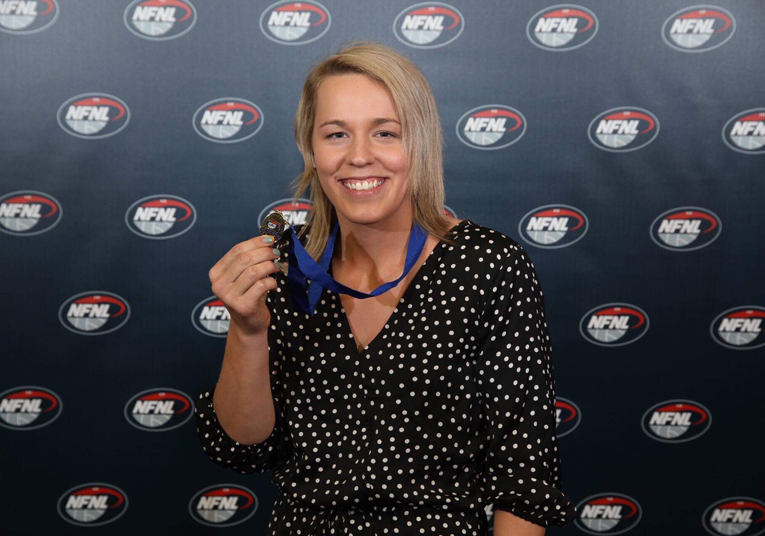 ANZ Women's Division 1
1st – Sarah Wright (Keilor) – 24 votes
2nd – Shannon Egan (Darebin), Sabrine Navarro (Keilor) and Gemma Wright (Keilor) – 14 votes
3rd – Isabella Ayre (Bendigo) – 13 votes
ANZ Women's Division 2
1st – Catherine O'Bryan (West Preston-Lakeside) – 22 votes
2nd – Kate Bond (La Trobe University) – 20 votes
3rd – Teresa D'Angelo (La Trobe University) – 14 votes
ANZ Women's Division 3
1st – Rainbow Ebert (Bundoora) – 24 votes
2nd – Jessica Hardy (St Mary's) – 20 votes
3rd – Kirsten Pocock (VU Western Spurs) – 15 votes
2018 NETBALL BEST AND FAIREST RESULTS
Netball Section 1
1st – Stacey Gannon (Diamond Creek) – 15 votes
2nd – Kate Butler (North Heidelberg) – 13 votes
3rd – Olivia Ellis (Greensborough) – 12 votes
Netball Section 2
1st – Chloe Gray (Diamond Creek) and Lauren Henderson (Ivanhoe) – 17 votes
2nd – Ebyan Cabdi (Ivanhoe) – 14 votes
3rd – Emily Carpenter (Greensborough) and Mollie Rose Marchbank (Diamond Creek) – 13 votes
Netball Section 3
1st – Holly Denholm (Craigieburn) and Crystal Phillips (Heat) – 21 votes
2nd – Jacinta Tonkin (Bundoora) – 20 votes
3rd – Rebecca Jennings (Watsonia) – 17 votes
Netball Section 4
1st – Ciara Hanlon (St Mary's) – 16 votes
2nd – Samantha George (Kilmore) – 15 votes
3rd – Freya Henriksen (Ivanhoe) and Rebecca Hocking (Kilmore) – 13 votes
Netball Section 5
1st – Natalie Montanari (Epping) – 19 votes
2nd – Annie Bugden (Macleod) – 17 votes
3rd – Abigail Sergienko (Craigieburn) and Natahlia Simonite (Northcote Park) – 15 votes
Netball Section 6
1st – Natasha Atkinson Brown (Keon Park) – 24 votes
2nd – Monique Bish (Bundoora) – 20 votes
3rd – Bianca Waligora (South Morang) – 18 votes
Netball Section 7
1st – Amy Goodwin (Whittlesea) – 23 votes
2nd – Caitlen Martin (Watsonia) – 20 votes
3rd – Carissa Grant (Whittlesea) and Emma Williams (West Ivanhoe) – 18 votes
Netball Section 8
1st – Montana Powell (Reservoir) – 33 votes
2nd – Amy Starr (Watsonia) – 22 votes
3rd – Erin Rose (Fitzroy Stars) – 18 votes
Netball Section 9
1st – Holly Ditchfield (Montmorency) – 17 votes
2nd – Shavita Vijay (Whittlesea) – 16 votes
3rd – Jessica Mandile (Northcote Park) and Emma Thomas (Hurstbridge) – 15 votes
Netball Section 10
1st – Maddison Filev (Watsonia) – 34 votes
2nd – Bianca Clamp (Lower Plenty) – 32 votes
3rd – Kellie Shannon (Reservoir) – 28 votes
Netball Section 11
1st – Michelle Soon (Thomastown) – 25 votes
2nd – Charlotte McClaren (Hurstbridge) – 20 votes
3rd – Alanah Taylor (Mernda) – 16 votes
COACHES MOST VALUABLE PLAYER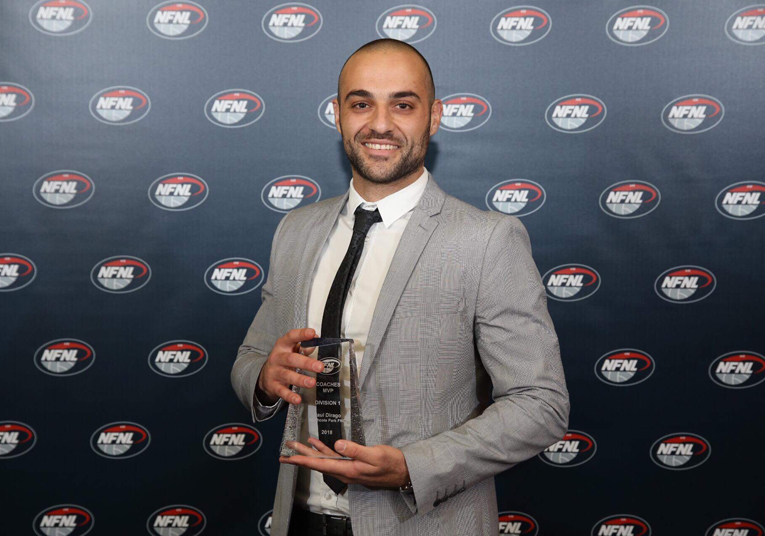 Meadows Greyhounds Division 1 – Paul Dirago (Northcote Park)
A Plus Labour Solutions Division 2 – Brent Macaffer (Eltham)
Heidelberg Golf Club Division 3 – Mitchell Thompson (Laurimar)
ANZ Women's Division 1 – Sarah Wright (Keilor)
ANZ Women's Division  2 – Kate Bond (La Trobe University)
ANZ Women's Division 3 – Stephanie Trkulja (St Mary's)
LEADING GOAL KICKERS
Meadows Greyhonds Division 1 Seniors: Shane Harvey (North Heidelberg) 63 goals
A Plus Labour Solutions Division 2 Seniors: James Kroussoratis (Banyule) 68 goals
Heidelberg Golf Club Division 3 Seniors: Rhys Boyden (Panton Hill) 58 goals
ANZ Women's Division 1: Andrea Walsh (Bendigo) 58 goals
ANZ Women's Division 2: Samantha Greene (La Trobe University) 39 goals
ANZ Women's Division 2: Amy Callaway (Bundoora) 29 goals
Division 1 Reserves: Christian Prestopino (Whittlesea) 50 goals
Division 2 Reserves: Bowen Zimbolani (Lower Plenty) 56 goals
Division 3 Reserves: James Girolami (St Mary's) 72 goals
Division 1 Under-19s: Brae Morgan (Macleod) 41 goals
Division 2 Under-19s: Jack Wilkinson (Lower Plenty) 54 goals
STAR SHOOTERS
Section 1 – Kelly Sadowy (Diamond Creek) 406 goals
Section 2 – Aysha Blade (Ivanhoe) 321 goals
Section 3 – Lauren O'Rourke (Thomastown) 272 goals
Section 4 – Amanda Balme (Bundoora) 230 goals
Section 5 – Ashlee Moate (Epping) 295 goals
Section 6 – Hayley Ozimek (Bundoora) and Natasha Atkinson Brown (Keon Park) 356 goals
Section 7 – Amy Goodwin (Whittlesea) 341 goals
Section 8 – Amy Starr (Watsonia) 354 goals
Section 9 – Sarah Craker (Whittlesea) 186 goals
Section 10 – Kellie Shannon (Reservoir) 327 goals
Section 11 – Sarah Carruthers (Thomastown) 161 goals
AWARDS
2018 Senior Club of the Year
St Mary's
Senior Umpire of the Year
Adam Walker
Most Improved Senior Umpire
Elias Kafritsas
Netball Umpire of the Year
Laura Crowther
Most Improved Netball Umpire
Rachael McKenzie
Volunteer of the Year
John Atkinson (Kilmore) and Carol Jenkinson (Panton Hill)