A review of the 2018 Heidelberg Golf Club Division 3 season.
The 2018 campaign again featured nine teams. Two teams returned from Division 2 – bottom team Panton Hill (relegated) and Lalor. The Bloods requested a move down to Division 3 after a difficult off-season which would have left them unable to compete at the higher level.
Taking Lalor's place in Division 2 was Epping – a consistent Division 3 finalist that had challenged for the flag in recent years.
After building steadily over the past two years, St Mary's produced its best season at senior level to become the dominant team of the competition. The Burra lost just one game all season and effectively sealed top spot with a win in Round 14 at Whatmough Park over Panton Hill.
St Mary's took out the premiership with finals wins over Panton Hill in both the second semi and the grand final. The Burra were superbly by skipper Dillan Ronalds. Players such as Lachlan Potter and Jake Dambrauskas assisted in the Burra taking the next step under Fabian Carelli.
The fight for the other finals places went down to the wire. Laurimar clinched fourth place in the last round – displacing Mernda. Sadly for the Demons, they were in the top four all year but fell to fifth in the last round – as they did in 2016.
Panton Hill put aside a few difficulty years in Division 2 to claim second spot. South Morang finished third – a great achievement after an exodus of players from their 2017 grand final team.
Heidelberg West finished sixth – edging ahead of Kilmore with a win in the final round. Lalor managed two wins against Reservoir to finish eighth, while Reservoir claimed the wooden spoon.
Heidelberg West ruckman Jarryd Coulson became the first player in Division 3 to win back to back senior best and fairest awards. Coulson won this year's award from South Morang's Daniel Caruso – overtaking him with three votes in the final round.
Laurimar recruit Mitchell Thompson claimed the Coaches MVP Award in his first year at the club after joining from Hurstbridge. The Power midfielder finished just ahead of two-time winner Dillan Ronalds and Daniel Caruso from South Morang. The pair tied for second,
Panton Hill's Rhys Boyden led the goal kicking with 58 majors in the regular season in a fantastic first season with the club after joining from Greensborough. His best haul was 10 in Round 16 against Reservoir.
Continue below for a season review for each Division 3 team:
ST MARY'S
Premier (17 wins, 1 loss)
St Mary's claimed its first senior premiership in the club's ninth season since fielding a team in the Northern Football Netball League. New coach and eventual Division 3 Team of the Year coach Fabian Carelli took a team that was heading in the right direction and was able to apply the finishing touches. Two of the 2017 fellow finalists had gone – premiers Banyule as well as Epping, while South Morang's team in 2018 looked vastly different to 2017. The Burra lost only once – to Panton Hill at A.E. Cracknell Reserve in Round 5. The Redbacks proved to be the toughest opponent for the eventual premiers. They teams clashed four times in the year and each game was up for grabs in the final term. St Mary's won the second semi final by 23 points. But it had to fight tooth and nail in the grand final against the same opponent. Led by Dillan Ronalds, St Mary's grabbed the lead in the second term and was never headed. A free from a Nick Daisley tackle resulted in a goal late in the match that eventually sealed the deal. Recruits Jordan Galea, Ben Mossuto and Chris Petroro helped round out the team nicely. Myles Guldon kicked 45 goals in the regular season and was named best in the grand final. Nick Dean and Jacob Yeomans also chimed in with 27 and 25 goals respectively. The Burra defence – led by Lee Minuz and Leigh Sullivan – conceded an average of only 52-points per match. The Burra reserves went through the season undefeated to claim their third-straight flag, while the under-19s performed admirably in Division 1. With a strong list, the Burra looks well placed to be a force in Division 2.
Most times in best: Dillan Ronalds (12)
Leading goal kicker: Myles Guldon (48 goals)
Team of the Year representatives: Jake Dambrauskas, Myles Guldon, Lee Minuz, Dillan Ronalds and Fabian Carelli (coach)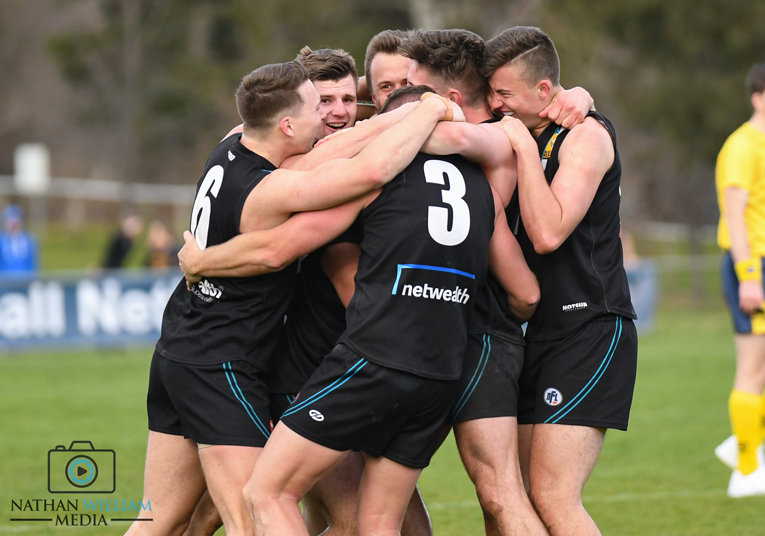 PANTON HILL
Runner-Up (12 wins, 7 losses)
After returning from Division 2, the Redbacks were a force to be reckoned with back in Division 3. They inflicted St Mary's only loss for the season at A.E. Cracknell Reserve in Round 5. With new coach Steve Layt and recruits which included Rhys Boyden, Nick Parks, John Pritchard and Brent Ryan, the Redbacks overcame a poor Round 1 showing against Mernda to establish themselves in the top-four early and claimed the double chance in the final round of the season. They were potent in attack – with Rhys Boyden, Matthew Byron and Alex Tsardakis all in the top eight on goal kickers list and combining for a total of 131 goals in the regular season. The team recorded the highest average score for the regular season – averaging 108 points per game. Down back, Panton Hill was well served by Mitch Anderson. His intercept marking and setting up of play was outstanding. It was a season of high and lows. The Redbacks began the season with an 83-point loss to Mernda at A.E. Cracknell Reserve. Two weeks later at the same venue, they defeated finals aspirants Heidelberg West by 109 points. In Round 16, Panton Hill hosted Reservoir at A.E. Cracknell Reserve and kicked a club-record score of 41.14 (260). After losing the second semi final to St Mary's by 23 points, it rebounded in tough conditions to defeat South Morang in the preliminary final by seven points to reach its first grand final since 2013. The Redbacks then pushed the Burra all the way in the big one – losing by 13 points. Panton Hill hosted the first ever game under lights in Division 3 – with 4.10pm starts for the home games in Rounds 3 and 5 being a great success with good weather both days.
Most times in best: Nick Parks (12)
Leading goal kicker: Rhys Boyden (62 goals)
Team of the Year representatives: Mitchell Anderson, Rhys Boyden, Matthew Byron, John Pritchard and Brent Ryan
SOUTH MORANG
3rd (11 wins, 7 losses)
After an exodus of approximately half the grand final team of 2017, many expected South Morang to miss finals action altogether this year. But they quickly established themselves in the top four. Back to back wins against Laurimar at Mill Park Lakes Reserve in Round 15 and Heidelberg West at Heidelberg Park the following week virtually clinched a top-four spot. The players to step up in 2018 to fill the breach came mainly from the younger group, which included Daniel Caruso enhancing his reputation as one of the best players in the competition. Cory Giannone continued his improvement from 2017, while Samuel Indian shared his time between juniors and the senior team. He booted six goals in the first semi final win over Laurimar to show his potential. South Morang fans have seen plenty of close finals games and this year was no exception. The first semi-final was won when Bailey Brown nailed a set shot goal from 35 metres out directly in front to put his team five points up. The following week was a similarly close game in the preliminary final against Panton Hill. Daniel Caruso kicked a wonderful goal late in the game to level the scores again, but Panton Hill lifted late to win by seven points. It was another devastating preliminary final loss for South Morang to add to their consecutive preliminary final losses in 2014 through to 2016. But coach Gary Hall should be very pleased with the season and have plenty of optimism for 2019.
Most times in best: Bailey Brown (11)
Leading goal kicker: Samuel Indian (36 goals)
Team of the Year representatives: Bailey Brown, Daniel Caruso and James Hewson
LAURIMAR
4th (10 wins, 7 losses)
When new coach Justin Sherman stepped into the role at the beginning of the season, external expectations were relatively low. At the end of Round 4, the team had not recorded a win following a bye and three-consecutive losses. But the drought broke in Round 5 with an impressive 28-point win at J.J. Clancy Reserve over a Kilmore side that had started the year well. From that point onwards, the Power gradually worked towards their goal of a top-four finish. The decisive period was rounds 9 to 11. In that time, they defeated the team placed second on the ladder three times – firstly South Morang, then Panton Hill and finally Mernda. Those wins put them within striking distance of finals, but they remained outside the top-four until the end of Round 17. In the final round of the regular season, Laurimar displaced Mernda to take fourth place on the ladder. It was a huge result for Sherman and the whole club in only its second season in the senior competition. The recruiting was a big success – with Mitchell Thompson and Bradley Deed having outstanding seasons. Thompson won the Division 3 Coaches MVP award. Another recruit, Josh Williamson, was an extremely dangerous forward and was regularly giving headaches to opposition coaches. Williamson, Dallas King and Jacson Cecil booted over 30 goals each for the season. The Power scored a total of 1460 points for the year – with the best effort from a team outside the four being Heidelberg West on 1181.
Most times in best: Mitchell Thompson (12)
Leading goal kicker: Dallas King (46 goals)
Team of the Year representatives: Jacson Cecil, Mitchell Thompson and Josh Williamson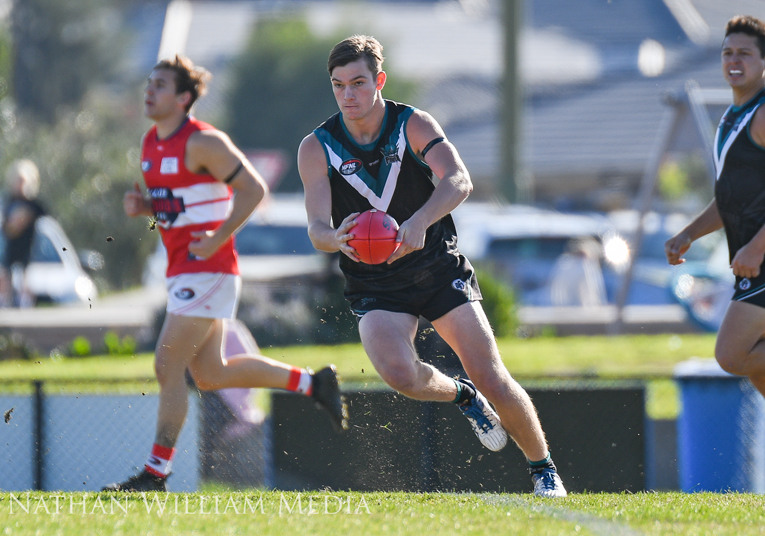 MERNDA
5th (9 wins, 7 losses)
The 2018 season was a mixed bag for Mernda in Paul Derrick's return as coach, but ultimately ended as a huge disappointment. For the second time in three years, the Demons were in the top four the entire year – only to drop to fifth in the last round. The year was a vast improvement on a disappointing seventh with just four wins in 2017, but the club was aiming for finals action. Their best performance all year came in Round 1 – an 83-point win over eventual runner-up Panton Hill at Cracknell Reserve. The Demons were the second-best defence numerically for the year. They and St Mary's were the only teams to have less than 1,000 points kicked against them. Tom Deayton and Matthew Campbell had outstanding campaigns down back. However, it was a different matter in front of goals. Mernda's points for was seventh – better only than Lalor and Reservoir. Always reliable captain Josh Delaney was their leading goal kicker with 23, then the next best was a mere 13 goals. Delaney played as a swingman – spending a lot of time in defence. Getting the best team on the park was an issue for the club – with several players among their best missing multiple games. With their under-19s playing finals in Division 2 this year, the club will have young players pressing for senior games in 2019.
Most times in best: Matthew Campbell (8)
Leading goal kicker: Josh Delaney (23 goals)
Team of the Year representatives: Josh Delaney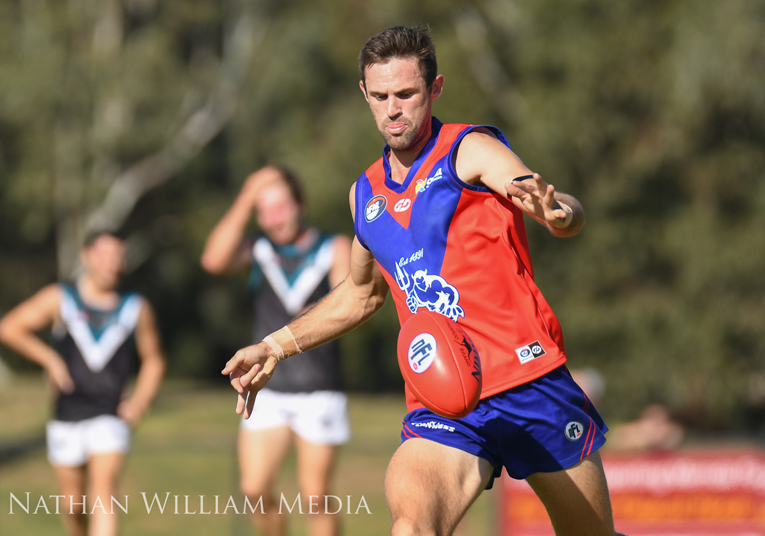 HEIDELBERG WEST
6th (8 wins, 8 losses)
After rising from bottom in 2016 to sixth in 2017, Heidelberg West was aiming for finals this year, but fell short. A poor start to the season eventually proved to be the club's downfall. With a host of key players missing early matches, the Hawks were winless after Round 4. Heavy early losses meant percentage was going to be a problem all season. The team won four in a row from rounds 5 to 8 and looked to be a chance to play finals. That four-week stretch ended with a massive 63-point win over Laurimar at Heidelberg Park – in what proved to be the Hawks' best performance of the season in the NFNL Match of the Day. However, big losses to St Mary's and Mernda were to follow immediately after. The critical round in late season was a Round 14 return clash against Laurimar – this time at Laurimar Reserve. Heidelberg West lost it by 21 points and that virtually ended their season. But they won the last two matches to finish at 8 and 8 – their best effort for many years. Jarryd Coulson became the only player to win back-to-back best and fairest awards in Division 3 after polling maximum votes in the final round win over Lalor. Goal-kicking was a problem all season, with no player scoring over 20 goals for the year. The club parted ways with coach Gary Cutler at the end of the season. However, in a major positive the reserves team made it to the grand final – but then lost to the undefeated St Mary's in a close contest.
Most times in best: Jarryd Coulson and Kane Moore (12)
Leading goal kicker: Matthew Reinke (20 goals)
Team of the Year representatives: Jarryd Coulson, Brad Moore and Kane Moore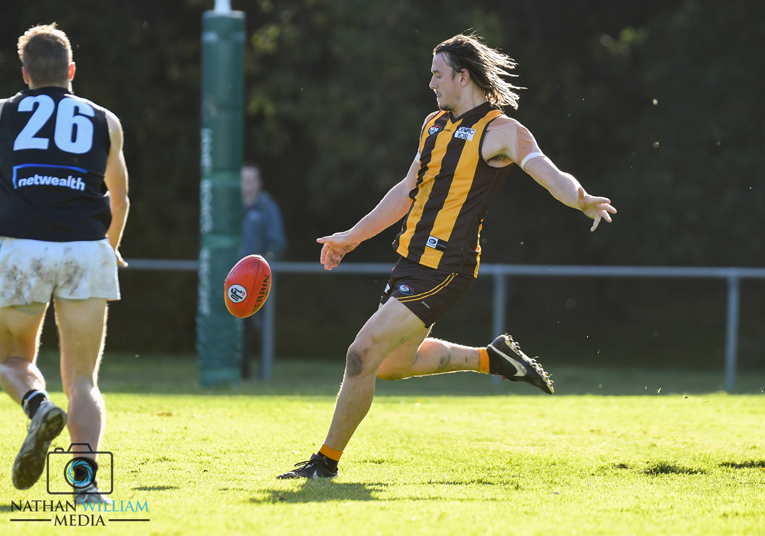 KILMORE
7th (7 wins, 9 losses)
After the club made great progress in 2017, Kilmore was looking for further improvement in 2018. The end result was one less win for the club this campaign, but their percentage was 78 in 2017 and 103 this year. The improved percentage indicated that the Blues' losses weren't as bad as in 2017 and this year they twice put lowly teams to the sword with triple-figure winning margins. At J.J. Clancy Reserve, they defeated finalists South Morang and Panton Hill; and lost to St Mary's by just 15 points. Excluding the Burra's outings against Panton Hill, this was the closest the premiers came to a loss for the year. The Blues went to their Round 6 bye well placed at three wins from five games, but a quartet of losses immediately after the bye put a huge dent in their finals chances. As Nathan Phillips and his coaching team review the season, they will rue losing twice each to Laurimar and Heidelberg West. They needed to defeat the Power and the Hawks in order to press for finals. Both losses to the Heidelberg West were single digit losses and proved costly in the end. Arguably their best performance of the season was a 27-point win against Mernda at Waterview Recreation Reserve in the final month of the season, which came away to a side desperate to play finals. Tough inside midfielder Leigh Irons did well in the Coaches Player of the Year voting, while Calder Cannons-listed Jeremy Topham polled ten votes in the league's best and fairest. Scott Swindells was a great signing and booted 36 goals to earn Team of the Year selection, while Jaxson Kinnear excelled and also earned a spot.
Most times in best: Leigh Irons (11)
Leading goal kicker: Scott Swindells (36 goals)
Team of the Year representatives: Jaxson Kinnear, Scott Swindells and Jeremy Topham
LALOR
8th (2 wins, 14 losses)
Lalor requested a move from Division 2 to Division 3 prior to the season commencing – believing it would be uncompetitive at the higher level. Taking the reins as coach was Dean Grainger. Grainger played for the Bloods as a junior – and his father was a former club president. Some followers of the NFNL suspected they would struggle to win a single game – even in the lower division, due to an exodus of players from the team. These fears were dispelled in the very first round – with a 27-point win over Reservoir at Crispe Park. From then on, it was generally a tough slog for the Bloods – winning again only in the Round 12 return bout against the Mustangs. But the team went close to winning some other games – most notably two narrow losses to Mernda. On the flip side, they experienced some big losses throughout the year. The worst of these was a 148-point loss to South Morang at Mill Park Lakes Reserve. Just 12 months earlier, Grainger was coaching the Lions. Lalor was in with a good chance in both games against finals contender Mernda – losing the two matches by a combined total of just 13 points. Daniel Moore, Isaac Edgar and Jake Langborne led the way throughout the tough campaign, while Demetrios Constantinou also impressed. Grainger will be taking a break from footy in 2019 and ex-Heidelberg West coach Gary Cutler has been appointed his replacement.
Most times in best: Daniel Moore (11)
Leading goal kicker: Daniel Moore (13 goals)
RESERVOIR
9th (0 wins, 16 losses)
The rebuilding phase which began in 2017 continued in 2018 at Reservoir. When the club went into recess after the 2015 premiership, they lost virtually all of their premiership players. David McGregor is the sole member of that team remaining at the club. The Mustangs had plenty of players putting their hand up for a game this year. They used 51 players in 2018 and, as a testament to their depth, the reserves team played finals and made it to the preliminary final. The challenge going forward is to develop or import top end talent. Regrettably, the seniors failed to record a win for the season. With both years showing a percentage of 32, it was a similar output to 2017. One of their best efforts was when they led Mernda by 12 points at the last break in Round 7 at Waterview Recreation Reserve. Alas, they were unable to old on and lost by 18 points. A curious fact is that their highest score of the year came against premiers St Mary's at Whatmough Park in Round 8 – scoring 62 points on the day. 2017 best and fairest winner Lachlan Shaw was again a consistent performer and featured in the Mustangs best players more than any other player – nine times in his 14 matches. Coach Aaron Collins has elected not to continue in 2019 and 2018 reserves coach David Nelson will take over the senior coaching role.
Most times in best: Lachlan Shaw (9)
Leading goal kicker: David McGregor (24 goals)
HEIDELBERG GOLF CLUB DIVISION 3 – 2018 REVIEW
Finals Results
First Semi Final: South Morang 13.11 (89) def Laurimar 12.12 (84)
Second Semi Final: St Mary's 8.14 (62) def Panton Hill 5.9 (39)
Preliminary Final: Panton Hill 10.7 (67) def South Morang 9.6 (60)
Grand Final: St Mary's 11.7 (73) def Panton Hill 8.12 (60)
Best and Fairest
1st – Jarryd Coulson (Heidelberg West) – 17 votes
2nd – Daniel Caruso (South Morang) – 16 votes
3rd – Dillan Ronalds (St Mary's) – 13 votes
4th – Mitchell Thompson (Laurimar) – 11 votes
=5th – Mitchell Anderson (Panton Hill) – 10 votes
=5th – Rhys Boyden (Panton Hill) – 10 votes
=5th – Matthew Byron (Panton Hill) – 10 votes
=5th – Josh Delaney (Mernda) – 10 votes
=5th – Adam Dennis (Laurimar) – 10 votes
=5th – Myles Guldon (St Mary's) – 10 votes
=5th – Bradley Moore (Heidelberg West) – 10 votes
=5th – Jeremy Topham (Kilmore) – 10 votes
Leading Goal Kicker (home and away only)
1st – Rhys Boyden (Panton Hill) – 58 goals
2nd – Myles Guldon (St Mary's) – 45 goals
=3rd – Matthew Byron (Panton Hill) – 44 goals
=3rd – Dallas King (Laurimar) – 44 goals
5th – Josh Williamson (Laurimar) – 38 goals
Coaches Most Valuable Player
1st – Mitchell Thompson (Laurimar) – 61 votes
=2nd – Daniel Caruso (South Morang) – 59 votes
=2nd – Dillan Ronalds (St Mary's) – 59 votes
4th – Jeremy Topham (Kilmore) – 51 votes
5th – Jarryd Coulson (Heidelberg West) – 46 votes
Team of the Year