A review of the 2019 Meadows Greyhounds Division 1 season.
Continue below for a season review for each Division 1 team:
WEST PRESTON-LAKESIDE
Premier (14 wins, 8 losses)
It's hard to imagine a greater premiership triumph than that produced by West Preston-Lakeside in 2019. The Roosters became the first side in a decade to defend a Division 1 premiership – a feat made even more monumental by the fact they started the season with six-consecutive defeats. Bottom of the ladder at Round 6, with a lowly percentage of 61.70, the club finished the season with wins in 14 of their final 16 games – which included four-successive finals victories to record a stunning premiership win. That included a 12-point upset of Greensborough in the grand final, which was a massive turnaround after losing their two regular season games against the Boro by 73 and 62 points. There were certainly reasons behind the slow start to the season – with the major factor being the unavailability of many of the club's 2018 premiership stars. Ruckman Mark Kovacevic managed just five games after being plagued by a knee injury, reigning club champion Sam Glover featured only four times after spending the season with Collingwood's VFL side, while Michael Ercolano played just three times in the opening 15 rounds after finishing third in the 2018 club best and fairest. However, coach Rob Maiorana and his coaching staff found a way to get their side back on track after the 0-6 start and produced more premiership heroics with a vastly different side to last year. In fact, the 2019 grand final side featured 10 players who didn't play in the triumph over Macleod 12 months prior. The breakthrough win came in emphatic fashion against Lower Plenty in Round 7 and the 93-point triumph was followed by another three wins on the trot, which helped the Roosters climb into fifth spot by Round 10. With momentum building, it was commanding home wins over Macleod and North Heidelberg in successive weeks in rounds 13 and 14 that demonstrated that the reigning premiers wouldn't just be making up the numbers if they secured a top-five finish. A shock loss to Montmorency meant the race to secure a finals spot went right down to the wire – but it also proved to be the Roosters' last defeat of the campaign. They rounded out the home and away season with three-straight wins before becoming the first club since Northcote Park in 2012 to win four finals in a row. Remarkably, the Roosters conceded just 140 points across their four finals, at a miserly average of just 35 points a game.
After playing a major role in the back half of the 2018 premiership campaign, Alex Federico was one of just five players to play every game and took out the best and fairest award. The young star was also recognised with selection in the Team of the Year – a mighty achievement for a player who was still eligible to play under-19s this season. 20-year-old Max Dreher had an immediate impact in his first season with the club after an injury-plagued 2018 season at the Northern Blues and was runner-up to Federico in the best and fairest, while Jackson Clarke enjoyed another outstanding year and recorded a third-consecutive top-five finish in the club's best and fairest count. Ahmed Saad was a beacon of consistency, even when the chips were down early in the year. He claimed the competition goal kicking award for the second time in three years, finishing with 76 goals in the regular season – the highest tally of any player since 2013. Saad then booted another 15 goals in the finals series. Tenacious midfielder Luke Lirosi added another honour to his already impressive trophy cabinet by taking out the best on ground medal in the grand final, booting three goals from the midfield to maintain his reputation as a big-game player. Young ruckman Matthew Harman also enjoyed a strong finals series and helped offset the loss of Kovacevic. Another key player throughout the year was midfielder Matthew Signorello, who returned to the club after two years on Adelaide's AFL list. Signorello helped engineer the mid-season fightback, before spending the back half of the year with VFL side Port Melbourne. He returned for the grand final and was among the best players on the ground. Aidan Tilley was also central to the club's amazing turnaround, with the Roosters victorious in all 12 games the key forward played in 2019 after returning from Coburg.
Best and fairest: Alex Federico
Leading goal kicker: Ahmed Saad (91 goals)
Team of the Year representatives: Jackson Clarke, Alex Federico, Ahmed Saad and Rob Maiorana (coach)
GREENSBOROUGH
Runner-up (18 wins, 2 losses)
An outstanding 2019 campaign ended in heartache for Greensborough, who suffered just its second loss for the season in the grand final. In a cruel finish, the grand final defeat was compounded by the club's reserves also going down in the premiership decider after entering the match undefeated. Greensborough's two-goal loss to West Preston-Lakeside in the grand final made it the eighth-successive second semi winner to be defeated in the grand final. Up until the final hour of the season it had been a near faultless campaign by the Boro, who won 17 of their 18 regular season matches – with the sole defeat coming by just two points. They then produced one of the most dominant finals performances in league history against North Heidelberg in the second semi – with the 98-point win the fifth-greatest winning margin in a Division 1 final. Despite not achieving the ultimate success, the club did enjoy some outstanding milestones in 2019. Former Carlton and Brisbane Lions midfielder Tom Bell won the Frank Rosbrook Medal as the competition's best and fairest player in his first season in the league. In doing so, the star midfielder became the first Greensborough player to win the award since 1991. Bell was one of several key recruits who helped the Boro surge back up the ladder after a fifth-place finish in 2018, alongside the likes of Ben Fennell, Liam Read and Jordan McIvor-Clark. Mick Harford took the coaching reins from Robert Hyde and was recognised as the AFL Victoria Northern Region Senior Coach of the Year, while star defender Nick Riddle won the best on ground medallion in the NFNL's representative win over the Geelong Football Netball League, which propelled the league into the No.1 spot on the AFL Victoria Community Championships rankings. Riddle was named at full back in the Division 1 Team of the Year for the fifth season in a row. He was joined in the side by Bell, Chris Clark, Ben Fennell, Jack Johnston and Charlie Molyneux. Molyneux served as somewhat of a new addition this year after an injury-ravaged first season in 2018. He created a wonderful partnership with Bell, Clark and Fennell in the middle of the ground and claimed the club champion award after featuring in Greensborough's best players in 16 of 19 matches. He was a close runner-up to Heidelberg ruckman Sam Gilmore for the Coaches MVP award. Greensborough ranked No.1 in both defence and attack throughout the 2019 season. The Boro were the only Division 1 side this decade to concede fewer than 1000 points in the regular season, coughing up an average of just 50 points a game. They were equally capable in attack, kicking just shy of 200 points more than any other side during the home and away season. Despite their scoring prowess, the Boro's leading goal kicker was midfield-forward Fennell with just 29 majors. The Boro had great success with a hybrid forward set-up, that functioned perfectly right until grand final day – where they were contained to just one goal after the five-minute mark of the second term. Given the average age of its grand final side was just 24, and with just one player over the age of 30, Greensborough looks well placed to contend again in 2020. The question will be whether the upset grand final defeat serves as a source of motivation or destabilisation.
Best and fairest: Charlie Molyneux
Leading goal kicker: Ben Fennell (29)
Team of the Year representatives: Tom Bell, Chris Clark, Ben Fennell, Jack Johnston, Charlie Molyneux and Nick Riddle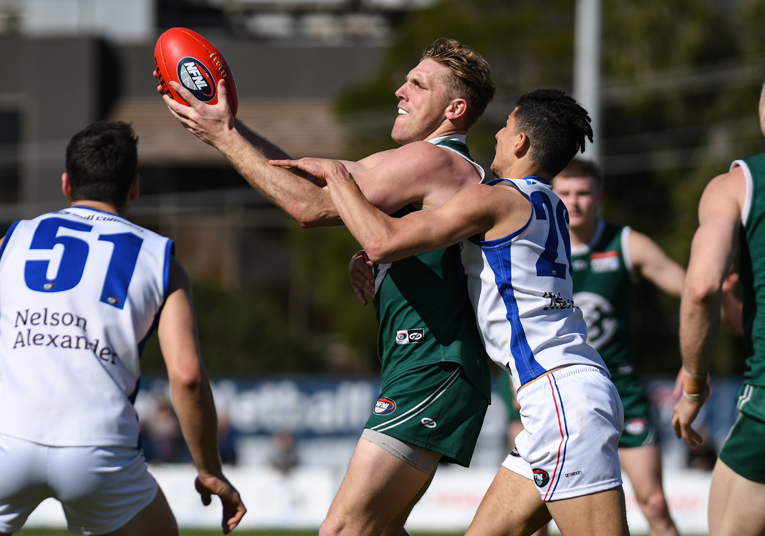 NORTH HEIDELBERG
3rd (13 wins, 7 losses, 1 draws)
On paper North Heidelberg produced a near identical season to 2018. For the second year in a row the Bulldogs finished the home and away season in third spot on the ladder. They again beat a higher-ranked team in the qualifying final before being knocked out of the premiership race with success defeats in the second semi and preliminary final. After last year making history as the first Division 2 reigning premier to play Division 1 finals, the case could be argued that the Bulldogs' efforts to again finish in the top-three in 2019 surpassed their achievement from 2018. Certainly, the addition of former AFL players Shane Biggs and Daniel Harris strengthened the club's list this year, however the Bulldogs did have to manage a long injury list and VFL commitments of several of their better players – including Jesse Tardio and Liam Hunt, with the latter not playing a game for the club this year after returning to the VFL via Williamstown. Co-captain Daniel Bramich was the only North Heidelberg player to play every game this year. 2019 began in less-than-ideal fashion, with coach Jimmy House stepping down from the role in January. Brent Harvey took on the coaching role at short notice, but the change did little to disturb the club early in the season – with North looking the biggest premiership challenger to Greensborough after winning five of its opening six games. Among the wins were thrashings of then unbeaten Heidelberg and Northcote Park, while the only loss came against Bundoora in Round 2, where the Bulldogs fell short by just four points after trailing by 47 midway through the last quarter. Sitting at 5-1 after six rounds, North managed only a draw from its next three games, before keeping Lower Plenty to just one behind in a 52-point win in Round 10. A top-three finish looked secure by Round 12, before consecutive losses on the road to Greensborough and West Preston-Lakeside threatened the club's hopes of taking a double chance in the finals. However, they responded to win their last four matches to secure third spot on the table, which set up a derby clash with Heidelberg in the qualifying final. The first final between the two rivals since the 2005 premiership decider certainly didn't disappoint. Once again it was North Heidelberg who prevailed – but only after surviving a massive scare – holding on to win by three points after leading by 59 late in the third quarter. The form from the fourth quarter fadeout continued into the second semi, where the Bulldogs were thrashed by Greensborough. Given only an outside chance against a red-hot West Preston-Lakeside in the preliminary final, the undermanned Bulldogs were brave in a 12-point defeat that brought their season to a close. Shane Harvey, Ryan McGhie, Morgan Persson-Clark and Jackson Jones were among those missing from the preliminary final side. Billy Hogan had a massive season and took out the best and fairest after kicking 25 goals from the midfield. He and Shane Harvey were the club's two representatives in the Team of the Year – with Harvey's 65-goal haul taking his career tally to 990 goals in 201 appearances for the club. Veterans Daniel Harris and Leigh Gilbert defied their years to both finish inside the top-three of the club's best and fairest, while Liam Nunan and Mitch Dillon also enjoyed solid campaigns. A favourite son will return to Shelley Reserve in 2020, with Jason Heatley signing on as coach in a massive coup for the club.
Best and fairest: Billy Hogan
Leading goal kicker: Shane Harvey (65 goals)
Team of the Year representatives: Shane Harvey and Billy Hogan
HEIDELBERG
4th (14 wins, 6 losses)
Returned to the finals for the first time since winning the 2016 premiership, however the season finished on a disappointing note for Heidelberg – who became the first club to exit the finals in straight sets since Montmorency in 2014. Despite not scoring a finals win, it was still a largely successful year for the Tigers, who finished second on the ladder with a 14-4 record. It was another step forward in the club's development under Frank Raso, with the Tigers coaching staff continuing to provide opportunities to the young stars unearthed over the past 24 months. Nine of the 22 selected for the first semi final were aged 21 or under, which included the likes of 2018 best and fairest Lachlan Wilson, representative winger Matthew Cecchin and versatile recruit Daniel O'Dwyer – who was regularly given lockdown roles on the competition's best forwards. After consecutive sixth-place finishes over the past two years, Heidelberg made a fast start to 2019 which held the club in good stead right throughout the campaign. The Tigers began the year with a runaway win over reigning premier West Preston-Lakeside, which spoiled the party on the reigning premier's flag unfurling. Big home wins followed against Hurstbridge and Macleod, which propelled the Tigers into second spot. A heavy loss to North Heidelberg didn't derail their progress, with three-consecutive wins putting the club well and truly on the path to finals with a 6-1 record at Round 7. Despite suffering upset losses away to Lower Plenty and Macleod in the month leading up to the top-of-table clash against Greensborough, Heidelberg was able to lift for the Round 12 blockbuster to claim a gripping two-point win in what proved to be the Boro's only loss in the regular season. Heidelberg finished the home and away season with wins in six of its final seven games and completed a perfect season at home by winning all nine games at Warringal Park, by an average of 49 points. Unfortunately, the Tigers couldn't maintain the winning form in September. They fell agonisingly short of one of the great come-from-behind wins in the qualifying final, before proving no match for West Preston-Lakeside in a 46-point loss in the first semi. Sam Gilmore was the competition's dominant ruckman in his first season as captain after taking on the role with Ryan Stone. Gilmore became the first Heidelberg player to win the Coaches MVP award, which included a record-breaking period between rounds 9 to 13, where he polled 47 of a possible 50 votes. Gilmore was one of four Tigers named in the Team of the Year, alongside Jack Blair, Chaz Sargeant and Lachlan Wilson. Blair was a wonderful addition and finished runner-up to Gilmore in the best and fairest count. His availability for the Tigers may become limited in 2020 after signing on with VFL outfit Port Melbourne, where he will link up with brother Jarryd. Fletcher McIvor also proved a valuable addition after venturing to the club from Queensland – securing a fourth-place finish in the best and fairest. He finished ahead of Tom Sullivan, who was again a star performer and finished in the top-five of the best and fairest – which he has done in all four seasons with the club.
Best and fairest: Sam Gilmore
Leading goal kicker: Chaz Sargeant (37 goals)
Team of the Year representatives: Jack Blair, Sam Gilmore, Chaz Sargeant and Lachlan Wilson
MONTMORENCY
5th (9 wins, 10 losses)
After taking on the coaching role last October, Garry Ramsay stated that his first objective was to get Montmorency back into the finals. He delivered on that mission immediately. Unfortunately, the Magpies return to Preston City Oval wasn't a favourable one – managing just one goal in a 77-point loss to West Preston-Lakeside in the elimination final. Nevertheless, it was a promising season for Montmorency, who broke a five-year finals drought and did so by investing in its youth. The season began in less than ideal fashion, with the Magpies squandering a seven-goal lead in a 36-point loss to neighbour Lower Plenty in Round 1. The response was immediate, with the Magpies bouncing back to down Macleod the following week in a much-anticipated clash match against Ramsay's former club. After a horror showing in a 125-point defeat at Heidelberg in Round 5, the Magpies showed their potential with a 53-point win over then second-placed Northcote Park the next match – which was highlighted by an 11-goal haul by Patrick Fitzgerald. However, five losses were to follow in the next seven games and even the most optimistic Magpies supporter would have had doubts on a top-five finish with a 5-8 record at Round 13. A three-point win at Bundoora in Round 14 kept the Magpies' finals hopes alive, with defender Josh Mills sneaking forward to kick his first career goal in the final two minutes. That was followed by the club's best performance of the season in a 32-point win over West Preston-Lakeside, which included an eight-goal to one second term to set up the victory. Much hinged on the Round 17 clash with Macleod at De Winton Park, in a match that would likely determine fifth spot on the ladder. It was an arm-wrestle all day, however Montmorency broke the game open with three goals in the opening five minutes of the last quarter, before holding on for an eight-point win. The objective going into the Round 18 clash against Lower Plenty was clear for the Magpies – win to book a finals place. It was smooth sailing early, with Montmorency racing six goals ahead early in the second quarter, before the Bears rallied to snatch the lead during the third term. With a repeat of the Round 1 loss on the cards, the Magpies were able to respond to score a 14-point win. This booked the club a place in the finals for the first time since 2014. It wasn't a memorable return, with eventual premier West Preston-Lakeside proving far too good in the elimination final – however after a five-year absence from September, there is no doubt a top-five finish gave the club a pass mark in 2019. Jesse Donaldson had an outstanding season and claimed his first best and fairest award with the club. The Magpies' skipper also finished inside the top five in both the Frank Rosbrook Medal and Coaches MVP voting and led the NFNL in its representative win over the GFNL. Jai Robinson was the club's only major signing in the off-season and he delivered in spades after crossing from Whittlesea to finish second in the best and fairest and earn selection in the Team of the Year. Patrick Fitzgerald finished the year with 57 goals, marking the sixth time from the past seven seasons he has passed the 50-goal mark. The club also got plenty out of its next crop of stars, with Stefan Uzelac, Blake Murphy and Jordan Steele all showing steady improvement.
Best and fairest: Jesse Donaldson
Leading goal kicker: Patrick Fitzgerald (57 goals)
Team of the Year representatives: Jesse Donaldson, Patrick Fitzgerald and Jai Robinson
MACLEOD
6th (7 wins, 10 losses, 1 draw)
After playing off in the past four grand finals, 2019 proved a challenging season for Macleod, who missed out on finals action for the first time in six years. It was always going to be a year of change at De Winton Park, with Christian Stagliano taking the coaching reins from Garry Ramsay and a host of new faces joining the club to cover the departure of the likes of Ned McKeown, Jack Langford, Laurence Schubert and Ben Lennon. The Roos were on the back foot early in the season after losing their opening four games, which was in stark contrast to 2018 when they dropped just three games for the year. They opened their account with a gutsy win away to Bundoora and looked to be back on track with seven wins and a draw in their next 11 games to rise to fourth spot on the ladder by Round 15. That included a season-best performance in Round 11 to down Heidelberg by 29 points, as well as a 73-point triumph over Northcote Park in Round 9. However, a shock 16-point loss in the return bout against the Cougars in Round 16 left the Roos vulnerable, before consecutive home defeats to Montmorency and West Preston-Lakeside in the final two rounds ensured they missed out on a top-five place for the first time since 2013. Lack of continuity in its playing list was certainly an issue, with Liam Brandt the only player to feature in every game. The club had to juggle the VFL commitments of many of its new recruits, with Muhammad Saad proving the pick of the crop and booting 14 goals in eight appearances, which included a five-goal haul in a best on ground performance against Bundoora in Round 12. 2018 Frank Rosbrook medallist and three-time best and fairest Lucas Hobbs played just eight games, while a host of last year's grand final side also missed significant periods of the year. After averaging just shy of 100 points a game in 2018, the Roos averaged just 66 points in 2019 – with only Patrick Martin (25) and Reid Brandt (22) booting more than 20 majors. Despite his side suffering a tougher campaign, Justin White again performed to an elite level to claim his second Tom Melican Medal as the club's best and fairest, edging out Hamish Paynter. White finished runner-up in the Frank Rosbrook Medal for the third time and earned selection in the Division 1 Team of the Year for the ninth year in a row. Gun defender Brad Leggett was also a revelation when moved into the ruck, while youngsters Kobe Brandt and Jordan Corelli showed positive signs for the future. Meanwhile, underrated defender Daniel O'Brien recorded a top-five finish in the best and fairest in the same season he broke the club's games record – surpassing the previous record of 250 set by club legend Kane Shaw.
Best and fairest: Justin White
Leading goal kicker: Patrick Martin (25 goals)
Team of the Year representative: Justin White
NORTHCOTE PARK
7th (7 wins, 11 losses)
It was a case of déjà vu for Northcote Park in 2019, with the club finishing seventh on the ladder with an identical win-loss record to the 2018 season. After last year sitting second on the ladder at Round 9, before winning just one of their last nine games – the Cougars suffered a similar fate this campaign. They won their first four games convincingly to sit second on the ladder with a healthy percentage of 179. Key forwards Jackson Starcevich and Ash Close were proving unstoppable in the opening month and combined for 29 goals in the first four games. However, the Round 5 clash with North Heidelberg proved the turning point of the club's season. Leading by five points at quarter time, the Cougars were trounced thereafter in an 82-point defeat which was compounded by an injury to Starcevich in the second term. The Cougars went on to lose their next five games to slip to seventh on the ladder, before ending the losing streak with a gutsy 19-point win at Bundoora. Finals remained a realistic hope at Round 13, when the Cougars moved back into the top-five with a win over Lower Plenty – however they managed just one win in the last five rounds to finish two wins and percentage off fifth spot. It was a disappointing end to Matt McLennan's three-year stint as coach, which was highlighted by a preliminary final appearance in 2017. While the club's top-end remained as good as any in the competition, depth was the major concern in 2019, highlighted by the reserves not winning a game throughout the season. Despite notching seven wins for the year, Northcote Park finished with the second-lowest percentage in the competition. Its average losing margin was 59 points, with its smallest defeat 35 points. Skipper Paul Dirago continued to lead with distinction and claimed the best and fairest for the second consecutive year. He was also the Cougars' sole representative in the Team of the Year. Jordan and Matthew Perry were once again key figures, Kyle Galloway contributed well in his first season at the club and was one of the competition's best ruckmen, while Michael Amad showed promising signs and finished the season with 20 goals. The club has moved swiftly as it looks to work its way up the ladder in 2020, securing former AFL player and assistant coach Barry Mitchell as McLennan's replacement. Mitchell is already a highly-regarded figure at Bill Lawry Oval – where he won a premiership as well as a competition best and fairest back in 1997 after retiring from the AFL.
Best and fairest: Paul Dirago
Leading goal kicker: Ash Close and Jackson Starcevich (22 goals)
Team of the Year representative: Paul Dirago
HURSTBRIDGE
8th (6 wins, 12 losses)
In its third-successive season in Division 1, Hurstbridge recorded a club-record six wins as it showed massive gains under new coach Jarrod Tilley. It looked set to be a long season when the Bridges lost their opening four games, which included heavy defeats in each of the first three games. The 0-4 start was compounded by 2016 premiership skipper Brayden Shaw being forced into retirement after suffering a serious concussion in Round 1. However, a 31-point win at Lower Plenty in Round 5 gave the club the confidence it needed to turn things around and thereafter the Bridges proved to be a competitive outfit regardless of the opposition. After losing their opening three games by an average of 77 points, eight of their next nine defeats came by margins of 21 points or less – outlining that the club was capable of matching it with any side in the competition. Although they didn't beat a side inside the top-five, the Bridges did finish with a winning record (6-2) against their fellow bottom-five competitors. Among the season highlights was the club's first ever win over Bundoora – who it defeated twice. Meanwhile, two-time Frank Rosbrook medalist Daniel Keenan wrote his name into the record books in Round 16 when he became the first player in league history to play 400 senior games. Three Hurstbridge players, namely Lachlan East, Jack Furlong and Tom Simpson, were part of the NFNL representative side that downed the GFNL – with East enjoying another superb season to claim a second-consecutive best and fairest award. The Bridges skipper also earned selection in the Division 1 Team of the Year for the first time. Simpson and Mitch Hymus were equal runner-up behind East for the best and fairest. Simpson had been having a superb campaign prior to a season-ending injury in Round 14, while Hymus emerged as one of the competition's best defenders and kept competition leading goal kicker Ahmed Saad to just one goal across two games. Young forward Cooper Perrin enjoyed a breakout season. He kicked 30 goals in 16 matches, which included a bag of five and three hauls of four. Troy Barbero and Jamie Smith were also among the club's most consistent performers in 2019.
Best and fairest: Lachlan East
Leading goal kicker: Cooper Perrin (30 goals)
Team of the Year representative: Lachlan East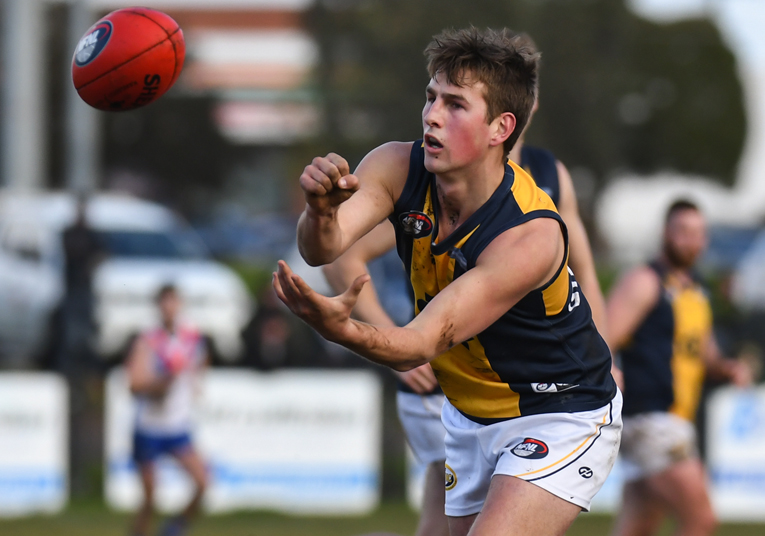 BUNDOORA
9th (5 wins, 13 losses)
2019 proved to be the end of an era for Bundoora, who missed out on a spot in the finals for the first time since 2000. Regeneration was always going to have to take place under Andrew Sturgess after the club waved goodbye to premiership heroes Ricky Dyson, Josh and Nick Grabowski, Joe Palazzolo, Liam Byrne and Jack Furlong in the off-season. After succumbing to Northcote Park under lights in Round 1, the Bulls went on to win three-straight games to sit comfortably among the top-five after the opening month. However, as injuries began to take hold, the club struggled to keep up with the pace setters. The Bulls clung on to a fifth spot at the halfway mark of the year after gripping away wins over Montmorency and Lower Plenty. However, the one-point win over the Bears in Round 9 proved to be their last triumph of the season – with nine-successive losses consigning the Bulls to a ninth-place finish. The major positive of the season was the emergence of young gun Bailey Thompson – who became the club's youngest best and fairest winner at 19 years of age. Still eligible to play under-19s, Thompson was the club's most consistent player and featured in the best players in 10 of 18 matches. Thompson finished ahead of recruits Luke Collins and Daniel Venditti – who provided great service in the midfield, while three-time Frank Rosbrook medallist Matty Dennis was the club's sole Team of the Year representative after finishing tied for fifth in the league best and fairest. 2019 proved to be club legend Gary Moorcroft's ninth and final season with the club, after hanging up his boots at season's end. The three-time premiership forward finished his decorated career with the club with 578 goals in 172 appearances. Despite the seniors missing the finals, the reserves again tasted premiership success after defending their 2018 flag. The Bulls upset unbeaten Greensborough in the grand final. Former Bundoora premiership player Michael Ryan has been appointed senior coach in 2020 after Andrew Sturgess accepted the coaching job at VFL club Coburg.
Best and fairest: Bailey Thompson
Leading goal kicker: Gary Moorcroft (51 goals)
Team of the Year representatives: Matthew Dennis
LOWER PLENTY
10th (2 wins, 16 losses)
It wasn't the season Lower Plenty had hoped for in its return to the top flight following last year's remarkable Division 2 premiership win, however the Bears far from disgraced themselves in 2019. Two wins was never going to be enough to avoid relegation straight back to Division 2, however with seven losses by 31 points or less – including four by under 14 points, the season could have panned out much differently if the close results went their way. The cause wasn't aided by the loss of several of the club's best players in the opening five weeks of the season. Emerging star Sam Paterson sadly suffered another serious knee injury in the pre-season, while reigning club champion Tom Keys was sidelined for four matches after hurting his knee in the Round 1 win over Montmorency. The following week captain and 2018 Division 2 best and fairest Patty Flynn suffered a season-ending ankle injury, while club legend Darcy Barden called time on his career due to work commitments after Round 4 – although he did make one last appearance in the Round 18 match against Montmorency. Interestingly, the club's two wins came against sides that played finals – with the come-from-behind win over Montmorency in the opening round followed by a comeback four-point triumph over Heidelberg in Round 8. The next week the Bears welcomed Stephen Milne for a one-off appearance and led Bundoora in the last quarter, only to lose by one point. Josh Turner made a welcome return to the club and was a deserving winner of the best and fairest after an outstanding season through the midfield. Tom Blake again featured in the NFNL representative team and also had a great season at club level – performing admirably in the ruck in the absence of Flynn. Ben Paterson was up to the grade in Division 1 after featuring in the Division 2 Team of the Year over the past two years and led the club's goal kicking with 22 majors, while Jordan Sacco and Cameron Elmore were consistent performers. Coach Ben Turner has been re-appointed for a third season at the helm in 2020, however the Bears will return to second division without Patty Flynn – who will remain in the top flight after signing on with Macleod.
Best and fairest: Josh Turner
Leading goal kicker: Ben Paterson (22 goals)
MEADOWS GREYHOUNDS DIVISION 1 – 2019 REVIEW
Finals Results
Qualifying Final: Heidelberg 14.15 (99) def by North Heidelberg 15.12 (102)
Elimination Final: West Preston-Lakeside 13.12 (90) def Montmorency 1.7 (13)
First Semi Final: Heidelberg 3.8 (26) def by West Preston-Lakeside 11.6 (72)
Second Semi Final: Greensborough 22.16 (148) def North Heidelberg 7.8 (50)
Preliminary Final: North Heidelberg 8.12 (60) def by West Preston-Lakeside 11.6 (72)
Grand Final: Greensborough 6.5 (41) def by West Preston-Lakeside 8.5 (53)
Best and Fairest
1st – Tom Bell (Greensborough) – 23 votes
= 2nd – Sam Gilmore (Heidelberg) – 20 votes
= 2nd – Justin White (Macleod) – 20 votes
4th – Jesse Donaldson (Montmorency) – 19 votes
= 5th – Chris Clark (Greensborough) – 18 votes
= 5th – Matthew Dennis (Bundoora) – 18 votes
Leading Goal Kicker (home and away only)
1st – Ahmed Saad (West Preston-Lakeside) – 76 goals
2nd – Shane Harvey (North Heidelberg) – 61 goals
3rd – Patrick Fitzgerald (Montmorency) – 57 goals
4th – Gary Moorcroft (Bundoora) – 51 goals
=5th – Sam Grimley (Heidelberg) – 34 goals
=5th – Chaz Sargeant (Heidelberg) – 34 goals
Coaches Most Valuable Player
1st – Sam Gilmore (Heidelberg) – 95 votes
2nd – Charlie Molyneux (Greensborough) – 87 votes
3rd – Jesse Donaldson (Montmorency) – 86 votes
4th – Tom Bell (Greensborough) – 64 votes
5th – Jack Blair (Heidelberg) – 60 votes
Team of the Year