The NFNL's representative coaching panels have provided a review following the 2021 AFL Victoria Metro Junior Development Series.
The 2021 AFL Victoria Metro Junior Development Series was played during the most recent school holidays, with Round 1 matches played on Wednesday 30 June and Round 2 matches played Wednesday 7 July.
The interleague representative competition gave Under-14 and Under-15 players the opportunity to represent their League and take on the best players from opposing Metro competitions.
Continue below for a review of each NFNL team.
UNDER-14 BOYS DIVISION 1
The Under-14 Boys Division 1 squad really developed impressively over the 12 or so weeks since the representative squad commenced. The boys really bought into the "friends for life" culture that the coaching staff was driving, and it showed on the park as they all played as a very cohesive team. What was even more impressive was how quickly they all bonded together, considering the fact we had players from nine different clubs and with many of them in unfamiliar roles to what they would normally play in their club matches. Every player in the squad took on board the coaches' instructions and feedback without any hesitation, giving everything they had for each other, and it was a pleasure to watch ~ John Garrard
Round 1: NFNL 5.7 (37) def by EFNL 13.14 (92)
Goal Kickers: R. Van weenen 2, M. Moate 2, N. Nihill
Best Players: T. Gresham, O. Dwyer, M. Moate, R. Van weenen, S. Murphy, D. Brown
Round 2: NFNL 12.12 (84) def RDFNL 4.6 (30)
Goal Kickers: M. Moate 2, S. Murphy 2, L. Cassar 2, T. Gresham 2, T. Bell, S. Hudson-Joseph, L. Martin
UNDER-14 BOYS DIVISION 2
From the first training session we identified that our group was full of talented and skilled players. We targeted our training drills around run and carry, target hitting and really concentrated on the fundamentals of football. We did however break up into groups and concentrated on specific areas with our line coaches too. The tempo was upbeat and there was a lot of energy within our group, and this showed in our games too. We discussed game plan and rotations and. This was encouraged throughout the two games and accepted by all players. We had all the players following the gameplan and it was an awesome display, especially against the RDFNL. It was great to see our team looking comfortable and we all believed they have enjoyed this experience both on and off the ground. Well done to all involved ~ Adam Sevas
Round 1: NFNL 6.5 (41) def by EFNL 12.6 (78)
Goal Kickers: Z. Nagi 4, A. Harvey, M. Di Biase
Best Players: J. Younger, C. Parks, N. Driscoll, M. Sevas, Z. Nagi, C. Wilson
Round 2: NFNL 19.15 (129) def RDFNL 1.0 (6)
Goal Kickers: A. Harvey 4, C. Wilson 4, Z. Razzi 2, J. Northey, J. Younger, R. Johns, L. Klaic, M. Godden, N. Driscoll, C. Parks, C. Moore, Z. Broadbent
Best Players: Z. Broadbent, B. Kriders, N. Driscoll, C. Parks, C. Wilson, J. Northey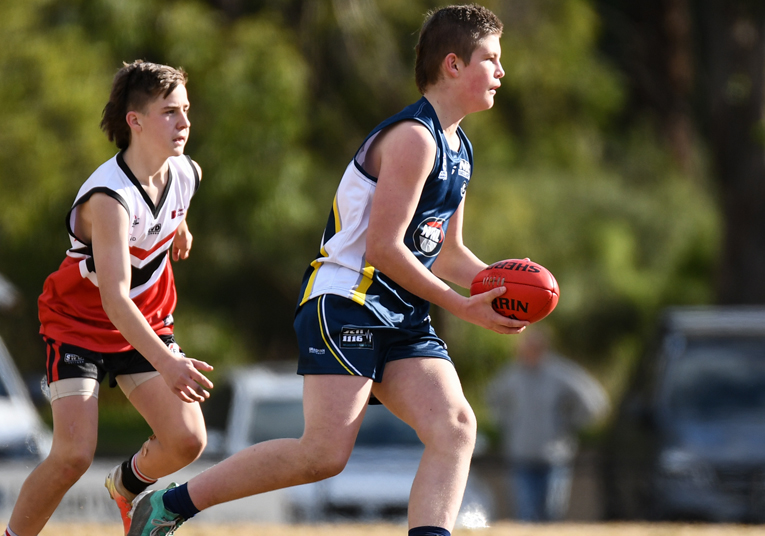 UNDER-15 GIRLS DIVISION 1
As head coach of the Under-15 Girls rep program, I could not be prouder of the efforts in both recent games. This is a testament to the consistent effort and level of commitment at all training sessions, including the virtual sessions. The gallant effort they displayed in all games showed their resilience and love for the game. The difference between winning and losing for the A Team in game two was only one scoring shot, although the scoreboard did not reflect this. The B Team after their win in the first game, came from 30 points down to fall short of another victory. The emphasis that I put in place was focussed more on the development of the player, rather than the result ~ Ari Sciacca.
Round 1: NFNL 1.7 (13) def by EFNL 10.10 (70)
Goal Kickers: B. Cowley
Best Players: K. Lemire, I. Turner , B. Cowley, C. Bandera, I. Lambeth, J. Mclay
Round 2: NFNL 5.7 (37) def by AFLSEA 7.6 (48)
Goal Kickers: E. Wunderlich 3, B. Cowley, E. Folino
Best Players: B. Cowley, K. Lemire, J. Mclay, E. Wunderlich, C. Bandera, D. Hoare
UNDER-15 GIRLS DIVISION 2
The lead up training has been positive and well structured. Once the girls had settled into teams, a bond formed between the girls with a sense of great support. Game days provided an enormous buzz for the girls and the coaches. We learned more from the close loss in game two than from the big win in game one. The representative experience will make the team stronger together and as individuals going forward. ~ Adam Raphael
Round 1: NFNL 9.9 (63) def RDFNL 3.0 (18)
Goal Kickers: M. Toone, K. Vangeli, A. De Bolfo, S. Filippone, J. Buckingham, E. Pyle, H. Kanderovskis, P. Arrowsmith, M. Ong
Best Players: M. Ong, M. Warrillow, S. Filippone, J. Herni, J. Buckingham
Round 2: NFNL 6.3 (39) def by EDFL 6.8 (44)
Goal Kickers: L. Messimeris 2, A. De Bolfo, P. Arrowsmith, E. Pyle
Best Players: H. Kanderovskis, J. Buckingham, M. Ong, K. Vangeli, S. Johnson, S. Hall
UNDER-15 BOYS DIVISION 1
We could not have been more proud or impressed with the patience, understanding, preparation and attitude of all 110 players who were initially selected and nominated by their clubs to join us for the Under-15 Boys representative program. After the trial matches and training sessions, 52 exceptional young players were selected across two teams, to represent the NFNL with great pride and dignity. With the two new dates for games selected in the July school holidays, all was finally in readiness for the big challenge against the Eastern Football League at Mitcham. Both teams showed some great signs and passages as to why they were selected in the program. However, we came up short on the scoreboard against a finely tuned outfit. The EFNL displayed great structure and discipline to run out victors in both games. We were to take away many learnings from the experience and used them in the next games against Riddell District Football Netball League, where both NFNL Under-15 boys' teams enjoyed strong wins.
Round 1: NFNL 6.4 (40) def by EFNL 15.14 (104)
Goal Kickers: M. Collier, R. Ormerod, D. Rigg, T. Logan, M. Zrna, C. Herbert
Best Players: D. Costantin, M. Collier, T. Logan, T. Sims, C. Carmichael, M. Zrna
Round 2: NFNL 16.12 (108) def RDFNL 5.1 (31)
Goal Kickers: A. Smith 2, D. Costantin 2, M. Collier 2, T. Sims 2, R. Ormerod 2, D. Colledge 2, J. Woodward, T. Logan, A. Doyle, J. Gillard, K. Garraway
Best Players: K. Lawson, J. Woodward, J. Williams, T. Sims, D. Rigg, M. Collier
UNDER-15 BOYS DIVISION 2
The boys' experience in the program and the lead up to the games was one filled with excitement, but also one not knowing what exactly was to lay ahead due to the changing Covid environment. We as a coaching group just really wanted the kids to enjoy the experience and develop their football. At game one against Eastern we saw just how nervous the group was and we just encouraged the players to enjoy the experience and take the game on in a positive way. The result didn't go our way, but it was always going to hold us in good stead for game two. Before the next game against the Riddell District Football Netball League, we went to WaterMarc and had dinner together just so the boys could have a bit of fun, but also from a coaching point of view we were able to go through our plans for the game two. Part of our planning was the team picking three themes that we were going to stick to during the game. It was a great session for the kids to keep building a bond together. Game two against Riddell was fantastic. Not only from a result point of view, but also in the growth of the players. They displayed a self-belief that they were good enough to play at that level and be more than competitive ~ Glen Lehner
Round 1: NFNL 4.3 (27) def by EFNL 18.19 (127)
Goal Kickers: S. Hill, J. Christidis , E. Arifoski, H. Caine
Best Players: H. Trim, D. Parker, K. Ingram, M. Stingas, K. Mason, K. Keating
Round 2: NFNL 17.19 (121) def RDFNL 0.1 (1)
Goal Kickers: T. Thornton Williams 5, C. McCall 3, B. Carbone 2, X. Williams 2, J. Smith, K. Keating, K. Ingram, J. Owen, D. Parker
Best Players: D. Parker, B. Doyle, T. Thornton Williams , H. Caine, M. Stingas, J. Smith