A review of the 2022 MC Labour Division 2.
The 2022 season had it all with a terrific finals campaign, a tight relegation battle and some moments of brilliance making it one of the more entertaining campaign's we've seen.
Banyule continued their incredible rise after joining the league in 2015, winning the grand final over Eltham to jump into Division 1 in just their sixth 'completed' season in the competition.
Their triumph came at the expense of minor premiers Eltham who despite their dominance were unable to translate their home and away season form into the finals, going down to the Bears in both the semi-final and the decider.
Diamond Creek returned to September action for the first time since 2017 and in Andrew Tranquilli's first full season at the helm, surprised many when they won their way to a preliminary final. The Creekers were inside the top three for most of the home and away campaign and despite finishing fourth, lost no admirers as they took it right up to the Panthers in the penultimate game of the year.
Lower Plenty couldn't replicate their brilliant 2021 form in which they finished 11-1 and had to settle for a third-place finish. They did become the only team to defeat Eltham in the home and away season and produced enough form to suggest they could challenge the top two sides, however their hopes of a first grand final appearance in four years were dashed after exiting the finals in straight sets.
Thomastown managed to book a finals spot despite being 14 points adrift from the top five with six games remaining. With player-coach Daniel Bramich at the helm following the mid-season departure of Mario Bandera, the Bears won five of the last six home and away games, including a famous final round victory over St Mary's to make the finals. Although they fell to Diamond Creek in the elimination final.
St Mary's continued to build on their breakout 2021 season and looked all but certain to claim a maiden finals place in Division 2. But the Burra lost their final four games of the year all against top five sides, which included defeat to Thomastown in the final round, to miss out by just two points.
Watsonia were one of the big improvers of the 2022 season. They set the tone with a shock opening round win over Lower Plenty and were mathematically a chance to play finals right up to the final game of the regular season.
Panton Hill struggled to keep up with the top seven teams of the competition but some improved form in the second half of the season will put the Redbacks in good stead heading into 2023.
Epping and the Fitzroy Stars were the main two sides fighting to avoid relegation throughout the year, with the Blues' two victories over the Stars ensuring they would remain in Division 2. The Stars will play in Division 3 next season for the first time since entering the league in 2008.
11 years after winning his first competition best and fairest, Lower Plenty's Darcy Barden took home the Division 2 best and fairest.
Banyule duo Riley Loton and Jack Langford received the Coaches MVP Award and leading goal kicker awards respectively.
Continue below for a season review for each Division 2 team:
Banyule
Premiers (15 wins – 3 losses)
Having been one of the sides to beat in 2021 prior to the season's suspension, Banyule were always going to be one of the contenders for this year's premiership having retained the bulk of their squad ahead of the 2022 campaign. The Bears wasted no time to settle into the season, sitting inside the top-five throughout the whole year and only suffering two losses in the first half of the campaign, a 31-point defeat to Lower Plenty in Round 5 and an eight-goal loss to Eltham in Round 8. Apart from a six-point defeat to the Panthers later in the season, Banyule would not lose another game for the rest of the home and away campaign and finished with a 15-3 record to sit in second spot. They held off a fast-finishing Lower Plenty in the qualifying final to sneak through to a huge second semi-final match up with the Panthers. Ricky Dyson and Paul Harris' men prevailed in an impressive nine-point triumph to win their way into a second consecutive grand final. They would ultimately face the minor premiers again in the decider, but unlike their efforts in 2019, Banyule looked almost impossible to get ahold of. The Bears led at every change on their way to claiming a historic premiership. Tim Martin capped off a great season to claim best afield honours, with the big man having a stellar day out in the ruck dominating at the stoppages and around the ground as he had all year. Jack Langford kicked five majors, with his incredible goalkicking playing a big role in his side's success. Riley Loton won the competition MVP award, putting together his best campaign for the club as he dominated in midfield. Incredibly during the Bears' four seasons in Division 2, they won 56 out of a possible 71 games. With a record like that suggesting they won't face too many difficulties holding their own in the topflight in season 2023.
Most times in best: Jack Langford (13)
Leading goal kicker: Jack Langford (69 goals)
Team of the Year representatives: Jack Langford, James Kayrooz, Riley Loton
Eltham
Runners up (17 wins – 1 loss)
The Panthers had lost a host of senior players throughout the off-season and after a third-place finish last year, there was a bit of unknown about how Robert Hyde's men would fare in 2022. They began the campaign with a solid 29-point win over Panton Hill before suffering a disappointing 45-point loss to Lower Plenty in Round 3. They would not taste defeat for the remainder of the home and away season, going on a fifteen-game winning streak and only winning by single digits on two occasions, on their way to their first minor premiership since 2018. Their key to success throughout the year was the youth that was injected into the squad to replace the experienced heads that departed earlier in the year. The likes of David Evans, Daniel Horsfield, Finnbar Maley and Daniel Owen were constantly in the side's best players and quickly settled into regular senior football. The Panthers were also the highest scoring team and the best defensive team in the competition as they headed into September as warm favourites to end a 20-year senior premiership drought. However, finals would be where Eltham's dominance came to an end. They went down to Banyule by nine points in the second semi-final before scraping over the line to defeat Diamond Creek by nine points in the preliminary final. In the grand final, they never looked to get going, trailing at every change, and getting blown away in the second half to go down to the Bears. Despite not achieving the ultimate success, a testament to the club's efforts throughout 2022 was evidenced by its three players (Daniel Horsfield, Finnbar Maley and Daniel Owen) earning selection in the Division 2 Team of the Year – all of whom aged 23 or under. With their young core still yet to peak, you can expect Eltham to be challenging again in 2023.
Most times in best: Daniel Horsfield (11)
Leading goal kicker: Daniel Owen (63 goals)
Team of the Year representatives: Daniel Horsfield, Finnbar Maley, Daniel Owen
Diamond Creek
Third (13 wins – 5 losses)
The Creekers were heading into the season hoping to break a five-year finals drought. While they lost the likes of Michael Florance, Ty Franks and Marcus Lentini, the Creekers did gain Sage Dicello and Sam Gleeson who would both prove to have a big impact this season. Andrew Tranquilli's men did face a tough start, battling the top three sides of 2021 in the opening three rounds. They remained competitive despite going 1-2 and looked to have improved across the board. Diamond Creek then went on a brilliant nine game winning run which included an important victory at home over Lower Plenty in Round 8.  After losing to Eltham in Round 13, the Creekers started to lose their consistency and lost their top three place (which they held since Round 8) in Round 17 with an agonising one-point defeat to Banyule. Despite tasting defeat in three of their last five home and away matches, Diamond Creek would quickly rebuild momentum in the finals, beginning with a last quarter surge in the elimination final to prevail over Thomastown by 22 points. They then faced a Lower Plenty team they had battled with all year for a double chance finish and with the ledger at 1-1 heading into the semi-final, the Creekers gave themselves every chance and eventually triumphed in a shock 21-point win. Going in as the underdogs against minor premiers Eltham in the preliminary final, the Creekers almost pulled off a massive upset with the side conceding two goals in the closing moments of the game to fall short of a grand final spot by nine-points. Along with new recruit Gleeson, Jai Norman and Nathan Searl produced excellent campaigns which would see all three make the Division 2 Team of the Year. Keeping this squad together will be key for the club if they're to challenge again in 2023.
Most times in best: Matthew Lewis (12)
Leading goal kicker: Ryan Pingree (39 goals)
Team of the Year representatives: Sam Gleeson, Jai Norman, Nathan Searl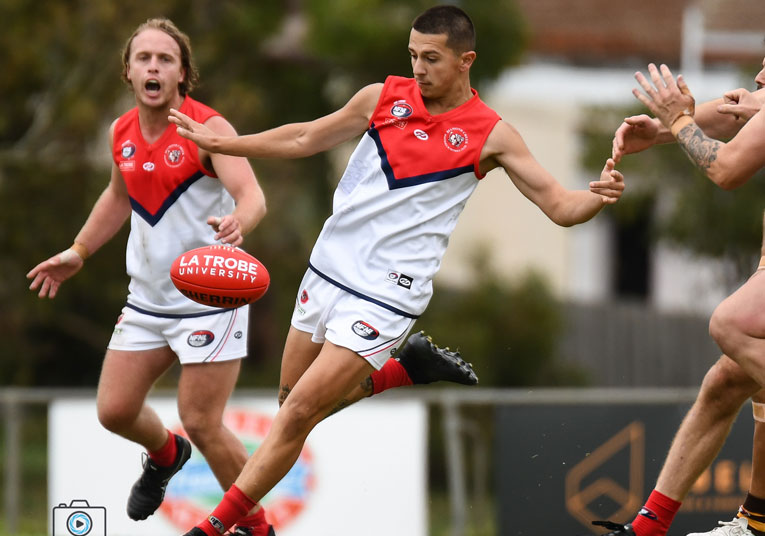 Lower Plenty
Fourth (13 wins – 4 losses – 1 draw)
The optimism was high for Lower Plenty following a 2021 season in which they finished 11-1. They hadn't lost any major players in the off-season and had added four-time premiership coach Phil Plunkett as senior coach. Things got off to a surprising start for the Bears when they went down to Watsonia in the opening round. They quickly regrouped to win their next three games, including an impressive victory over Eltham in Round 3, to sit on top of the ladder after four games. The Bears would only win four of their next eight matches, one of those fixtures being a famous draw against Thomastown in Round 5, before finishing the year on a six-game winning streak. Their Round 17 victory over St Mary's pushed them up into third spot, which they would hold on to heading into finals. Lower Plenty had garnered a reputation for always fighting out games, even if they were trailing by large margins, and it would be on full display in their qualifying final against Banyule. Lower Plenty had trailed by nearly nine goals in the second half, before rallying in the final term to being the deficit back to under a goal. Phil Plunkett's men would fall short by just five points and in the following week's semi-final, couldn't keep up with Diamond Creek to bow out of the finals in straight sets. Darcy Barden was the general down back for the Bears, his work in the defensive end, while also having the ability to swing forward when necessary, was on show throughout the year, resulting in him picking up his second Division 2 league best and fairest. Tom Keys was again pivotal in 2022, particularly in the second half of the year, taking over Thomas Blake's ruck duties with Blake sidelined due to injury. Corey Sleep and Joshua Turner were also excellent in midfield.
Most times in best: Darcy Barden (12)
Leading goal kicker: William Barden (43 goals)
Team of the Year representatives: Darcy Barden, Tom Keys, Corey Sleep, Joshua Turner
Thomastown
Fifth (8 wins – 9 losses – 1 draw)
Few teams suffered more highs and lows in 2022 than Thomastown. Expectations were high for the Bears coming into the season, they finished third in 2021 with an 8-4 record and had recruited Heidelberg West stars Jarryd Coulson and Masaki Miki to help bolster their ruck and midfield stocks respectively. But Thomastown had a tough start to the season, suffering a nine-point defeat to Diamond Creek (after trailing by 37 points at three quarter time) before going down in a heartbreaker to Banyule by five points in Round 2 to start a season 0-2 for the first time since 2012. The Bears would regroup to comfortably defeat Epping on Good Friday (although they did lose Miki to a season ending injury) however by Round 12, they had only won two more games and sat 14 points away from the top five. Coach Mario Bandera stood down and veteran Daniel Bramich was announced as player-coach for the remainder of the season. The turnaround for Thomastown quickly followed as they would go on to win four of their next five games, setting up an enthralling match with St Mary's in the last game of the home and away campaign to determine the final spot in the top five. The Bears were yet to defeat a top five side in the lead up to the match but away from home, were able to get ahold of the Burra and win by 19 points to confirm their spot in the finals. Thomastown led the Creekers by three points at three quarter time in their elimination final the following week but would be knocked out of the finals after a five goal to one last term blew them away. Midfielder Lawrence Lopiccolo had a breakout season who along with forward Anthony Capeci, received the most club votes in the league best and fairest count and earned Team of the Year honours. A fit Bears lineup to coincide with incoming coach Peter Bugden could be dangerous to stop in 2023.
Most times in best: Jarryd Coulson (16)
Leading goal kicker: Anthony Capeci (48 goals)
Team of the Year representatives: Josh Beare, Anthony Capeci, Jarryd Coulson, Lawrence Lopiccolo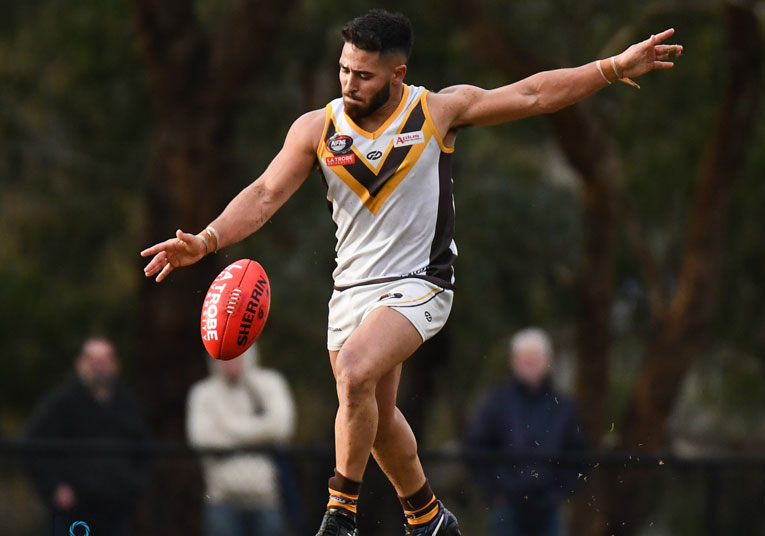 St Mary's
Sixth (8 wins – 10 losses)
After a breakthrough 2021 season where they were in equal fourth by the time the season got cut short, St Mary's were looking to continue their rise in the hope of securing a maiden Division 2 finals berth. The Burra were 3-1 after four games although their three wins were against sides that would finish in the bottom four. They would go down in two of their next three games before an important eight-point win over Thomastown in Round 8 gave them an advantage inside the top five and by Round 12, they were two games clear of the sixth placed Watsonia. But in their final five games of the year, Fabian Carelli's men went 1-4, with all four losses coming against top five sides, including a 19-point loss in the last game of the season against Thomastown that would see them miss the finals by two points. Their form against the top four sides in the competition halted St Mary's finals hopes, finishing 0-8 record and with an average losing margin of 46 points in those games, suggesting they have plenty of improvement ahead, however the positives were still on show from the Burra this year. 2022 recruit Vincent Loccisano was one of the Burra's most consistent performers throughout the season, ultimately being rewarded with a first Team of the Year appearance. Nicholas Gedge impressed in the defensive end while Tane Cotter continued on from his breakout year in 2021, being in the club's best in six of his 10 games this campaign.  Despite the disappointment of missing finals, St Mary's continues to be on the up and still with a relatively young squad, they won't be far away from the top five again in 2023.
Most times in best: Nicholas Dean and Nicholas Gedge (8)
Leading goal kicker: Nicholas Dean (26 goals)
Team of the Year representatives: Vincent Loccisano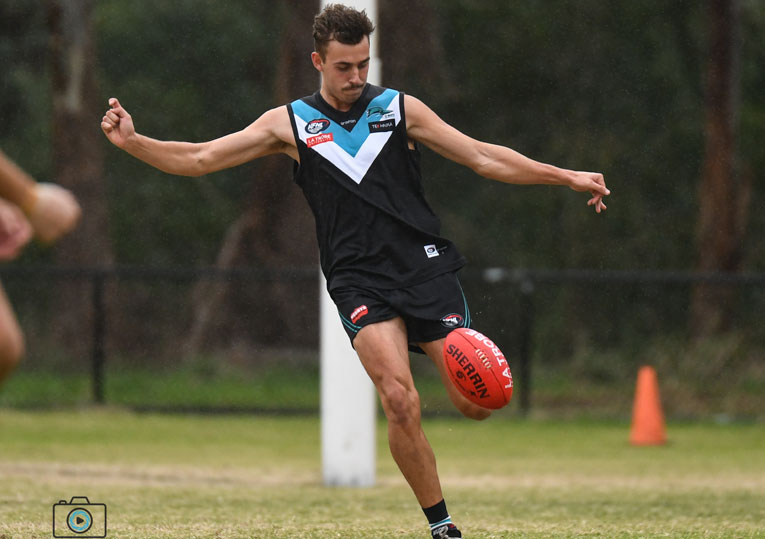 Watsonia
Seventh (8 wins – 10 losses)
It was difficult to predict Watsonia's huge improvement from a 2021 season in which they sat two games away from bottom place. But following their three-point upset victory over Lower Plenty in the opening round, the Saints let the rest of the competition know that they would be no easy beats in 2022.  Watsonia would claim victory in three of their first five games, matching their amount of wins from last year before even hitting a third of the way through the season. George Lattouf's men continued to improve despite some defeats to top five sides in the first half of the campaign, with a 32-point triumph over Thomastown in Round 9 putting them in equal fifth on the ladder at the halfway mark. The Saints were still in the finals hunt right up until the final round despite posting a 3-6 record in the second half of the season. A 35-point defeat to Banyule in the last home and away game saw them finish just two points away from a top five finish. At just 20 years old, Kyle Wheatley produced another excellent campaign, kicking 43 goals and being named in the Team of the Year forward line. Joshua Boulton and Lachlan Potter were brilliant in the defensive half with the latter also earning a Team of the Year selection, while James Lucente proved to be a handy addition inside 50, kicking 36 goals in 15 games including 17 majors against top five sides. After taking the big jump they have this year, there's no reason to suggest Watsonia can't continue their upward trend next season.
Most times in best: Joshua Boulton (13)
Leading goal kicker: Kyle Wheatley (43 goals)
Team of the Year representatives: Lachlan Potter, Kyle Wheatley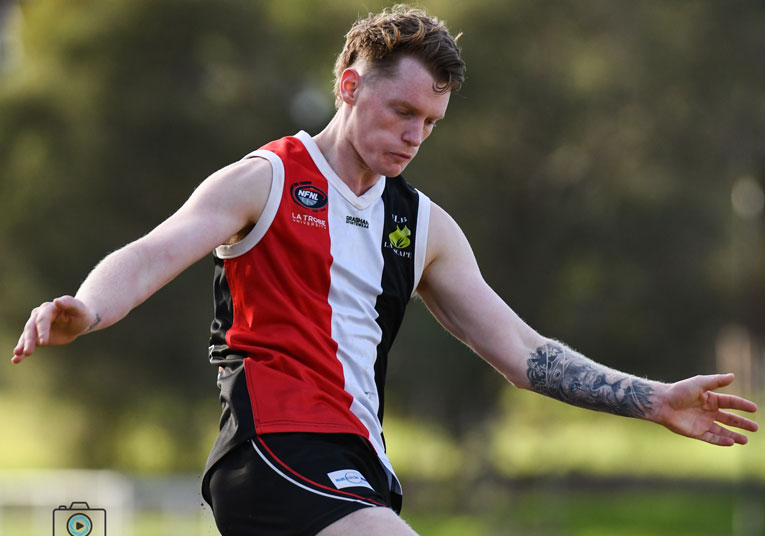 Panton Hill
Eighth (5 wins – 13 losses)
Panton Hill took a while to find their feet in 2022 following an off-season where many of their 2019 premiership stars had left the club including captain Mitchell Anderson, key forward Matthew Byron and defender Brent Ryan. At the halfway mark of the year, the Redbacks sat in eighth spot with a 2-7 record. Their two victories were against Epping and the Fitzroy Stars but their opening seven defeats were by an average margin of just over 60 points. They fared slightly better in the second half of the season, highlighted by a 12-point victory over St Mary's in Round 11. Scott Conte and Tim Duckworth returned to play their first games of the season and in his second game of the year 2019 grand final bets on ground recipient Daniel Freeman starred to lead the Redbacks to their first home victory since 2019 against the Burra. Panton Hill claimed two more wins to finish the year with five victories, the most they've had in a Division 2 season since 2014. After signing Oliver Parks from Diamond Creek, the Redbacks had all three Parks brothers at their disposal, with the trio standing out as some of the side's better players. Samuel Parks in particular was terrific, finishing third in the league best and fairest and receiving a Team of the Year selection. Nathan Jasper also impressed in his first season at A.E. Cracknell Reserve. Simon Amore's men will look to further distance themselves from the bottom of the pack next year and hope to be more competitive against at the top sides of the division.
Most times in best: Samuel Parks (14)
Leading goal kicker: Maxwell Brooks (24 goals)
Team of the Year representatives: Samuel Parks
Epping
Ninth (2 wins – 16 losses)
It was another tough campaign for the Blues who have managed just five wins in their last three seasons in the competition. However, they did enough to avoid relegation in 2022 with two victories over the bottom placed Fitzroy Stars ensuring they'll remain in Division 2 next year. Their opening round victory over the Stars sparked hope that the side would improve but a 10-game losing streak, where the average losing margin was over 100 points, put them right back in the relegation battle with the Stars. In what was their first home victory since 2018, the Blues hung on in a nail-biting finish to defeat the Stars by a point in Round 10 with a last gasp behind from Alec Buchan. That's where the wins ended for Epping who went down in their remaining seven games to finish the year in ninth. 11 of their 16 losses were by 100 points or more and they conceded the most points of any side this season, but a couple of standout performers will help give the side confidence they can bounce back next year. Leigh Judd was superb in the defensive half, winning a first Division 2 Team of the Year selection, while the returning Damon Marcon kicked 19 goals in 16 games. With another season in Division 2 under their belt, the Blues will hope they can avoid a similar relegation battle in 2023.
Most times in best: Leigh Judd (13)
Leading goal kicker: Damon Marcon (19 goals)
Team of the Year representatives: Leigh Judd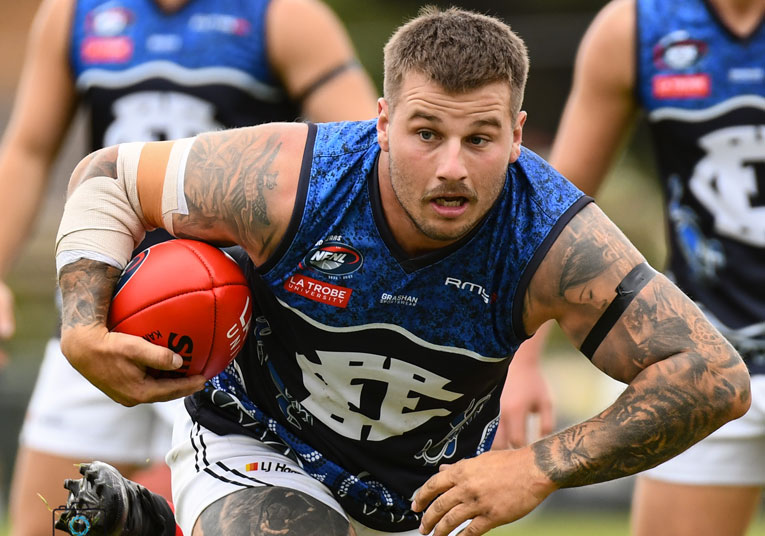 Fitzroy Stars
Tenth (0 wins – 18 losses)
For the first time in their 15-year stint in the NFNL, the Fitzroy Stars were relegated from Division 2 following a winless 2022 campaign. The Stars were planted on the bottom in 2021 with a 1-11 record but with a fresh new season ahead and with coach Lionel Proctor remaining at the helm, the hope was for an improved showing this year. However after falling by 17 points to Epping in Round 1, the Stars were uncompetitive against their opponents, losing their 18 games by an average margin of 86 points. Depth was a major issue, with the club's reserves also battling and failing to record a win. The Fitzroy Stars' best chance of victory came in Round 10 against the Blues away from home as despite leading by two points at three quarter time, fell short in the final moments to lose by a point. There were some positives to come out of the season from the Stars, mainly from the likes of Riley Livingstone and Hotak Akram, who each played consistently great football. Livingstone particularly was brilliant in the ruck and around the ground. He led his club's goalkicking with 26 majors and was named in his side's best and incredible 16 out of 18 times. With a new environment in Division 3 next season, the Fitzroy Stars will aim to get back to their best and challenge for a first premiership in the NFNL.
Most times in best: Riley Livingstone (16)
Leading goal kicker: Riley Livingstone (26 goals)
Team of the Year representatives: Nil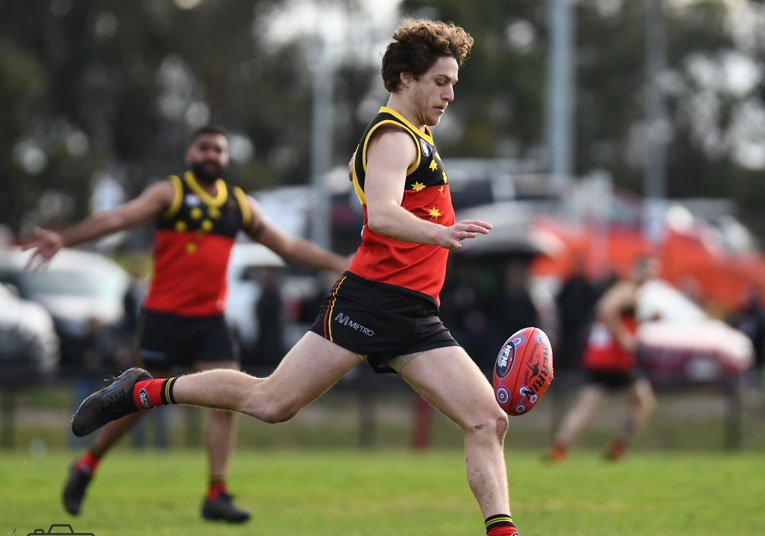 MC LABOUR DIVISION 2 – 2022 REVIEW
Final Results
Qualifying Final: Banyule 11.8 (74) def Lower Plenty 10.9 (69)
Elimination Final: Diamond Creek 11.13 (79) def Thomastown 9.3 (57)
First Semi Final: Lower Plenty 11.9 (75) def by Diamond Creek 15.6 (96)
Second Semi Final: Eltham 10.9 (69) def by Banyule 11.12 (74)
Preliminary Final: Eltham 7.13 (55) def Diamond Creek 6.10 (46)
Grand Final: Banyule 10.17 (77) def Eltham 7.10 (52)
Best and Fairest
1st – Darcy Barden (Lower Plenty) – 21 votes
2nd – Jack Langford (Banyule) – 19 votes
3rd – Samuel Parks (Panton Hill) 18 votes
4th – Joshua Turner (Lower Plenty) 17 votes
5th – Riley Loton (Banyule) 15 votes
Leading Goal Kicker (home and away only)
1st – Jack Langford (Banyule) – 59 goals
2nd – Daniel Owen (Eltham) – 56 goals
3rd – Anthony Capeci (Thomastown) – 47 goals
4th – James Kayrooz (Banyule) 44 goals
5th – Kyle Wheatley (Watsonia) – 43 goals
Coaches Most Valuable Player
1st – Riley Loton (Banyule) – 93 votes
2nd – Sam Gleeson (Diamond Creek) – 63 votes
3rd – Jack Langford (Banyule) – 61 votes
4th – Darcy Barden (Lower Plenty) – 57 votes
5th – Corey Sleep (Lower Plenty) – 57 votes
Team of the Year