Northern Knights Talent Manager Rhy Gieschen has been impressed with the progression of NFNL players representing the Knights program this season.
Youngsters from NFNL clubs have made their mark for the Knights in both the boys and girls squads in 2018, with Gieschen satisfied with the level of skill these players have illustrated throughout the year.
"Across the 18s we have had a good representation of NFNL players represent the squad throughout the course of the year, with both top and bottom-aged players," Gieschen told NFNL.org.au.
"The squads are all progressing well across the board.
"The under-16s had a relatively successful carnival. We had nine kids trial with the under-16 Vic Metro, where five made the final squad.
"Of that, two actually played in the carnival and they were both NFNL boys in Ewan Macpherson and Ben Major (both Diamond Creek), so that was a great achievement for them.
"We are constantly looking at NFNL junior games and looking for the best possible talented kids that fall into our region."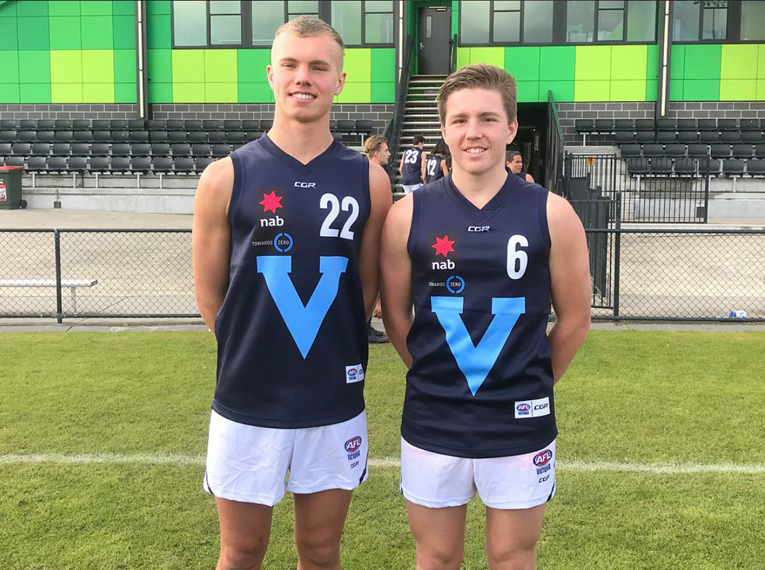 One of the most influential players from the current under-18s squad has been Montmorency's Braedyn Gillard, who was appointed captain this season – following in the steps of recent NFNL draftees Nick Coffield and Jade Gresham.
Gillard averaged 25 disposals in seven matches this season before breaking his elbow during a school footy game.
But Gieschen is confident he is doing all the right things to get himself back on the field as soon as possible.
"He had a really strong start to the year and led the team really well but unfortunately he's been struck down with a broken elbow," he said.
"We're hopeful that he will come back for potentially the last two games of the year. We know he saw the surgeon again over the weekend so he's due to resume some light contact training this week and then we are hoping to get him back potentially about mid-August.
"Prior to that he was going really well for us in terms of not just his on-field performance, but his off-field leadership was really good as well.
"He is a really popular player in our group."
Once Gillard does get back into playing for the Knights, Gieschen is positive he will be on the radar of AFL recruiters ahead of 2018 AFL national and rookie drafts.
"In regard to the draft talent coming through this year, Braedyn has been the standout from the NFNL players and has a fair chance," he said.
Montmorency's Ryan Gardner has led the talented bottom-aged playing group in the Knights program and recently represented Vic Metro at the 2018 AFL Under-18 National Championships.
Gieschen believes the pacy midfielder is on track to be a prominent target for selectors in next year's draft.
"He's had a fantastic first season in the TAC Cup. We've always known that Ryan has been a pretty talented player in our program," he said.
"We played him in a TAC Cup game as a 16-year old last year which is quiet a rare achievement and he handled himself really well in that game.
"It gave him the confidence to come out and have a really strong pre-season over the summer months and that really set him up for a good strong year this year.
"In his game with Vic Metro he was also really courageous in the air and on the ground. He's a pretty smooth mover and if he continues the form that he's showing, it certainly puts him in consideration for draft discussions in 2019."
While Gardner has been one of the standouts, many other NFNL representatives have made their mark in the Knights program this year.
South Morang's Josh D'Intinosante has played every TAC Cup game in 2018 and has booted 13 goals.
Fellow South Morang duo Brody Bell and Lachlan Potter, and Montmorency's Stefan Uzelac, also been consistent in the Knights' starting 22 throughout this year's campaign.
"We've got a really strong bottom-age group this year and it's a great thing to have for the program," Gieschen said.
"Josh is improving at a rapid rate. We've been able to play him not only as a small forward, where he's got outstanding craft and skill in front of goal, but he's also been able to transition to work his way into our best midfield.
"He's in our top five, six players every single week and we have been really pleased with his development.
"Lachlan is another bottom-aged player this year. He is probably in the top three quickest players in the TAC Cup. He's got an unbelievable turn of foot and just loves to run and carry the ball in his hand, which has been impressive.
"Brody is one of our vice-captains and has captained the club when Braedyn hasn't been there at times. He's a big bodied midfielder who thrives on the contested ball (and) he's been a really strong contributor for us."
The Northern Knights are also reaping the rewards from their success during the 2018 TAC Cup Girls campaign.
The Knights reached the grand final, but just fell short against the Geelong Falcons in the decider – losing by 11 points.
One of the most notable standouts from the season was Montmorency's Madeline Brancatisano.
Brancatisano captained the Knights throughout the 2018 season and captained Vic Metro in Game 3 of the 2018 AFL Under-18 National Championships.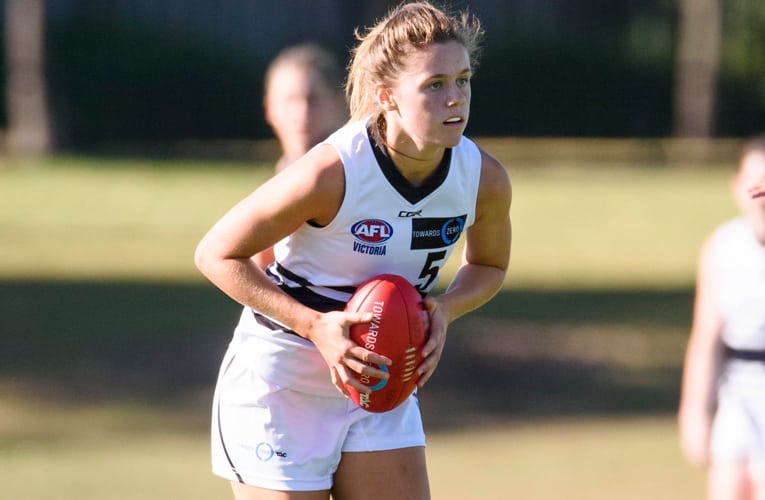 Gieschen has been impressed with Brancatisano's performance throughout the year, and after making her VFLW debut for Carlton last weekend, he is sure she will be closely looked at by AFLW selectors throughout the rest of the year.
"Maddie's been fantastic. She was one of our standout players last year as a bottom-aged player. She's been a fantastic character around our group over the last few years but has certainly stepped up as captain throughout this season," he said.
"She's one of the cleanest players in the girls TAC Cup competition. She works really well in traffic but just her consistency and effort throughout every single minute of every single game has been really impressive for both us and her.
"We are really confident that she is a good chance to go into the AFLW draft. I know that clubs are certainly looking at her with strong interest.
"Not only do these clubs like her on field ability but also her character off the field, which she has been able to show as a leader of the Knights program and when she captained Vic Metro as well."
Brancatisano was one of four NFNL players to represent Vic Metro at 2018 AFL Women's Under-18 National Championships this year, along with Gabrielle Newton (Montmorency), Britney Gutknecht (Laurimar) and Marnie Jarvis (Yarrambat).
Newton was named in the 48-player All-Australian squad after starring at the Championships.