Rivals have turned into teammates, with a host of merged teams competing in the 2018 NFNL junior football competition.
With record junior team numbers competing in the 2018 NFNL junior season, there are as many as six amalgamated teams – made up from players from two or more different clubs – competing in the competition.
Across the off-season, a host of NFNL junior clubs have worked closely with neighbouring clubs to merge teams that were experiencing a shortage of players.
This has ensured players can continue to play with their club, without needing to transfer to a different club within their age group.
Among the merged teams competing in the 2018 season are Wallan/Kilmore (Under-18 Girls), Kilmore/Wallan (Under-17 Boys), Rangers – a combination of Eltham, Yarrambat and Research (Under-17 Boys), Boro Bolts – a combination of Greensborough and Bundoora Park (Under-16 Girls), Green Searchers – a combination of Greensborough and Research (Under-14 Girls) and HJFC/YJFC – a combination of Hurstbridge and Yarrambat (Under-14 Girls)
NFNL Football Operations Manager Simon Devine was full of praise for the clubs who have cast aside rivalries and banded together to put additional teams on the field.
"It's good to see clubs working together to ensure players are able to play a game because their club can't facilitate a team independently," Devine said.
"These players register with their own club and are then permitted to the club hosting the team. This enables all clubs to retain their playing list at the end of the season in the hope of getting a full team up for the following year"
"We hope this opens up opportunities for other struggling teams to do likewise in the future."
The merging of teams has seen strong connections built between new teammates both on and off the field.
Recently three members of the Rangers under-17 merged team combined to lay a wreath on behalf of the Eltham Football Club at the Eltham/Montmorency RSL dawn service.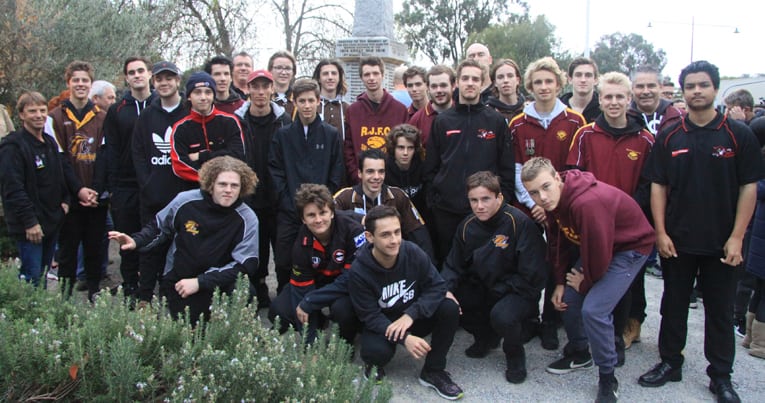 The players selected to do so were Ben Smith (Eltham), Cooper James (Yarrambat) and Jesse Colenso (Research).
All members of the Rangers attended the dawn service and were on hand to watch their new teammate lay the wreath.
Rangers team manager Greg James said it had been great to see unity created within the team.
"We are a team comprising of three clubs Yarrambat, Eltham and Research that have come together to get 31 boys on the track this their final junior season," James said.
"(At the dawn service) it was fantastic to see our local football community coming together in support of our under-17s team players and parents to pay their respects to the service men and women who gave their lives to make our country great."