A review of the Sections 9-11 netball grand finals at Parade College.
Section 9 Grand Final – Hurstbridge 2 vs West Ivanhoe 3
by Stephanie Smarrelli
A thriller between Hurstbridge and West Ivanhoe came down to the wire with Hurstbridge taking out the grand final by two goals.
Hurstbridge were quick to turn the ball over off West Ivanhoe's first centre pass with a missed goal resulting in a pick-up from GD Tamsin Leonard.
West Ivanhoe made it hard for Hurstbridge to transition from defence into attack with tight one on one defensive pressure. A missed goal from Hurstbridge resulted in a West Ivanhoe goal, however, neither side seemed settled under the ring to start.
Good movement and feeding from Hurstbridge WA Teagan Nash led GA Paris O'Day into scoring their first goal of the game after almost three minutes of play.
A series of mistakes from both sides stopped either side from pulling ahead of the other with scores tied at 4-4 at the end of the quarter.
The second quarter started with a good intercept from West Ivanhoe's goal keeper, however, Hurstbridge GK Stephanie Smith then did the same down the other end as both team's continued to struggle moving the ball forward.
After plenty of turnovers, West Ivanhoe finally scored the first goal of the second quarter.
However, from there Hurstbridge stepped up with GK Smith deflecting the ball smartly to WD Gemma Raif and then their teammates quickly worked the ball down to their GA Tyla McAlear for a goal.
Hurstbridge WA Shelbie Buckwell then intercepted the ball and West Ivanhoe found themselves another goal down.
With the centre pass in Hurstbridge's favour, West Ivanhoe fell further behind their opponents.
Hurstbridge GD Tamsin received a caution for contact and then West Ivanhoe's goal shooter was able to score.
Hurstbridge maintained their lead during the rest of the quarter and survived a last-minute scare from West Ivanhoe.
In the final 45 seconds of the first half, West Ivanhoe controlled the ball and were able to work it into their shooting circle, however, the defensive pressure from Hurstbridge was too good with goal attempt after goal attempting missing the ring.
Hurstbridge extended their lead to four goals at the start of the third quarter, however an intercept from West Ivanhoe's goal keeper resulted in them getting a goal back.
West Ivanhoe's centre did well to pick up a loose ball, however, a step from her teammate stopped them from being able to capitalise. With the turnover West Ivanhoe's centre then received a caution for unnecessary contact.
A few small errors from Hurstbridge allowed West Ivanhoe to win the ball back with their movement becoming quicker into their shooters who seemed more confident.
Scores grew closer once again, with only a goal separating the two sides with a missed West Ivanhoe goal on the three-quarter time whistle halting the teams from ending the quarter level.
A lively crowd spurred both teams on in the final quarter as Hurstbridge held on to win.
Quick movement from Hurstbridge C Kate Harrington and WA Nash allowed their side to find room easily in their goal circle and they were able to push their lead out to five goals in the first few minutes of the quarter.
From there West Ivanhoe ignited with their defensive pressure lifting causing a turnover that allowed them to score and then score again off their centre pass.
A missed goal from Hurstbridge and good positioning under the ring from West Ivanhoe's goal defence allowed the scores to narrow once again.
Despite a lift in intensity, West Ivanhoe seemed to feel the heat when it mattered the most in the final four minutes of the match with a loose ball rolling out of court and no player trying to keep it in despite having ample time to chase.
Hurstbridge, sensing West Ivanhoe getting closer, continued to apply defensive pressure to force turnovers. An intercept from Hurstbridge WD Raif was crucial in keeping possession in their favour during the final two minutes of play and resulted in a much-needed goal.
Down by three with a minute and a half left to play, West Ivanhoe still had time to turn the ball over and score. They scored off their centre pass with their GS shooting an impressive long bomb, however by the time they moved the ball into the net a minute had passed.
Hurstbridge were able to hang onto possession for the final 30 seconds of play and win the game with their GS Emma Thomas named the best on court.
Final score: Hurstbridge 2 (20) def West Ivanhoe 3 (18)
---
Section 10 Grand Final – Reservoir 2 vs Watsonia 5
by Stephanie Smarrelli
Watsonia 2 upset minor premiers Reservoir in the Section 10 Grand Final, winning the match by five goals.
Watsonia got out to a quick start with their goal shooter easily converting a missed goal from Reservoir and then her shooting partner scoring off the next centre pass.
Reservoir's shooters were nervous early with another missed goal being capitalised on by Watsonia before finally, a replayed ball from the Saints resulted in a Reservoir goal.
A few shaky minutes passed with both sides turning the ball over before a well-placed feed from Reservoir WA Chloe Simmons saw her team get back to within one.
Scores were level with four minutes remaining in the first quarter after an intercept from Reservoir GD Shacara Byers and a swing pass from GA Kellie Shannon opened up GS Eboney Jackson in the circle.
Scoring quickly off the following centre pass, Reservoir hit the front, however, Watsonia stayed close behind and quickly tied the scores up again with the quarter ending 7-7.
Watsonia worked the ball into their goal attack quickly to hit the front at the start of the second quarter, getting out to a three-goal lead with turnover after turnover going their way.
A contact call against Watsonia goal attack and a smart bounce pass into the circle from Reservoir WA Simmons saw GA Shannon confidently slot a goal in before Watsonia then matched them scoring off another turnover.
Reservoir drew level with Watsonia again, however, the Saints were careful with their centre pass advantage to keep possession in their favour.
Both sides were neck and neck before Watsonia upped their defensive pressure to turn the ball over and capitalise.
In the last ten seconds of the half, Watsonia's goal keeper took an important intercept and sent the ball flying down the court, it swiftly moved to their goal attack who was standing just inside the goal circle as the whistle blew and a contact call went against Reservoir.
She focused on the ring and shot an extreme long bomb into the net to extend her team's lead out to four goals at half time.
Reservoir started the third quarter with the centre pass and good movement between WA Simmons and GA Shannon allowed them to score quickly.
Tight defensive pressure from Watsonia saw them get the ball back after they missed a goal as their wing defence backed up a deflection and their goal shooter pushed their lead out to five.
Despite some good attempts to turn the ball over and an impressive intercept from GD Byers, Reservoir fell six behind by the quarter's end.
Both sides looked tired in the final quarter with plenty of turnovers going the way of both teams.
Reservoir's defensive pressure went up a notch in the early part of the quarter causing Watsonia to stumble. Sharp shooting from Reservoir GA Shannon allowed her team to hit the front after Watsonia fell into a slump.
Both teams continued to push on through fatigue and went goal for goal after that before a breaking call against Reservoir on their centre pass gave Watsonia the opportunity to hit the front again and they did.
Scoring quickly off their next centre pass, Watsonia found themselves with an edge as Reservoir's defensive pressure slipped.
A missed Reservoir goal and contact call against them saw the Saints further extend their lead and continue to push themselves.
Reservoir tried their hardest to win the ball back with players trying to deflect the ball, however, once Watsonia had ball in hand they were able to hold onto possession and take their time moving to their goal circle.
Watsonia's shooters held space well in the circle and continued to shoot their team ahead despite Reservoir's defensive duo GD Byers and GK Karly Train doing their best to stop them.
Watsonia GA Maddison Filev was named best on court with her side winning the grand final by five goals after surviving the late Reservoir charge.
Final score: Watsonia 5 (34) def Reservoir 2 (29)
---
Section 11 Grand Final –Hurstbridge 3 vs Mernda 2
by Marisa Sopcic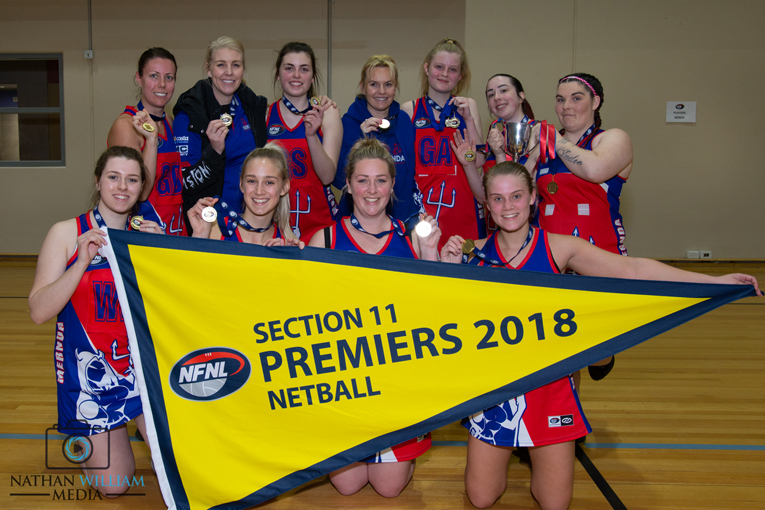 Mernda 2 turned the tables on Hurstbridge 3 to take out the Section 11 grand final.
The top-two sides reunited on court at Parade College. Mernda were narrowly defeated by Hurstbridge in the second semi final but came out on court for the Grand Final in form and hungry for the win.
Hurstbridge were quick out the gates with the first goal, but it was Mernda who scored the next seven goals to open a significant early lead.
Hurstbridge couldn't hold onto the ball for long passages of play and turned over possession from passing to players under pressure.
Mernda was able to quickly intercept and pass into their goals, where their GA Demmi Gosling scored an impressive nine goals of her team's 12 first-quarter goals.
Hurstbridge defenders Jennifer Perry and Charlotte McClaren put pressure on Mernda in goals, but GS Tia Kellett and GS Gosling were stronger to rebound on any missed shots.
Hurstbridge were awarded a penalty shot right on the siren which was converted and cut their deficit to seven at the first break.
Hurstbridge rallied in the second quarter. The Bridges forced a few turnovers to start the quarter and soon had Mernda passing under pressure.
Hurstbridge's defence was tight all over the court and didn't give Mernda players any space to work with.
On transition, Hurstbridge passed long and accurately to teammates and brought the scores to a goal difference by half time.
The comeback was somewhat short lived as Mernda soon got the jump on Hurstbridge in the third quarter. The Demons mid-court players saw a lot of the ball in the opening minutes of the term.
With their side pushing out to five goals in front, Mernda defenders Nicole Di Bella and Zoe Berry made it difficult for Hurstbridge to hold onto the ball inside the shooting circle and were able to gain rebounds on any missed shots.
Hurstbridge needed a big lift in the final term to give itself a chance of scoring a come-from-behind win to snatch the premiership.
However, Mernda had all the momentum and never looked like losing its grip on the lead as it romped away in the final term.
Hurstbridge managed to score only one goal in the quarter, and as they struggled around the ring, Mernda ran away with the game – taking home an 11-goal victory.
The best on court medallion was awarded to Mernda GA Demmi Gosling.
Final score: Mernda 2 (29) def Hurstbridge 3 (18)