A review of the 2023 MC Labour Division 2 season.
Another entertaining Division 2 season came and went in 2023, as some sides broke through to challenge for the premiership right throughout the year while others will look to improve in 2024.
Eltham finally completed their quest of achieving promotion to the Melbourne Greyhounds Division 1 haven fallen short in previous campaigns, winning the Grand Final in convincing fashion over Diamond Creek.
Despite producing their best campaign in almost 20 years, the Creekers were unable to translate their home and away season form into the finals, going down to the Panthers in both the semi-final and the decider; an incredibly similar fate to Eltham 12 months prior.
St Mary's participated in September action for the first time since achieving promotion to Division 2 and after the heartbreak of last year, Fabian Carelli led his men to a third-place finish and a preliminary final appearance.
Another big improver was South Morang, who produced an incredible campaign to finish fourth and became the second team to make finals in a higher grade the year after winning a Division 3 premiership.
Watsonia would clinch the final spot in the top five by season's end with some strong efforts in the back half of the campaign. Although their stay in September was short, it's another step forward for the Saints.
Thomastown again struggled to gain any consistency throughout the year, but this time missed finals for the first time since 2017, finishing two points behind fifth placed Watsonia.
Northcote Park had intentions of bouncing back up to the top flight following their relegation last season but their return to Division 2 didn't go according to plan, as they finished in seventh position.
Despite a revamped squad, Panton Hill weren't able to fare much better than they did in 2022 and despite having a strong patch of form in the middle part of the season, they struggled to be a genuine finals contender in the back half of the campaign.
Lower Plenty and Epping were the main two sides fighting to avoid relegation throughout the year, with wins over Panton Hill and the Blues in the second half of the season ensuring that the Bears would remain in Division 2. Epping would rue their inability to run out matches, which proved to be a catalyst towards their relegation.
Tane Cotter became the first NFNL senior best and fairest winner from St Mary's after claiming the award by just one vote over Eltham's Tom Goodwin in a close count.
Thomastown midfielder Tyrone Leonardis took out of the Coaches MVP in dominant fashion while Watsonia's James Lucente had an excellent season up forward and finished with 59 regular season goals.
Continue below for a season review for each Division 2 team:
ELTHAM
Premier (16 wins – 2 losses)
Eltham were more determined than ever to end their senior men's premiership drought and wasted no time in bolstering their squad following their Grand Final defeat last year. New coach Tim Bongetti alongside star recruits Jesse Donaldson and Tom Goodwin made an immediate impact, with the Panthers dropping just two games for the home and away campaign, both at the hands of the minor premiers in Diamond Creek. They would complete the season with 16 wins and a second placed finish and would also head into September with three consecutive 60+ point victories, which was form they continued into the first week of finals, where they comfortably defeated St Mary's by 78 points in the qualifying final. When they faced the Creekers in the second semi-final, Eltham took control in the second term, and despite a fightback from their opponents, the Panthers rallied hard in the final quarter to win their way to a third Grand Final since 2018. They would face the same side a fortnight later with a similar story unfolding, as they kicked 12 goals to five after quarter time to finally taste silverware in the senior men's competition. Their rousing 41-point win came courtesy of Finnbar Maley, who starred inside 50 with six goals in just his sixth game of the season due to VFL commitments. When he did play, he formed a brilliant tandem with Tom Goodwin in ruck and up forward. Donaldson starred around the ground and polled well in the best and fairest count and Coaches MVP Award. Declan Ayres meanwhile had a brilliant breakout campaign which saw him finish in his side's best in 11 of 20 games and earn a Team of the Year appearance. After winning 37 of their last 42 games, Eltham will be keen to translate their recent dominance in Division 2 into the top flight.
Most times in best: Jesse Donaldson (12)
Leading goal kicker: Jason McCormick (43 goals)
Team of the Year representatives: Declan Ayres, Daniel Owen, Jason McCormick, Thomas Goodwin, Jesse Donaldson
DIAMOND CREEK
Runners up (17 wins – 1 loss)
After a strong 2022 campaign which saw them break their five-year finals drought and reach the preliminary final, the Creekers were hoping those achievements would be a springboard towards a strong 2023 season. Mitch Tobin and Billy Bedford headlined the inclusions for the club ahead of the campaign and would both go on to have outstanding seasons. Diamond Creek started brightly, winning their first four games before suffering a surprise defeat to Panton Hill in Round 5. Their response in Round 6 was excellent, when they were victors over an undefeated Eltham side away from home, and it proved to be the tone setter for the remainder of the home and away campaign, as they finished the regular season as minor premiers. However, their finals series didn't quiet go to plan. They fell to the Panthers in the second semi-final by 25 points, their first defeat since May, and while they proved too strong for a gallant St Mary's outfit in the preliminary final, they struggled to keep up with Eltham after quarter time in the Grand Final. Their improved season came from a range of factors, none more prominent than their impressive defensive traits. Along with Bedford, a backline led by Team of the Year duo Joel Randall and Nathan Searl, as well as Matthew Lewis, helped Diamond Creek concede just under 40 points a game in the home and away campaign. Another factor came through the benefit of having Jacob Booth for the entire campaign, as after playing five games in the last two years combined, the VFL listed talent had a terrific season at Coventry Oval, being named in his side's best in 10 of 15 games and kicking 29 majors. Andrew Tranquilli's men certainly lost no admirers from their 2023 campaign, and they will be favoured to go one better next year.
Most times in best: Nicholas Barro (12)
Leading goal kicker: Ryan Pingree (31 goals)
Team of the Year representatives: Joel Randall, Nathan Searl, Jacob Booth, Nicholas Barro
ST MARY'S
Third (11 wins – 7 losses)
The heartbreak of 2022 seemed to spur St Mary's into a club best campaign this year, reaching their first ever finals series in Division 2. Whilst they lost talented ruck Zac Hudson, the recruitment of Jeremiah Antypas and Jack Bianchin would prove to have a major impact on the Burra's improved season. They did face a tough start to the year, going down to newly promoted South Morang in the opening round of the season before suffering a heavy defeat to Eltham the following week. They bounced back to win three straight games, but further defeats saw them go 3-4 after Round 7. However that's when their complete turnaround began as Fabian Carelli's men would only lose three of their final 11 games of the home and away season, posting scores of 90 or more in five of those victories, to finish in third spot. Their inaugural finals campaign got off to a rocky start, when they proved no match for a dominant Eltham side in the qualifying final, however their second chance allowed them to showcase their best football, when they defeated South Morang in an entertaining semi-final. Winning their way to a preliminary final, St Mary's faced the minor premiers in Diamond Creek and while they put up a good fight early, the Burra were unable to limit the Creekers scoring power, going down by 47 points. Other highlights in the club's improved 2023 season included Tane Cotter, who not only played some exhilarating football, but would become the Division 2 best and fairest and will look to lead the charge again next year. Rory Hanlon also excelled in midfield and was rewarded with a Team of the Year appearance while Huon MacGibbon was strong in the ruck, particularly during the finals campaign.
Most times in best: Jack Bianchin (12)
Leading goal kicker: Jeremiah Antypas (47 goals)
Team of the Year representatives: Tane Cotter, Jeremiah Antypas, Rory Hanlon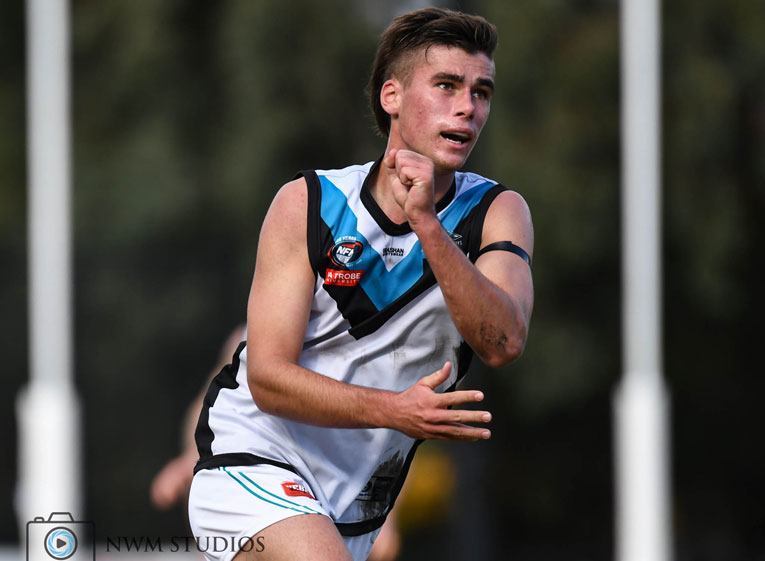 SOUTH MORANG
Fourth (10 wins – 8 losses)
The optimism was high for South Morang, after they secured promotion to Division 2 the season prior, though no one could've foreseen just how much of a competitive outfit they would turn out to be. Keeping their premiership squad from 2022 as well as adding a host of talented names such as Joshua D'Intinosante, Lachlan Potter and Gary Moorcroft, the Lions would begin the year with a bang, winning their first three games of the season by an average margin of just over 54 points. Despite back-to-back losses to the eventual Grand Finalists, Gary Hall's side continued to produce wins, and would find themselves 7-2 and occupying third position at the halfway point of the season. With injury and unavailability impacting South Morang in the second half of the home and away campaign, the side would claim victory just once between Round's 10 and 15, suddenly putting them in danger of dropping out of the top five. But the Lions' steadied the ship to win two of their final three matches to secure fourth place. South Morang would produce one of their best performances of the year in a 79-point triumph over Watsonia in the elimination final but were unable to repeat the dose the following week against St Mary's, going down by 21 points to end their 2023 campaign. Joshua D'Intinosante was a livewire up forward, finishing the year with 45 goals, 13 of which came in his two finals appearances. Tye Hall was immense around the ground and finished in his side's best in seven of his last eight games, while Deacon Kalpakis had a breakout season in defence. With a terrific campaign under their belt, there's no reason why South Morang can't aspire to reach greater heights in 2024.
Most times in best: Tye Hall (12)
Leading goal kicker: Joshua D'Intinosante (45 goals)
Team of the Year representatives: Joshua D'Intinosante, Gary Moorcroft, Lachlan Potter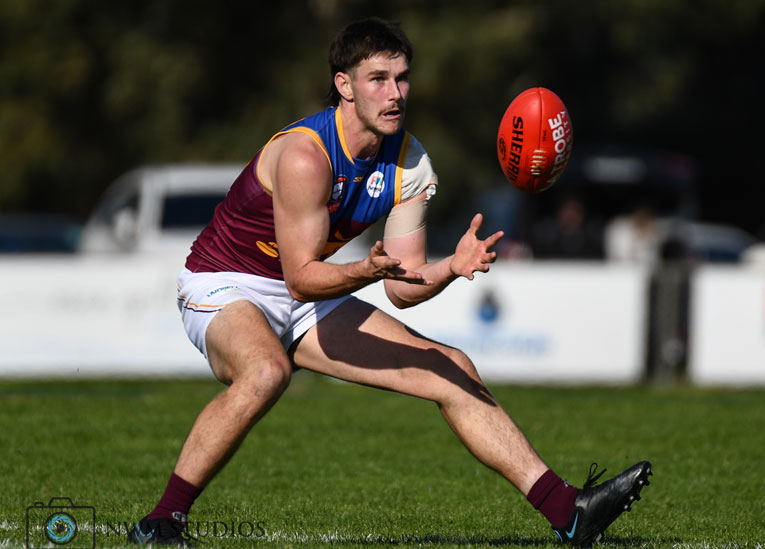 WATSONIA
Fifth (9 wins – 9 losses)
Following signs of improvement last year, the Saints were tipped to contend for finals again in 2023, even though they were heading into the campaign without their two Team of the Year representatives from last year in Lachlan Potter and Kyle Wheatley. As they did in Round 1 of 2022, Watsonia began the season with a win over Lower Plenty, this time in more convincing fashion. The big wins continued into the following week when a massive triumph over Panton Hill saw them go 2-0. Inconsistency started to creep into the Saints form throughout the middle parts of the season and there was no certainty that the Saints would be finals bound. But, important victories over Thomastown, South Morang and Northcote Park in the final third of the home and away campaign would prove to be enough to see Watsonia book their first finals appearance in Division 2 for 15 years. Their one and only finals match was disappointing way to end the year, as they conceded seven goals to one in the opening term of their elimination final on their way to falling to South Morang by 79 points. With a void to fill up forward, James Lucente rose to the task, and had a brilliant season, kicking 61 goals to finish as the competition's leading goalkicker, while Joshua Boulton was a rock in defence, earning a Team of the Year appearance and being in his side's best in 12 of 16 games in 2023. The Saints will hope their efforts this season can be the base of a stronger campaign under George Lattouf next year.
Most times in best: Joshua Boulton (12)
Leading goal kicker: James Lucente (61 goals)
Team of the Year representatives: Joshua Boulton and James Lucente
THOMASTOWN
Sixth (8 wins – 9 losses – 1 draw)
Under new mentor Peter Bugden, Thomastown were hopeful of not just another finals appearance in 2023, but to also produce a deep run that could challenge the best sides in the competition. Off-season recruits such as Joshua Mazzarella and Makhoul Zakkour sparked optimism for the Bears and after a handy opening round victory over Epping on Good Friday, their intentions looked set. But inconsistent performances again started to trouble Thomastown as important victories came with tough losses. In Round 7 they led by 34 points at half time against Panton Hill before conceding nine of the last 13 goals to salvage a draw away from home. Their most impressive win of the season came in Round 11 when they kicked 10 goals to three after half time to prevail by 56 points over eventual finalists South Morang at Mill Park Lakes Reserve. After Round 14 following a second defeat to Northcote Park, the Bears were in seventh place and still six points away from the top five, as Bugden announced he would not continue as coach in 2024. They would go on to win three of their last four matches but unlike the conclusion of last year, Thomastown didn't produce a fairytale run to the finals, finishing two points behind Watsonia to miss finals for the first time since 2017. Tyrone Leonardis was a standout for the Bears, going on to win the Division 2 Coaches MVP Award in dominant fashion, and also earning his side's most votes in the Division 2 league best and fairest count, equal with Lawrence Lopiccolo. Daniel Caruso was solid in defence and would finish in the Team of the Year alongside Leonardis.
Most times in best: Tyrone Leonardis (13)
Leading goal kicker: Anthony Capeci (31 goals)
Team of the Year representatives: Daniel Caruso, Tyrone Leonardis
NORTHCOTE PARK
Seventh (8 wins – 10 losses)
After a three-win campaign in the top flight last year, the Cougars came into the 2023 season ambitious, as they looked to make their return to Division 2 a short one, but as the year went on, it had turned into a fight to play finals. Northcote Park had an even first half to the season, highlighted by important home victories over Panton Hill, Thomastown and Watsonia, putting them right in the finals conversation at the end of Round 9 with a 5-4 record. But the second half of the year is where Stephen Saddington's men started to fall behind the eight ball. In hindsight, defeats to Panton Hill, St Mary's, South Morang and Watsonia between Round's 11 to 17 were the difference between the Cougars making and missing finals action. What would sting more is the fact that all four of those defeats were by just 18 points or less, and by finishing only one game behind fifth placed Watsonia, it could have been a different story had those results flipped the other way. Daniel Tallariti backed up his 2022 club best and fairest award with another outstanding year in defence, earning him a spot in the Team of the Year as a result. Christopher Clark and Matthew Perry led the way in midfield, with the latter being one of only four players to play every game in 2023. Alexander Boyse finished with 28 goals for the season, which included at least one major in his first six games, but as only one of five players who kicked 10 or more goals this year, he will hope to gain more support next year.
Most times in best: Matthew Perry, Christopher Clark and James Tadd (10)
Leading goal kicker: Alexander Boyse (28 goals)
Team of the Year representatives: Daniel Tallariti
PANTON HILL
Eighth (7 wins – 10 losses – 1 draw)
With an encouraging backend to the 2022 campaign and an eventful off-season which saw multiple recruits join the club such as Tom Keys and Riley Livingstone, it was expected that Panton Hill would fare much better in 2023 and make a push for finals. But they could only muster 10 more points than their total last year and struggled to be in the finals hunt late in the season. Their campaign got off to a poor start when they lost their opening three matches by an average margin of 62 points before five straight goals in the last quarter saw them defeat Lower Plenty in Round 4 to get off the mark. The following week would see the Redbacks produced their best win of the year when they travelled to Coventry Oval and kept eventual minor premiers Diamond Creek to just six goals on their way to a nine-point triumph. It looked to be the turning point in their 2023 season as they followed their upset win with a 23-point victory over St Mary's, a come from behind draw against Thomastown and a powerful triumph over Epping, which saw Panton Hill to move to 4-3-1 after eight rounds. But they would start to fall away from the pack in the second half of the campaign, winning just three of their final 10 matches of the home and away season, with their four-point loss to winless Lower Plenty in Round 13 all but spelling the end of their finals aspirations. Both Keys and Livingstone impressed in their first seasons at A.E. Cracknell Reserve while the Parks trio were always involved in games, with captain Samuel earning another Team of the Year appearance.
Most times in best: Nicholas Parks (12)
Leading goal kicker: Riley Livingstone (37 goals)
Team of the Year representatives: Samuel Parks
LOWER PLENTY
Ninth (2 wins – 16 losses)
2023 was a very different year for Lower Plenty. After a straight set exit last year, the Bears saw a plethora of their top players depart, including reigning league best and fairest Darcy Barden and star midfielder Tom Keys. As a result, Phil Plunkett had an almost completely new side at his disposal, filled with plenty of youth; but they were able to recruit Patrick Flynn back to the club following a stint at Macleod. From the outset, this year looked to be a difficult one for the Bears, as they struggled to keep up with many sides in the competition. Their two best chances of victory in the first half of the season came and went, after they fell by 22 points to Panton Hill in Round 4 and 43 points to Epping in Round 7, two sides who had yet to register a win at those respective stages. Things started to improve slightly for Lower Plenty afterwards, with a highlight being a gallant performance in Round 9 against Eltham where they lost by just 11 points. A disappointing 139-point defeat to Diamond Creek, in which they registered just one behind, saw the Bears' chance of survival reduce significantly, but their response against the Redbacks the following week was excellent, as they prevailed by four points in a terrific game. A fortnight later, they would produce the win that would assure them of survival, despite going on to finish with the lowest percentage in the competition, as a strong second half saw them defeat Epping by 33 points. Patrick Flynn and Jordan Sacco were the two main men that got Lower Plenty over the line, with Flynn earning 12 mentions in the best in 17 matches.
Most times in best: Patrick Flynn (12)
Leading goal kicker: Liam Riley (18 goals)
Team of the Year representatives: Nil
EPPING
Tenth (1 win – 17 losses)
Having narrowly avoided relegation last season, the Blues would be unable to achieve the same feat in 2023, claiming just one win for the home and away campaign. You could argue however that Epping were a far more competitive outfit than they were in 2022. Signs of their improvement came from the opening game of the year, when they kept Thomastown goalless at quarter time to lead by 16 points, although they would go on to lose by 73 points. Epping went 9-9 in first term's this year, which included opening quarter wins against finals sides such as Watsonia in Round 5, St Mary's in Round 9, South Morang in Round 12 and Eltham in Round 13. But they would fail to maintain the rage throughout matches as proven in those four highlighted games, as they would go on to fall by an average losing margin of 40 points. Their inability to run out games was the story of their season. Their only victory came in Round 7 against Lower Plenty where they produced an impressive 43-point triumph, however going down to them later in the season in Round 16 sunk the Blues back to the bottom of the ladder, where they remained until season's end. Captain Leigh Judd led from the front and was their most consistent performer of the season. He was named in his side's best in 12 of 18 games, earned another Team of the Year appearance and picked up his side's most votes in the best and fairest. He was also one of just three players to play every match in 2023, making him a standout ahead of other handy contributors in Jordon Hollow (14 games), Luke Lirosi (11 games) and Damon Hollow (five games).
Most times in best: Leigh Judd (12)
Leading goal kicker: Daniel Rakhlin (26 goals)
Team of the Year representatives: Leigh Judd
MC LABOUR DIVISION 2 – 2023 REVIEW
Final Results
Qualifying Final: Eltham 18.18 (126) def St Mary's 6.12 (48)
Elimination Final: South Morang 19.13 (127) def Watsonia 6.12 (48)
First Semi Final: Diamond Creek 7.4 (46) def by Eltham 10.11 (71)
Second Semi Final: St Mary's 18.12 (120) def South Morang 15.9 (99)
Preliminary Final: Diamond Creek 12.10 (82) def St Mary's 4.11 (35)
Grand Final: Eltham 12.13 (85) def Diamond Creek 6.8 (44)
Best and Fairest
1st – Tane Cotter (St Mary's) – 21 votes
2nd – Thomas Goodwin (Eltham) – 20 votes
=3rd – Lachlan Potter (South Morang) – 16 votes
=3rd – Nathan Searl (Diamond Creek) – 16 votes
5th – Samuel Parks (Panton Hill) – 13 votes
Leading Goal Kicker (home and away only)
1st  – James Lucente (Watsonia) – 59 goals              
2nd – Gary Moorcroft (South Morang) – 44 goals
3rd – Jeremiah Antypas (St Mary's) – 43 goals
4th – Riley Livingstone (Panton Hill) – 37 goals
=5th – Jack Cicitta (St Mary's) – 35 goals
=5th – Jason McCormick (Eltham) – 35 goals
Coaches Most Valuable Player
1st – Tyrone Leonardis (Thomastown) – 90 votes
2nd – Jacob Booth (Diamond Creek) – 70 votes
3rd – Jesse Donaldson (Eltham) – 57 votes
4th – Tye Hall (South Morang) – 47 votes
5th – Joshua Boulton (Watsonia) – 46 votes
Team of the Year