A review of the 2017 Meadows Greyhounds Division 1 season.
Ricky Dyson took over the reins at Bundoora as playing-coach and steered the club to its sixth senior premiership and third since 2011.
The Bulls finished three wins behind Macleod on the ladder but, despite having to back-up for four consecutive weeks during the finals, were able to hold out the Roos in one of the great Division 1 grand finals.
After managing just one finals win over the past three years, boom recruits Nathan Thomas, Danny Younan and Kris Bardon all helped lift the Bulls back to the top of the mountain in 2017.
The grand final brought jubilation for Bundoora, however for Macleod the season ended in heartache as it succumbed to its second grand final defeat in as many years.
The Roos were the side to beat throughout the second half of the season and entered the decider on an eight-game winning streak. But they couldn't break away from a persistent Bundoora in the grand final, despite snatching the lead twice in the final term.
Northcote Park, Greensborough and West Preston-Lakeside rounded out the top-five in a year where each of the finalists would have fancied their premiership chances entering the finals series.
While little separated the sides inside the top-five, there was certainly a breakaway from the bottom-five, with the finalists confirmed by Round 15.
Reigning premier Heidelberg had a slow start to the year and never recovered – failing to sit inside the top-five at any point of the season.
Alternatively, Montmorency made a fast start before fading – managing just three wins from its last 15 games after being struck down by a host of injuries to key players.
Three sides finished locked on 5-13, including Hurstbridge, who made a positive return to the top flight. The Bridges claimed some prized scalps during the year and were competitive in most matches – as demonstrated by their final percentage of 87.52.
Whittlesea avoided relegation with three wins in the last seven rounds as it secured a third-successive season in Division 1 for the first time in its history, with Eltham relegated from the top flight after a 15-year stint.
Matthew Dennis was again the competition's dominant player and joined Diamond Creek's John Elliot as the only player to win three Division 1 best and fairest awards. Just four days after winning the Frank Rosbrook Medal for the second-straight year he was best afield in Bundoora's grand final win.
Northcote Park's Jordan Perry was named the Coaches Player of the Year. The Cougars' midfielder led the voting for most of the season and finished 14 votes clear of Eltham's Anton Woods.
West Preston-Lakeside recruit Ahmed Saad delivered in spades to lead all comers in the goal kicking stakes. Saad stunned with his freakish ability and finished the regular season with 73 majors, despite missing two matches.
Continue below for a season review for each Division 1 team:
BUNDOORA
Premier (15 wins, 7 losses)
Staked its claim as the most dominant club this decade by scoring a third premiership in seven years. This flag may have been the sweetest of the them all, with the Bulls producing a stunning upset in the three-point grand final win over Macleod – the closest grand final result since 1957. Under first-year coach Ricky Dyson, Bundoora finished the regular season in second spot – three games behind Macleod. They suffered an agonising two-point defeat to Northcote Park in the qualifying final – hitting the post twice in the final five minutes – but bounced back with three successive finals wins to claim the club's sixth senior premiership. Matthew Dennis did the NFL's equivalent of the Dustin Martin trifecta – winning the league best and fairest to go with his premiership and grand final best on ground medallions. Already a dual winner of the Frank Rosbrook medal heading into 2017, Dennis produced arguably his best season yet to steer the Bulls to the flag and become only the second player behind Diamond Creek's John Elliot to win the NFL's Division 1 best and fairest three times. Josh Grabowski enjoyed his best season since joining the club in 2015 and was runner-up behind Dennis in the Bulls' best and fairest count. He played all 22 matches and kicked 36 goals, and also kicked three in the NFL's massive representative win over the WRFL. Gary Moorcroft continued to kick bags of goals and finished the season with 56 majors. There were none more important than his clutch effort at the 28-minute mark of the fourth quarter in the grand final to hand Bundoora the lead. The aforementioned trio were all named in the Division 1 Team of the Year, along with playing-assistant Nathan Thomas – who was exceptional in his first campaign for the club. Danny Younan was a livewire in 15 appearances between VFL duties with Essendon, while Scott Dowell proved his worth after crossing from Lalor late in the pre-season with massive performances in the grand final and preliminary final.
Most times in best: Matthew Dennis (18)
Leading goal kicker: Gary Moorcroft (56 goals)
Team of the Year representatives: Matthew Dennis, Josh Grabowski, Gary Moorcroft, Nathan Thomas and Ricky Dyson (coach)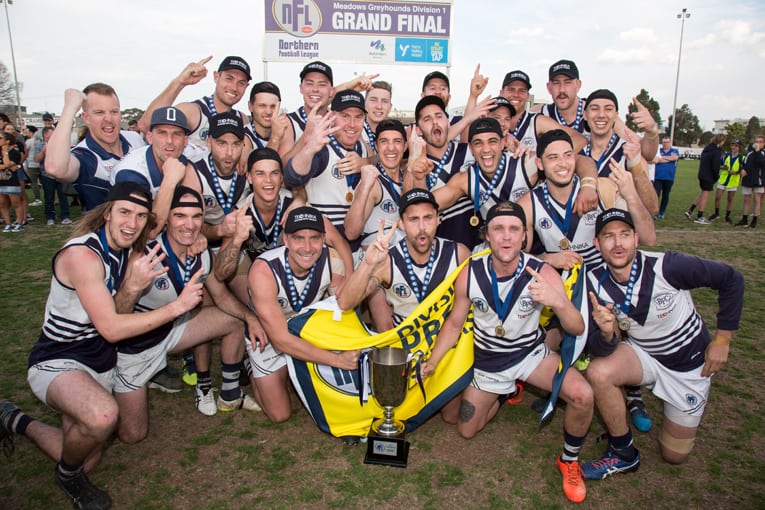 MACLEOD
Runner-Up (16 wins, 4 losses)
Football can be a cruel caper. Macleod did just about everything right throughout the year, but came up empty-handed after a heartbreaking grand final defeat to Bundoora. To illustrate Macleod's dominance this campaign, the club's four losses throughout the year came by a combined total of just 22 points. The Roos went into the grand final with an eight-game winning streak, which included a 106-point second semi final win over Northcote Park – the biggest margin in a Division 1 final since 1997. While they weren't quite at their best in the big dance, they were certainly far from disgraced in the best grand final played in recent times. Shane Doherty produced a breakout season to claim the club's best and fairest. The excitement machine spent more time through the midfield in 2017, but still kicked 21 majors in 18 games. Doherty's improvement helped offset the loss of Liam Brandt, who missed much of the second half of the year with a quad injury, before returning for the grand final. Ned McKeown finished one vote behind Doherty in the best and fairest after a massive second season at De Winton Park – finishing equal-third in the league vote count. McKeown played primarily in defence but also helped fill any role required by coach Garry Ramsay. McKeown was one of four Roos named in the Team of the Year, along with Lucas Hobbs, Brad Leggett and Justin White. All four also represented the NFL in its representative game against the WRFL, along with Hamish Paynter. Reid Brandt topped the club's goal kicking and enjoyed a massive finish to the season with 20 goals in his final four games, including eight in the second semi final. After successive grand final defeats, the Roos will certainly have plenty of fire in the belly entering season 2018 – although they look set to be without Cathal Corr, who announced his retirement at season's end.
Most times in best: Ned McKeown (11)
Leading goal kicker: Reid Brandt (42 goals)
Team of the Year representatives: Lucas Hobbs, Brad Leggett, Ned McKeown and Justin White
NORTHCOTE PARK
3rd (13 wins, 8 losses)
Matt McLennan's first season at the helm saw Northcote Park produce its best home and away campaign in over a decade – securing a double chance in the finals for the first time under the top-five system. The Cougars were the side to catch in the opening two-thirds of regular season and topped the ladder at Round 12 with a 9-3 record – which included six wins by margins of greater than seven goals. After averaging only 75 points a game throughout the 2016 home and away season, the combination of Ash Close and Jackson Starcevich made Northcote Park a far greater attacking force – kicking 100 points or more in nine of the opening 11 rounds in 2017. Injuries and a drop in form left the Cougars looking vulnerable entering the finals series. But they responded with a thrilling two-point win over Bundoora in the qualifying final to keep a double chance heading into the second week of the finals. They were no match for Macleod in the second semi, before falling agonisingly short in the preliminary final – losing to Bundoora by 10 points after conceding three late goals. Jordan Perry backed up his outstanding debut season at Bill Lawry Oval with an even better year in 2017. Perry was the clear winner of the Coaches Player of the Year and claimed his second-successive club best and fairest. Bronik Davies was again the general in the middle, while Brock McLennan returned to his best form. Gerard Sutton enjoyed a season-best year, while Tyson Old was a revelation in his first full season of senior football. Jackson Starcevich led the competition best and fairest until injuring his knee in Round 14. The key forward had booted 37 goals in his first 10 games for the Cougars.
Most times in best: Jordan Perry (13)
Leading goal kicker: Ash Close and Jackson Starcevich (38 goals)
Team of the Year representatives: Ash Close, Jordan Perry and Jackson Starcevich
GREENSBOROUGH
4th (12 wins, 8 losses)
Produced one of the great turnarounds to compete in its fourth-successive finals series. Greensborough's place in the top-flight looked under threat when it started the season with five-straight losses. However, a 39-point win at Heidelberg in Round 6 kickstarted the club's campaign as it went on to win 11 of its next 12 games. The red-hot run meant the Boro still remained a top-three chance heading into the final round of the season, before losing a shootout to Bundoora in Round 18. They kept West Preston-Lakeside to just three goals in a 31-point elimination win over West Preston-Lakeside before bowing out of the premiership race in the first semi final. Robert Hyde returned to the coaching fold after two years away, working closely with Mick Harford in the first half of the season. Hyde headed overseas mid-year and handing over the reins to Harford – with the smooth transition ensuring no momentum was broken heading into the run to September. Greensborough's backline was again resolute and conceded an average of just 72 points per game. That average was down to 65 points a game from Round 6 onward. The effort was rewarded, with defenders Jack Johnston, Nick Riddle and Dan McLinden all named in the Team of the Year. Johnston took out the club's best and fairest, while Riddle was sorely missed late in the year after succumbing to injury during the finals for the second-consecutive year. Ricky Mullins and Jason Rogers led the engine room, while Chris Clark also showed great improvement. Youngsters Michael Croxford, Jacob Ireland and Billy Bedford were among only four players to play every game. The future still looks very bright with the club's under-19s playing in their ninth-successive grand final this season, while the reserves won the flag in their fifth-straight grand final appearance.
Most times in best: Jack Johnston (13)
Leading goal kicker: Josh Grubb (26 goals)
Team of the Year representatives: Jack Johnston, Dan McLinden and Nick Riddle
WEST PRESTON-LAKESIDE
5th (11 wins, 8 losses)
With arguably the most damaging top-end talent in the competition at its disposal, West Preston-Lakeside returned to the finals for the first time since 2012. The club made waves in the pre-season by recruiting former AFL contingent Andrew Walker, Ahmed Saad and Mathew Stokes. It then started the season in style by taking down reigning premier Heidelberg, before coming from seven goals down to beat Northcote Park by 10 points. However, after winning the opening three games the Roosters couldn't string together long winning streaks – eventually ending the year with a 3-6 record against their fellow finalists. Saad kicked seven goals in the season-opener against Heidelberg and remained the competition's most damaging forward all season – winning the goal kicking award by 24 majors, despite missing two games. Walker was equally dominant in his first season out of the AFL, featuring among the Roosters' best players in 10 of his 15 matches. Unfortunately for Roosters fans, Walker will return to his junior club Echuca in 2018, where he has been appointed playing-coach. Jackson Clarke entered the club with less hype than the AFL trio, but he proved to be just as valuable after crossing from Coburg. The 20-year-old defender become one of the best intercept marks in the league and went on to claim the club's best and fairest. Nathan Valladares was valuable at both ends of the field, Patrick Karnezis overcame hamstring issues to kick 31 goals in 15 matches, while Garrett McDonagh was damaging in his full-time return after spending time with the Northern Blues in recent seasons.
Most times in best: Jackson Clarke (12)
Leading goal kicker: Ahmed Saad (75 goals)
Team of the Year representatives: Ahmed Saad and Andrew Walker
HEIDELBERG
6th (8 wins, 10 losses)
A less than ideal premiership defence, as the club became the first defending premier to miss the finals since West Preston-Lakeside in 2003. The Tigers lost their opening three games and were never truly in finals contention – consigned to the bottom-half of the ladder for the entire season. There were certainly valid reasons behind Heidelberg's fall this year. Premiership quartet Dan Connors, Nick Miller and Jarrod and Luke Hodgkin didn't continue with the club in 2017, while star ruckman Sam Gilmore (10 games), Adam Symes (7), Callum Lewis (7), Josh Gribben (4) and Mathew Pianto (2) all missed much of the season. With so many senior players sidelined, the likes of Will Goss, Lewis Beers and Oliver Stapleton grabbed their opportunities when presented. Goss was particularly impressive in 11 appearances, while Will Knight played 17 games and finished fourth in the club's best and fairest. Tom Sullivan continued his stunning form from the 2016 premiership season to earn selection in the Team of the Year. Sullivan edged out captain Michael Brunelli and Ryan Stone for the club's best and fairest, with Brunelli also finishing runner-up to Matthew Dennis in the league best and fairest. There will be a new man at the helm to lead the club in 2018, with former Collingwood midfielder and Northern Bullants captain Frank Raso appointed senior coach. Raso has previous experience in the NFL, having coached West Preston-Lakeside in 2013 and 2014.
Most times in best: Tom Sullivan (12)
Leading goal kicker: Sam Grimley (36 goals)
Team of the Year representatives: Michael Brunelli and Tom Sullivan
MONTMORENCY
7th (6 wins, 12 losses)
On paper Montmorency possesses one of the most capable lists in Division 1. Unfortunately, the club was unable to keep its best players on the park throughout the season – culminating in a bottom-five finish for the third-straight year. A knee injury sidelined Ben Fennell for the entire season, Luke Collins, Ben Walton and James Brooker all played fewer than 10 matches, while 2016 best and fairest Stephen McCallum and boom recruit Mark Deaves each played just over half of the season. The Magpies started the season in superb touch, winning their opening three games to sit second on the table. But a close loss to Bundoora in Round 4 started a downhill slide, as the Magpies went on to win just two of their next 13 games, before ending the year with a 34-point victory over Heidelberg. Patrick Fitzgerald remained a star performer and claimed the best and fairest with a 47-goal season. He edged out Billy Jenkin for the club champion award, with the courageous half back putting together his most consistent season at senior level. Jesse Donaldson was the club's sole representative in the Team of the Year and was again co-captain of the NFL representative team. McCallum was best afield in the NFL's representative win, but played just six club games thereafter. West Australian recruit Matt Hunt managed a third-place finish in the best and fairest, despite missing the final five games, while fellow West Australian Deaves starred in his 11 appearances – booting 33 goals, which included 25 in his first six games.
Most times in best: Billy Jenkin (12)
Leading goal kicker: Patrick Fitzgerald (47 goals)
Team of the Year representative: Jesse Donaldson
HURSTBRIDGE
8th (5 wins, 13 losses)
Hurstbridge was winless the last time it played Division 1 football, back in 2004. While it's never easy moving up a division, the Bridges – under first-year coach Trevor Little – were certainly up to the grade in their move to the top flight this time around. Their first win came in Round 4 when they stunned Heidelberg by 27 points – making history as the first Division 2 premier to beat the reigning Division 1 premier in their first meeting. The Bridges showed the win was no fluke, going on to win three of their next six games, which included coming from five goals down to upset Macleod at De Winton Park. In the end the 5-13 record doesn't do Hurstbridge justice, with four of its losses coming by margins of 10 points or less. Jack Grimes was outstanding after returning to his junior club following a 100-game AFL career at Melbourne. The former Demon skipper's leadership was also valuable for the young side – with the likes of Tom Simpson, Lachlan East, Tieren Barbera, Aidan Clarke and Cooper Perrin all showing they are more than up to the demands of Division 1 football. Mitch Burton had a strong year and finished with a team-high 35 majors. He kicked multiple goals in 12 of his 18 appearances. After a positive first season back in Division 1, the club has moved swiftly to ensure it doesn't slip back in 2018 – signing 2013 Frank Rosbrook medallist Cameron Cloke. Cloke has spent the past three years in the EDFL and this year topped the Division 2 goal kicking as he steered Jacana to the premiership.
Most times in best: Jack Grimes (10)
Leading goal kicker: Mitchell Burton (35 goals)
Team of the Year representative: Jack Grimes
WHITTLESEA
9th (5 wins, 13 losses)
Despite its ladder position and win-loss record remaining the same as 2016, Whittlesea made history by securing a club-record third-straight year in Division 1. The Eagles made a positive start to the year and scored upset away wins over Bundoora and West Preston-Lakeside in the opening month. However, they weren't able to replicate that form after the representative bye – losing their next seven matches to slip to bottom spot by a game. The drought was broken with a 35-point triumph over Hurstbridge in Round 12, before a nine-goal to two second half gave the club its first ever away win at Montmorency the following week. The Eagles looked to have staved off relegation with a stunning 27-upset of Bundoora in Round 17 – meaning the only way they could be relegated would be to lose to Eltham by more than 15 goals in the final round. The unthinkable became possible when they trailed by 50 points prior to half-time, before steadying and losing by only 32 points. Late in the year Justin Sherman announced he would be retiring at season's end, but he certainly went out on top. The former Brisbane Lions and Western Bulldogs speedster was named in the Team of the Year for the second-straight season. He kicked 36 goals and produced a number of match-winning performances throughout the year. Jai Robinson was also a standout again and went back-to-back for the best and fairest despite missing the opening three games. Brenton Briffa, Matthew Atta and Janan Daniel had consistent campaigns, while Tom Falls and Clancy Bland continued to develop into very capable senior footballers.
Most times in best: Jai Robinson (10)
Leading goal kicker: Justin Sherman (36 goals)
Team of the Year representatives: Justin Sherman
ELTHAM
10th (5 wins, 13 losses)
It's not often a side wins five matches and still finishes at the bottom of the table, but that was the misfortune Eltham suffered in 2017. The Panthers finished last with a percentage of 67.89, behind ninth-placed Whittlesea (73.37) and Hurstbridge in eighth (87.52). As a result, the club's 15-year stint in Division 1 came to an end – just two seasons after playing off in the preliminary final. The season started with a gripping four-point win over Greensborough on Good Friday – clinched by a goal to Josh Merkel in the final minute. However, the Panthers next month was poor – compounded by a 99-point loss to Bundoora in Round 5 when they conceded 15 unanswered goals in the last quarter. They managed to reverse that defeat the next week when they kicked six goals to one in the final quarter to upset Macleod, before making it two wins on the trot with a victory at Whittlesea. Unfortunately, the Queen's Birthday weekend break halted the club's momentum, as they managed just two wins in their final 11 matches to finish the year at the foot of the table. The loss of Billy Glasgow was certainly felt, with the star utility sidelined for the entire campaign after injuring his ankle during pre-season. Despite his side's struggles, Anton Woods produced a sensational year and finished runner-up for the Coaches Player of the Year. He took out Eltham's best and fairest from Lewis Glasgow and Bradyn Taglieri. Matthew Keys was strong in defence in his return to the club, while Brandon Freeman led the goal kicking, albeit with only 19 majors. Despite the senior side suffering relegation, the club did enjoy a positive finish to the year with its under-19s coming from fourth place to win the premiership – giving the club its first Division 1 flag since 2007.
Most times in best: Anton Woods (14)
Leading goal kicker: Brandon Freeman (19 goals)
Team of the Year representative: Anton Woods
MEADOWS GREYHOUNDS DIVISION 1 – 2017 REVIEW
Finals
Qualifying Final: Bundoora 8.14 (62) def by Northcote Park 9.10 (64)
Elimination Final: West Preston-Lakeside 3.13 (31) def by Greensborough 9.8 (62)
First Semi Final: Bundoora 16.12 (108) def Greensborough 8.7 (55)
Second Semi Final: Macleod 23.15 (153) def Northcote Park 6.11 (47)
Preliminary Final: Northcote Park 8.9 (57) def by Bundoora 9.13 (67)
Grand Final: Macleod 10.13 (73) def by Bundoora 10.16 (76)
Best and Fairest
1st – Matthew Dennis (Bundoora) – 22 votes
2nd – Michael Brunelli (Heidelberg) – 18 votes
= 3rd – Ned McKeown (Macleod) – 15 votes
= 3rd – Jackson Starcevich (Northcote Park) – 15 votes
= 3rd – Tristan Stead (Greensborough) – 15 votes
Leading Goal Kicker (home and away only)
1st – Ahmed Saad (West Preston-Lakeside) – 73 goals
2nd – Gary Moorcroft (Bundoora) – 49 goals
3rd – Patrick Fitzgerald (Montmorency) – 47 goals
4th – Jackson Starcevich (Northcote Park) – 38 goals
5th – Matthew Clark (Macleod) – 38 goals
Coaches Player of the Year
1st – Jordan Perry (Northcote Park) – 74 votes
2nd – Anton Woods (Eltham) – 60 votes
3rd – Jack Grimes (Hurstbridge) – 56 votes
= 4th – Jack Johnston (Greensborough) – 53 votes
= 4th – Ned McKeown (Macleod) – 53 votes
Team of the Year