A review of the 2023 Melbourne Greyhounds Division 1 season.
Heidelberg kept their title as the most dominant team in the competition, as they claimed back-to-back premierships after another fantastic season in which they dropped just six points all year.
This time around it was Vin Dattoli leading the Tigers to premiership glory, as the grand final saw his side defeat the same opponent, they faced in the 2022 decider in Bundoora.
Despite another grand final defeat, it was still an impressive campaign for the Bulls who turned around a slow start to the season to finish in third position and win their way to the final game of the year.
North Heidelberg came from the clouds and after ending the home and away campaign in fourth position, produced two exhilarating finals performances before going down heavily in the preliminary final.
One of those brilliant efforts came against Montmorency, who fell out of the finals series in straight sets despite finishing season in second position and having been the biggest challenger to the eventual premiers in 2023.
Having faced their struggles since joining the top flight six years ago, some fresh faces helped Hurstbridge find new fortunes, booking a spot in their first ever Division 1 finals campaign with a fifth-place finish.
Greensborough didn't see September action for the first time in a decade, with their inconsistent performances across the season telling the tale of their year,
Plenty of promise was shown from Macleod in patches throughout 2023, however the gap between the Roos and the top five proved to be a bridge too far.
Banyule were able to settle well in their first ever season in the top flight. They may have only won five games, but some strong performances showed their ability to hold their own in the Division.
With the departure of their two-time premiership coach Rob Maiorana as well as some personnel changes, West Preston-Lakeside struggled to find their best form, with a five-win season seeing them miss finals for the first time since 2016.
A young Whittlesea outfit couldn't get things going from the outset and found it difficult to compete with their fellow Division 1 opponents on their way to a winless campaign.
Another chapter was added to the extraordinary career of Heidelberg's Lachlan Wilson, who at just 24 years of age became a two-time Frank Rosbrook Medallist. He finished three votes ahead of Montmorency star duo Marcus Lentini and Liam Wale-Buxton.
Lentini was still able to bring home an award on Frank Rosbrook Medal night, winning his first Coaches MVP award while his teammate Patrick Fitzgerald made it back-to-back competition leading goalkicker titles, finishing with 72 home and away majors.
Continue below for a season review for each Division 1 team:
HEIDELBERG
Premier (16 wins – 1 loss – 1 draw)
You could almost copy, and paste was written about Heidelberg 12 months ago and it wouldn't look out of place, as the Tigers were just as, if not arguably more, unstoppable than they were in 2022. Their only major changes coming into the season was the appointment of Vin Dattoli as coach, as well as the departure of their leading goalkicker Joshua Minogue. They were given a major scare in the opening round of the season, holding on to defeat North Heidelberg by a point, before Montmorency got the better of the reigning premiers a fortnight later, falling short by five points in Round 3. They were able to produce an eight-game winning streak afterwards until they faced the Magpies again in Round 12. In one of the games of the season, Heidelberg came back to produce a thrilling draw in a match they looked destined to lose. It was a theme of the Tigers in 2023, as despite slow starts in games on occasion, they would deliver when it mattered to produce big results. Heidelberg soon clicked into gear after that draw, going on to win their final eight games by an average margin of over 70 points. In that run they only conceded 50 or more points in three games and were able to score 100 or points in six matches. After another minor premiership and a comfortable second semi-final win, Heidelberg took control of the grand final after quarter time to win their 22nd NFNL flag. They again had stars all across the field, including Lachlan Wilson, who became a two-time Frank Rosbrook Medallist and Matthew Smith who became a two-time Grand Final best on ground medallist. Captain Sam Gilmore was superb again this season alongside Keenan Posar and Brody Tardio who had improved campaigns, while Zane Barzen and Brayden Sier delivered inside the attacking half, combining for 81 majors.
Most times in best: Lachlan Wilson (15)
Leading goalkicker: Zane Barzen (50 goals)
Team of the Year representatives: Zane Barzen, Sam Gilmore, Keenan Posar, Brayden Sier, Matthew Smith, Brody Tardio, Lachlan Wilson
BUNDOORA
Runner Up (13 wins – 5 losses)
It was almost Deja Vu for Bundoora who had an impressive second half to the year before falling short to Heidelberg again in the decider. Looking to go one better than they did 12 months ago, the Bulls had one of the strongest recruiting sprees in the off-season, signing the likes of Lachlan East, Benjamin McNiece and Shaun McKernan, while obtaining the full-time services of Peter McEvoy. Michael Ryan's men started the year with a three-game winning streak before dropping the next three matches and then winning the following four games. Injuries, unavailability, and a lack of depth saw the Bulls struggle to gain consistent form until Round 13, when they went on a run which saw them sneak into third spot and lose just two matches on their way to second consecutive Grand Final appearance. Their average winning margin in that period was 60 points, with their most dominant performance coming in the preliminary final, when they blew North Heidelberg out of the water with an 85-5 opening half, going on to win by 87 points. Bundoora threw everything at Heidelberg in the Grand Final, which included a five-goal third term, but they were unable to hit the lead at any stage of the match, suffering a 25-point loss as a result. Team of the Year representatives Jackson Davies, Lachlan East and Sam Lloyd led the charge towards the final game of the year, with the efforts of Davies and East in the backline seeing them concede an average of just 55 points in the home and away campaign. McEvoy's year was a terrific one, finishing with the most mentions in his side's best all year while also leading their goalkicking charts with 37 majors.
Most times in best: Peter McEvoy (12)
Leading goalkicker: Peter McEvoy (37 goals)
Team of the Year representatives: Jackson Davies, Lachlan East, Sam Lloyd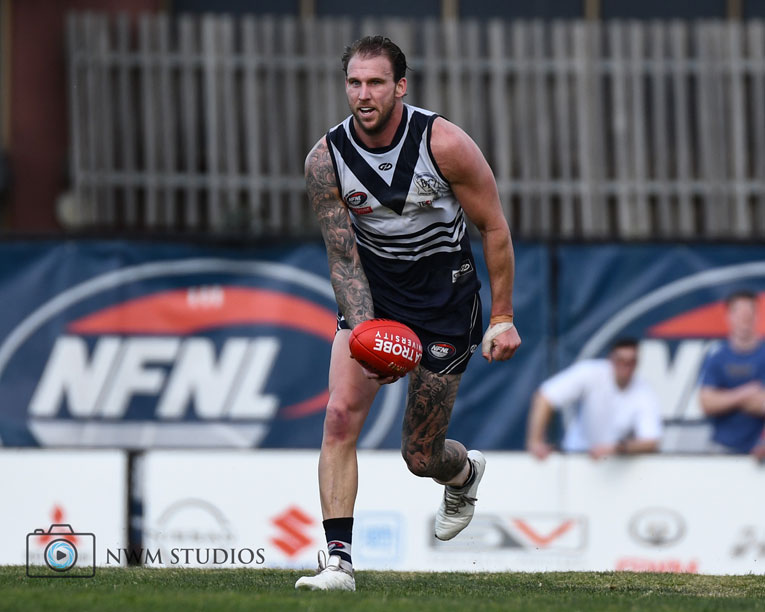 MONTMORENCY
2nd (14 wins – 2 losses – 2 draws)
A season that looked destined to finish on Grand Final day came to a sudden halt for Montmorency following a straight sets exit in 2023. The Magpies recruited some key players to their squad in Jonathan Manzoney's first season as senior coach, with Lower Plenty pair Ben Paterson and Corey Sleep as well as former Melbourne ruck Jake Spencer joining the club in the off-season. They had a mixed bag of results in the first third of the year, with big wins against Heidelberg and Bundoora as well as a disappointing loss to Greensborough in Round 2 and a draw to Hurstbridge in Round 5. Montmorency would remain unbeaten after that defeat to the Boro up until Round 13, a span which included wins against eventual top five sides in North Heidelberg and Bundoora, as well as a draw against top of the ladder Heidelberg to become the only side to take points away from the 2023 premiers throughout the season. The Magpies would end the home and away campaign in second place, their best finish in a decade, and go into September on a five-game winning streak. But Montmorency would again struggle to find form during the finals series, with a slow start playing a role in preventing them of a comeback win over Bundoora in the qualifying final before they were soundly beaten by North Heidelberg the following week. While they disappointed as a team in 2023, individually, plenty of Magpies shone bright, with Liam Wale-Buxton, Marcus Lentini and Sam Binion all having terrific years. The trio would finish in the top three in the Coaches MVP voting. Lentini would take out the award and join Wale-Buxton in finishing equal second in the Frank Rosbrook Medal count. Meanwhile Patrick Fitzgerald was a force up forward, leading the competition goalkicking charts and earning a 10th Team of the Year appearance.
Most times in best: Marcus Lentini & Sam Binion (14)
Leading goalkicker: Patrick Fitzgerald (76 goals)
Team of the Year representatives: Sam Binion, Patrick Fitzgerald, Marcus Lentini, Liam Wale-Buxton
NORTH HEIDELBERG
4th (11 wins – 7 losses)
Having only just fallen short of finals action in 2022, North Heidelberg turned their luck around to feature heavily in September this season. It would have been crazy to suggest that the Bulldogs would be preliminary finalists after their opening few weeks of the season, which included a one-point loss to Heidelberg in the opening round (where Brent Harvey suffered a season ending injury), a heavy loss to Bundoora in Round 2 and an 11-point defeat to Hurstbridge in Round 3. The retirement of club and NFNL great Shane Harvey would spur his side to claim their first points of the season in a 48-point victory over Macleod and it would prove to be the firestarter the club needed, as they would win their next four games to climb into third. Honourable losses to Montmorency and Heidelberg in the following fortnight didn't stop the Bulldogs' finals charge, as they went on another five-game winning streak. Defeats to Greensborough and Montmorency in the last few games of the season prevented North Heidelberg from clinching a double chance spot but as the finals proved, Jason Heatley's men had plenty more in the tank. A big elimination final win over Hurstbridge was followed by an impressive first semi-final triumph over Montmorency, with both games resulting in the same 57-point margin. However, the Bulldogs fell away against Bundoora in the preliminary final and were no match from the opening siren. North Heidelberg finished as the number one attacking team in the home and away campaign, kicking 100 points or more 11 times. A large reason for that was thanks to Majak Daw, who kicked 46 goals in 14 matches before kicking 12 majors in three finals games. He was well supported by Brock Chircop and Jhye Baddeley-Kelley, who combined for 67 goals in only 30 matches, while the supply from midfield stars Jesse Tardio and Liam Hunt as well as captain Kyle McDonald was excellent.
Most times in best: Joshua Hamilton, Kyle McDonald & Majak Daw (10)
Leading goalkicker: Majak Daw (58 goals)
Team of the Year representatives: Majak Daw
HURSTBRIDGE
5th (9 wins – 8 losses – 1 draw)
A historic year for Hurstbridge under new coach Joel Cordwell was culminated with a first ever finals appearance in the top flight. Along with Cordwell, Mitchell Moschetti and Kye Agosta headlined the many inclusions to the club in the off-season in an effort to make up for the loss of captain and multiple best and fairest winner Lachlan East. Like last year, the Bridges began the 2023 season with a 2-1 record, but with those victories coming against the 2022 semi-finalist in West Preston-Lakeside as well as eventual preliminary finalistsNorth Heidelberg, there was a lot of promise for the side. They would continue to improve, with a tight win over Whittlesea followed by an impressive draw to Montmorency and a narrow loss to Heidelberg. The Bridges went 3-3 in the middle third of the home and away campaign, with two of the three defeats coming at Ben Frilay Oval, and also produced the same record in the final third of the campaign. Wins in the final two matches of the season against Greensborough and Macleod solidified Hurstbridge's place in September, however it was a short-lived experience, as they conceded 13 goals to six after quarter time to go down by 57 points to North Heidelberg in the elimination final. Moschetti impressed in his debut year with the club, earning a Team of the Year spot in the process, as did teammate William Cookson who finished in his side's best in 12 of 19 matches and was named on the wing in the final side. Bailey Jordan and Joel Naylor combined for 86 goals this season, with the latter also appearing in the final team. The two duos mentioned will likely play a big role in keeping the Bridges in the finals conversation in 2024.
Most times in best: William Cookson (12)
Leading goalkicker: Joel Naylor (53 goals)
Team of the Year representatives: William Cookson, Mitchell Moschetti, Joel Naylor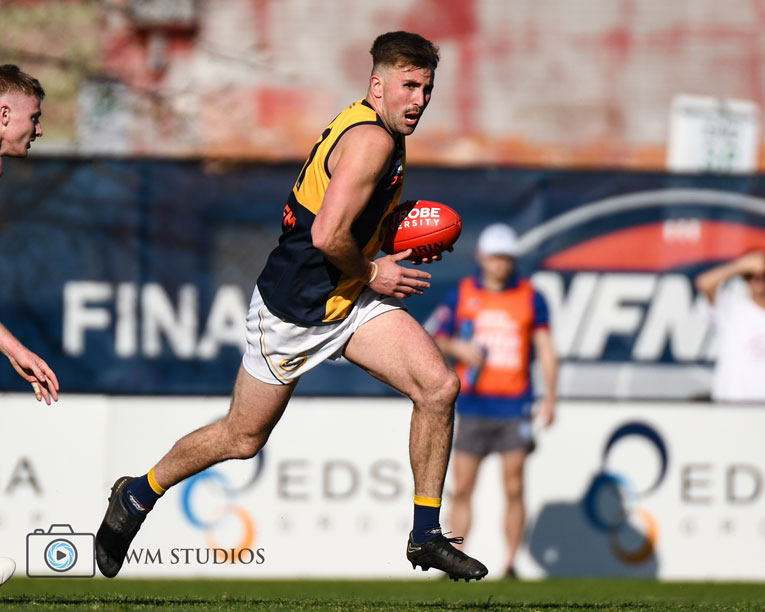 GREENSBOROUGH
6th (9 wins – 9 losses)
Greensborough dealt with plenty of change ahead of the 2023 season, none more so than losing three of their best players from last year in Tom Bell, Zak McCubbin and Nick Riddle. They did recruit Jack Newnes, however he only managed one game, while other recruits such as Jamie Smith and Nathan Howard had slightly more favourable campaigns. An important victory over Macleod on Good Friday got the Boro on the right foot and they would quickly make their record 2-0 with an upset triumph over Montmorency. Losses to West Preston-Lakeside and Heidelberg were offset by tight victories over Banyule and Bundoora to see them go to four wins in the opening third of the season, which was the same tally they achieved 12 months prior. Greensborough then had a mixed bag of results in the middle of the year, highlighted by an away victory over Hurstbridge in Round 8, but a 35-point loss to Macleod two weeks later ceased any chance for Saade Ghazi's side to break away from the surrounding teams fighting for a spot in the finals. The last six games of the year were where the Boro fell away, losing three straight games, which included letting a healthy lead slip against Banyule in Round 14, to fall outside the top five. A crucial Round 16 win over North Heidelberg gave them a lifeline, but it was their defeat at home to Hurstbridge the following week that sealed their fate, missing finals for the first time since 2013 as a result. Greensborough were impressive defensively again in 2023, and led by Jack Johnston and Angus Sievers, they conceded the fourth least points to opposition sides this year. Both men would make the Team of the Year with skipper Johnston earning a fifth appearance.
Most times in best: Jack Johnston (12)
Leading goalkicker: Daniel Ferronato (27 goals)
Team of the Year representatives: Jack Johnston, Angus Seivers
MACLEOD
7th (6 wins – 12 losses)
With big names joining the club in the off-season, there was plenty of hope that the Roos would be fighting hard to earn a finals spot in 2023, but a six-win campaign, their lowest win total in a full season since 2012, saw Macleod struggle to compete with the best in the competition. After missing the finals by just six points for two consecutive full seasons, the club went hard at the recruiting table, signing Michael Hurley, Darcy Barden and Zac Hudson as the Roos looked to take the next step. That trio debuted on Good Friday against Greensborough but were unable to get their side over the line. They went 0-2 after defeat to West Preston-Lakeside but bounced back to triumph in two of their next three games, including a confidence boosting 122-point victory over Whittlesea. But the gap between Macleod and the top sides in the competition were on show between Round's 6-9, as they lost all four games to sides who would go on to play finals in 2023. Their fortunes turned around briefly in the second half of the season, claiming three consecutive wins to jump right back into the finals conversation, but by only defeating Whittlesea in the final third of the home and away season, the Roos would be unable to mount a serious finals threat. The form of Darcy Barden in his first season at Macleod was a major positive for Craig Hayes, with his versatility and his excellent intercepting ability across half back seeing him be the sole Team of the Year representative from the club. Kurt and Hayden Manuel also continued their development with solid seasons, particularly Kurt who was named in his side's best in 12 matches, while Michael Hurley led the way up forward with 34 majors in just 11 matches.
Most times in best: Kurt Manuel (12)
Leading goalkicker: Michael Hurley (34 goals)
Team of the Year representatives: Darcy Barden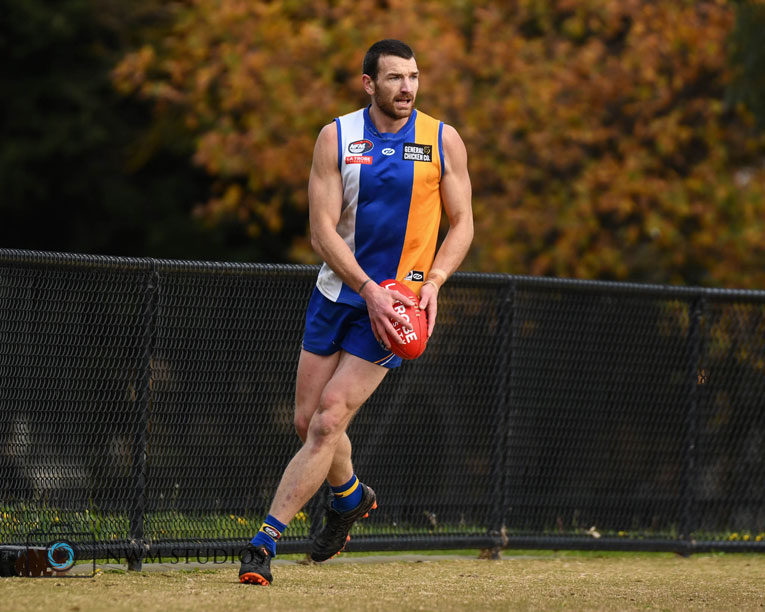 BANYULE
8th (5 wins – 13 losses)
A historic first year in the top flight for the Bears was capped off with survival and promise that they can be even more competitive in 2024. Banyule wasted no time in recruiting some key players to their side ahead of this year's campaign, with Max Jones, Vivian Blackmoore-Moore and Kurt Aylett all going on to have solid seasons at Beverley Road Oval. The Bears showed their capabilities of competing with the best right from their opening match against Bundoora, as despite falling short by eight points, they came from 42 points down at half time to achieve the admirable result. It set them up to claim their first Division 1 win the following week when they comfortably defeated Hurstbridge by 42 points. Banyule also established a mini rivalry with Greensborough throughout the course of the year, with both matches being decided by a total of just eight points. In Round 5, 10 goals were kicked between the two sides in the last term, with the Bears just falling short at Greensborough War Memorial Park, before they were on the other side of a close one in Round 14, when they prevailed by three points in front of their home crowd. Kye Yodgee was excellent for the side and showcased his talent in the second half of the year, being named in his side's best in seven of the final nine matches of the season, a period where Banyule only claimed two wins. Christian Farchione, Devin McDonald and Jack Langford all had great stints across the year also. Putting their final win-loss record aside, the Bears have produced the ability to build off a successful inaugural year in Division 1 and be even better in 2024.
Most times in best: Max Jones (9)
Leading goalkicker: Vivian Blackmoore-Moore (27 goals)
Team of the Year representatives: Nil
WEST PRESTON-LAKESIDE
9th (5 wins – 13 losses)
A tough year with plenty of change for West Preston-Lakeside saw them go from a semi-final appearance last season to a ninth-place finish in 2023. Luke Giles took over from two-time premiership coach Rob Maiorana and with a young squad, the Roosters were a bit of an unknown approaching the season. The side had an even opening third to the home and away campaign, losing a tight encounter to Hurstbridge in Round 1 before turning the tables to defeat Macleod by nine points the following the week. Round 3 was arguably their win of the season, when they held off a fast-finishing Greensborough side on multiple occasions in the final term to prevail by three points. Max Dreher finished as his side's best on that day and had a terrific year overall, earning a Team of the Year spot. Mohammed Yassine and Chris Ryall both ended up with three majors in the win and would prove to be the club's most influential recruits in 2023. West Preston-Lakeside started to fade away from the rest of the competition from Round 6, when they won just two more games for the rest of the season and went on to lose their final five matches by 40 points or more. Ahmed Saad and Mark Kovacevic made successful returns after long-term injuries, with Saad wasting no time in getting back to his goalkicking best, finishing with 35 goals in 13 games. With more change expected at the club and 2018 premiership assistant, Ian Aitken taking the reigns as senior coach in 2024, the Roosters will hope to see some improvement over the next 12 months.
Most times in best: Matthew Harman & Max Dreher (12)
Leading goalkicker: Ahmed Saad (35 goals)
Team of the Year representatives: Max Dreher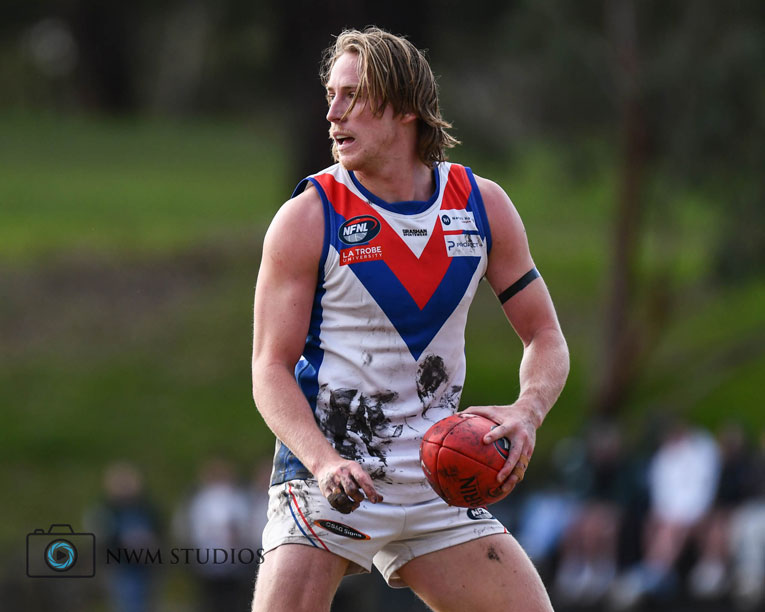 WHITTLESEA
10th (0 wins – 18 losses)
Whittlesea were off the pace in 2023, producing a winless campaign to be relegated from Division 1 for the fourth time in 11 years. Wayne van der Ross stepped in as senior coach and despite losing personnel from last year, a young Eagles outfit looked eager to avoid the drop. However, it was soon apparent that Whittlesea would struggle at both ends of the field, conceding 98 points a game while scoring just 40 points a match across the home and away campaign. There were more favourable games for the Eagles to look back on, including Round 12 against eventual Grand Finalists Bundoora, where after a one-goal to six opening term, they came back to trail by four points at three quarter time before falling short by 17 points at the Whittlesea Showgrounds. There were also some great individual seasons from Whittlesea players, including Christian Prestopino, who kicked bags of five against Heidelberg and Hurstbridge, as well as VFL listed star Blake Watson, who despite playing just 10 matches, was named in his side's best in eight of them. Mitchell Andrews and Xavier Dimasi were the most consistent contributors across the season alongside Deakin Tennant, who impressed in the back half. Although Division 2 looms for the Eagles, the appointment of Garry Ramsay as coach for the next two years will give the club plenty of hope that their return to the top flight will be imminent.
Most times in best: Deakin Tennant (10)
Leading goalkicker: Christian Prestopino (20 goals)
Team of the Year representatives: Nil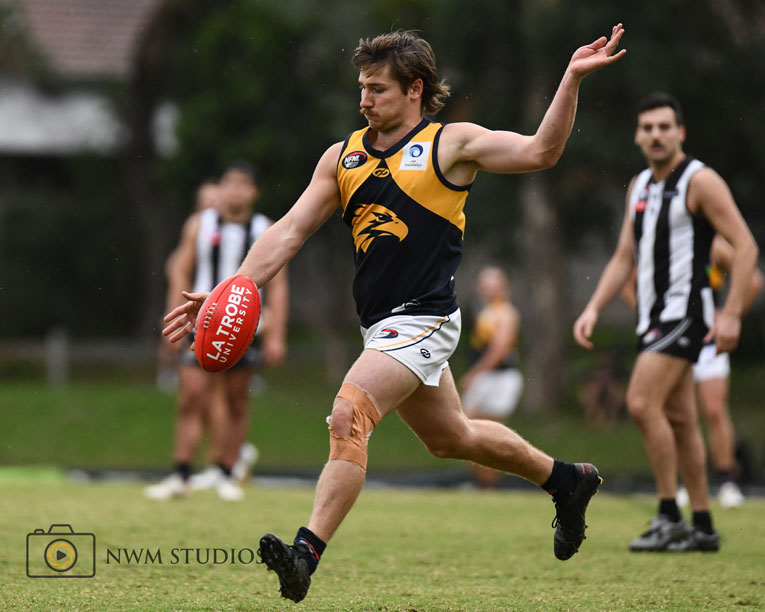 Final Results
Qualifying Final: Montmorency 10.4 (64) def by Bundoora 10.8 (68)
Elimination Final: North Heidelberg 17.15 (117) def Hurstbridge 8.12 (60)
First Semi Final: Montmorency 8.9 (57) def by North Heidelberg 17.12 (114)
Second Semi Final: Heidelberg 20.5 (125) def Bundoora 10.7 (67)
Preliminary Final: Bundoora 20.13 (133) def North Heidelberg 6.10 (46)
Grand Final: Heidelberg 15.7 (97) def Bundoora 11.8 (74)
Best and Fairest
1st – Lachlan Wilson (Heidelberg) – 23 votes
=2nd – Marcus Lentini (Montmorency) – 20 votes
=2nd – Liam Wale-Buxton (Montmorency) – 20 votes
4th – Hamish Shepheard (Bundoora) – 16 votes
Leading Goal Kicker (home and away only)
1st  – Patrick Fitzgerald (Montmorency) – 72 goals           
2nd – Joel Naylor (Hurstbridge) – 51 goals
3rd – Majak Daw (North Heidelberg) – 46 goals
4th – Zane Barzen (Heidelberg) – 43 goals
5th – Michael Hurley (Macleod) – 34 goals
Coaches Most Valuable Player
1st – Marcus Lentini (Montmorency) – 87 votes
2nd – Liam Wale-Buxton (Montmorency) – 73 votes
3rd – Sam Binion (Montmorency) – 70 votes
4th – Sam Gilmore (Heidelberg) – 69 votes
5th – Jack Johnston (Greensborough) – 68 votes
Team of the Year