A recap of the 2022 section 4-13 winter netball grand finals, which were held at La Trobe Sports Stadium on Friday night.
Section 4: Whittlesea 1 (21) def by North Heidelberg 5 (35)
By Elly Kirlis
North Heidelberg 5 finished strong to claim a 14-goal victory over Whittlesea 1 in the section 4 grand final. The Bulldogs were made to work against a strong Eagles side throughout the first quarter, before a 10 to seven second term broke the game open. The Bulldogs then scored 18 goals to 11 to secure the premiership. Bulldogs goal shooter Mackenzie Williams took home the best on court award and finished as the leading goal scorer on the night with 19 majors.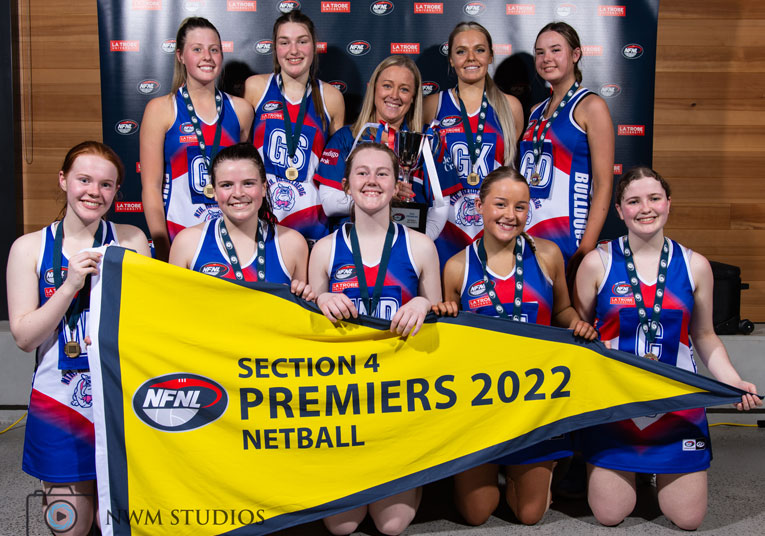 Section 5: North Heidelberg 7 (28) def Lalor 1 (24)
By Elly Kirlis
North Heidelberg 7 capped off its brilliant season with a gritty four goal win over Lalor 1. In a game that had plenty of momentum swings, it was the Bulldogs who were able to make the most of their opportunities to claim the triumph. Billie-Lee Humphrey and Rhianna Yelland were instrumental in the midcourt for the Bulldogs whilst Danielle Smith and Meghan Mckenzie did what they could to keep Lalor in the game. North Heidelberg's Rhianna Yelland won best on court honours.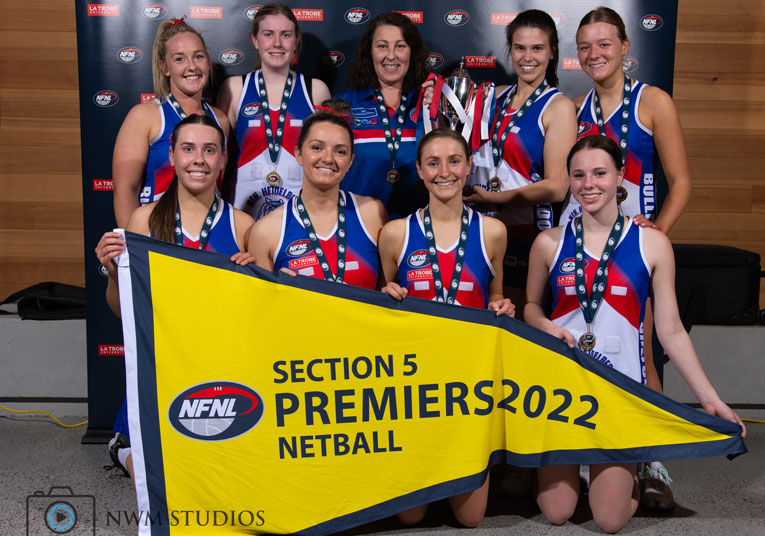 Section 6: La Trobe 1 (28) def by Diamond Creek 4 (31)
By Elly Kirlis
Finishing the regular season fourth on the ladder, Diamond Creek 4 capped off their remarkable finals run by defeating La Trobe 1 to the tune of three goals in the section 6 decider. The Creekers had the momentum for most of the night before La Trobe put up a resilient fight, getting crucial stops in the latter stages of the game to make things interesting, before Diamond Creek did enough in the end to prevail. Creekers goal defence Vanessa Smith had a big influence on the result and was a deserving best in court winner.
Section 7: Bundoora 4 (18) def by South Morang 1 (27)
By Josh Ward
South Morang 1 picked up their second consecutive winter netball section 7 premiership after defeating Bundoora 4 by nine goals in an entertaining match. South Morang were the dominant side for the first three terms and despite the Bulls producing a gallant final quarter display, the Lions stood strong to hold on for victory. Mary Pargas was in the thick of the action all night, with her hard work being rewarded with the best on court medal.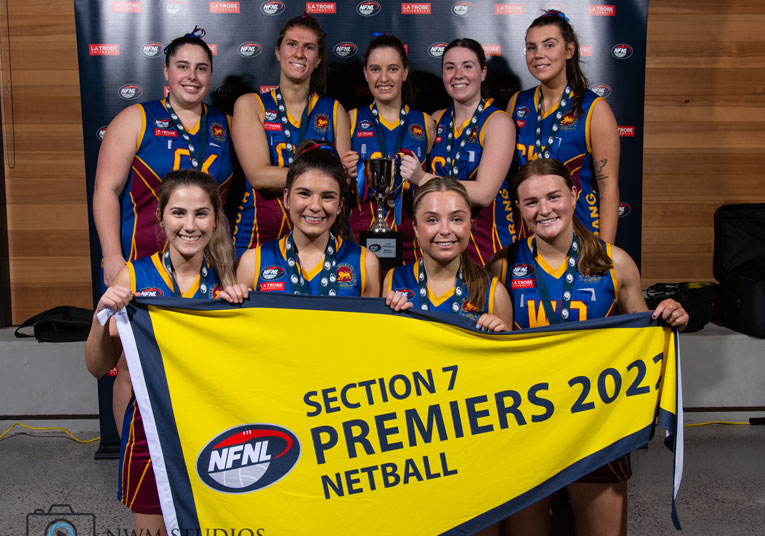 Section 8: Hume 3 (31) def by Bundoora 5 (34)
By Elly Kirlis
In one of the closest grand finals of the night, Bundoora 5 were able to sneak over the line and defeat Hume 3 by three goals in the section 8 grand final. It was goal for goal for most of the game, but the Bulls had the ability to keep themselves in the contest with their shooting before eventually edging out their opponents in a great battle. Hume goal defence Percilla Hetaraka-Kelly took best on court honours while Bulls goal shooter Amy Holliday finished with 25 goals.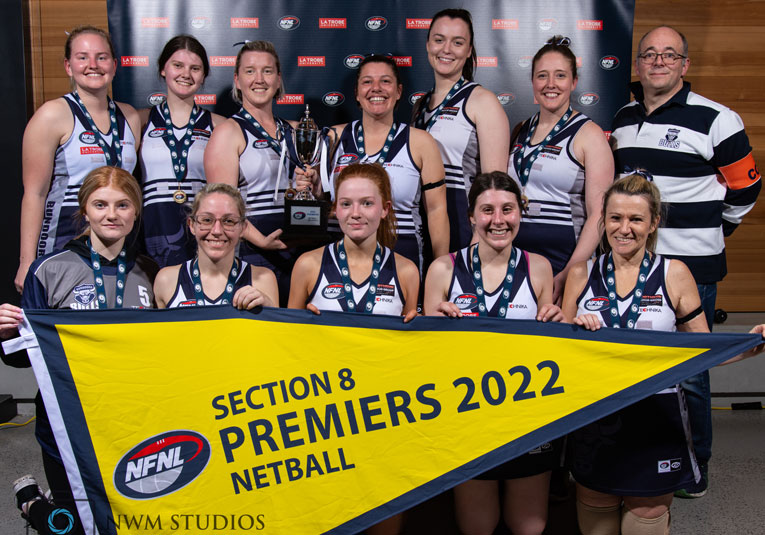 Section 9: Epping 3 (34) def Kilmore 3 (12)
By Josh Ward
A brilliant final three quarters secured the section 9 premiership for Epping 3, defeating Kilmore 3 by 22 goals. Scores were level at quarter time before Epping went produced a brilliant remaining three terms, only conceding six more majors for the match, to win the club's only premiership of the night in convincing fashion. Epping goal shooter Ebony Albon was immense inside the attacking circle, eventually going on to win the best on court medal.
Section 10: Lower Plenty 1 (21) def Kilmore 4 (15)
By Josh Ward
Lower Plenty 1 claimed the club's first premiership in the NFNL winter netball competition, defeating Kilmore 4 by six goals. The Bears only conceded three goals in the first half before withstanding some resistance from the Blues to finally break through and claim the premiership. Bears goal defence Bianca Clamp was rewarded for her strong efforts in the defensive half with the best on court medal.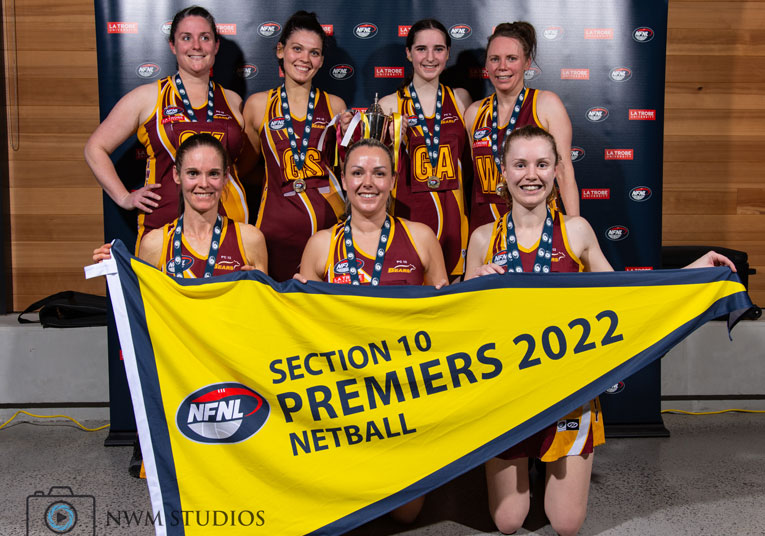 Section 11: Heat 8 (48) def Epping 4 (23)
By Josh Ward
One of the more comprehensive victories of the night saw Heat 8 cruise to a 25-goal victory over Epping 4. Following a tight first quarter, Heat turned up the pressure and increased their advantage exponentially as the game wore on. The Blues did what they could but the efficiency from their opponents was too strong to handle as the Heat completed an undefeated 2022 season. Centre Zara Brazier fought hard both defensively and offensively all night, claiming the best on court honours.
Section 12: West Ivanhoe 1 (26) def Epping 5 (12)
By Josh Ward
The top of the table West Ivanhoe 1 side wrapped up a brilliant season by securing a third winter netball premiership in club history, defeating Epping 5 by 14 goals. In a defensive contest, the Roosters held a handy eight goal lead at three quarter time before putting together an impressive nine goal to three final term to take home the premiership cup. Renee Utting of West Ivanhoe was announced best on court for a excellent performance.
Section 13: Heat 7 (24) def by Donnybrook 1 (36)
By Josh Ward
In a fairy-tale finish to their inaugural NFNL season, Donnybrook 1 took home the section 13 premiership with a 12-goal triumph over Heat 7. The Dragons finished the 2022 campaign in third spot with a 6-7-1 record before winning three consecutive finals to claim a historic flag. A massive 12 goal to five second quarter paved the way for victory, making it their second win in four games against Heat. Goal defence Ashlee Hansen was selected as best on court.