When Gary Moorcroft arrived at Yulong Reserve in 2011, nobody would have been able to predict what he would achieve for Bundoora.
The then 34-year-old was preparing to pull on the boots for his third local football club after 98 games and a premiership at AFL level.
Now, nine seasons later, Moorcroft has decided to hang up the boots – bringing to an end one of the most entertaining playing careers in the Northern Football Netball League.
Moorcroft will play his 172nd and final game for Bundoora this Saturday when the Bulls finish their home and away season against North Heidelberg at Shelley Reserve.
The 43-year-old has contemplated retirement for some time, but only recently did he realise that 2019 would be his final season.
"After the Macleod grand final [in 2017], I sort of started to ponder whether to continue. I went for another year feeling alright but going into the pre-season this year, the body just wasn't stacking up really well," Moorcroft told NFNL.org.au.
"Unfortunately, all good things have to come to an end at some time and the old body is telling me that the time is up.
"It's just come to the stage where I just can't get up for games as well as I'd like to."
Moorcroft told his teammates of his decision after training last Thursday prior to the club's final home game of the season against West Preston-Lakeside.
Giving an insight into the announcement, Moorcroft described how tough it was to have to deliver the news to his fellow teammates and coaches.
"It was a pretty hard thing to do, especially when you bleed blue and white like I do," he said.
"To see their faces, it was pretty emotional. A few tears got shed, a few cuddles afterwards, it was extremely tough.
"You see other people doing it and see how hard it is for them but when it's your turn you realise how hard it is yourself."
After finishing his AFL career as a 27-year-old, it would have been hard to believe that it would take another 16 years for Moorcroft to hang up the boots for good.
Moorcroft put his durability down to his preparation both on game day and throughout each week.
"I've got a pretty high pain tolerance in terms of being able to put my body through a fair bit and I think that has played a major role in the way I go about my footy and my longevity," he said.
"I'm pretty professional the way I do things behind the scenes in terms of getting my body right and getting up for games, even still at local level.
"Once you get to my age you know your body pretty well and know when you can push hard and when you can't."
Through his time at the NFNL, Moorcroft has learnt a lot about the culture of local footy clubs and the significance they have in Australian Rules football.
Before his final game, Moorcroft spoke of the impact Bundoora had left on his career and how grateful he was to have been given the opportunity to be part of the football club.
"The people you meet along the journey in local footy is something you don't experience too often," Moorcroft said.
"People don't realise how much time and effort goes into running a local footy club. It's probably an eye-opener for me but it's also impacted me into understanding what goes on.
"Helping the Bundoora kids come through has been a big thing for me. Nipper [Brent] Marshall for instance was just a young fella when I got to the club and now the way he's matured and leads around the club is exceptional."
Moorcroft said that while he was hanging up the boots, he wouldn't be lost to Yulong Reserve.
"I've got three premiership reunions to go to at Bundoora, so it's going to keep me busy," he said.
"I'm not going to be a stranger and I'll be sure to see everyone pretty frequently throughout and always making sure I get back to the club."
When Moorcroft arrived at Yulong Reserve in 2011, it had been 15 years since the Bulls last won a senior premiership.
But during his time at Bundoora, the Bulls fought their way through to three flags in seven years, with Moorcroft playing a pivotal role in each.
He made an immediate impact in his first season at the club – booting 76 goals to steer the club to premiership glory.
Despite kicking just one goal in the grand final win over Heidelberg, Moorcroft played a vital part in steering the Bulls straight through to the decider – booting five goals in the second semi final win over the Tigers.
In the 2013 premiership decider, the Bulls trailed Montmorency by as much as 47 points late in the third quarter. An incredible hanger from Moorcroft inspired one of the great comebacks, as Bundoora booted 11 unanswered goals, including three from the mercurial forward, to win by 29 points.
The 2017 grand final had many twists and turns but in a nail-biting contest against the rampaging Macleod, Moorcroft kicked the winning goal 29 minutes into the last quarter, to snatch a three-point victory.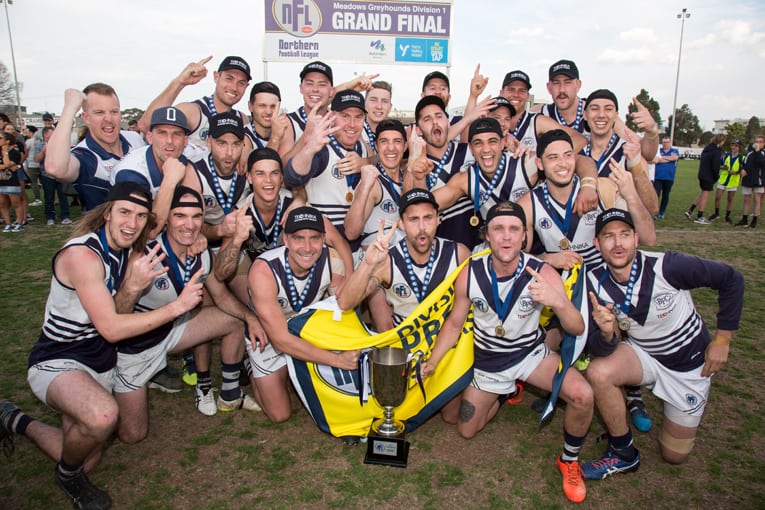 With a host of wonderful grand final moments to look back upon, Moorcroft found it difficult to rank his finest moment for the Bulls.
"They're all pretty hard to win and each one is just as important. But I suppose the wins against Macleod and Montmorency are hard to split," he said.
"To comeback in 2013 the way that we did was unbelievable. To comeback from over 40 points and then win by 27 points is just unheard of.
"Then you get to kick a match winning goal in a grand final only a few years ago and you can only dream of that happening to you.
"So, I'm grateful to have been a part of those moments."
Few players could say that have a better highlights reel than Moorcroft.
He's kicked 573 goals throughout his time in the NFNL, and in both 2012 and 2016, he was the league's leading goal kicker in Division 1.
But while his goal kicking has always been an amazing feature in his game, his high marking has been nothing short of magical.
He will forever be remembered for his 2001 AFL Mark of the Year on the back of Western Bulldogs legend Brad Johnson. However, his big leap has never left him – which has kept crowds in raptures right across the NFNL.
Moorcroft has always enjoyed flying for high marks and credits his high leap as a major factor behind his success.
"It's one part of my game that I can say I have taken to another level," he said.
"I've been able to jump my whole life and I'm not overly tall, so I had to work around that and find other avenues to try and play as a key forward.
"There have been some great ones over the journey. They've always been enjoyable to do."
While Gary won't be part of Bundoora's line-up after Saturday's trip to North Heidelberg, the Moorcroft name will continue at Yulong Reserve.
His son Beau has played 43 senior games with Bundoora, including 14 this year, and was part of the Bulls' reserves premiership last year.
Moorcroft's daughter Chloe also plays with club and was involved in her side's Division 3 Women's premiership win last year – a side that was coached by Gary.
Moorcroft said he was looking forward to seeing his children take the next step in their football careers and says he will always be around to help support them the best they can.
"It's definitely going to be hard sitting around on the sidelines watching them run around, but I look forward to watching them grow and develop," he said.
"Chloe's come a long way in her footy. She was an elite gymnast and did a big backflip and told us she wanted to play footy. Beau has been improving as well and it's great to see him out there.
"To see both of them fulfilling a lifelong dream and winning a premiership last year is just absolutely fantastic.
"It's just the thrills you see in the kids' eyes that really make you smile."
Emotional scenes followed Moorcroft's final home game last Saturday, with the crowd up on its feet as they farewelled one of the club's biggest stars.
Similar emotions will be shared this Saturday when the final siren sounds at Shelley Reserve.
But Moorcroft isn't second guessing the decision. He knows that this is the right time for him to step aside.
"It hits you in those moments when you're driving to train for the last time that's for sure," he said.
"But I don't want to be one of those blokes that continues to play and not put any input in.
"The club has been absolutely fantastic to me and hopefully I've been able to leave it in a good place.
"It's sad, but it's time."