What is NetSetGo?
Suncorp NetSetGo is Australia's official starter program for girls and boys aged 5 to 12. It is a chance to learn the netball basics, get active and make some friends. For many kids this is the first time they will pick up a netball. This program is all about learning the netball basics through skill-based activities, minor games, and modified match play that will help them develop fundamental movement skills, as well as important social skills.
As you move through the program, you will pick up more advanced netball skills. One week it might be passing drills and ball games, next it could be shooting and practice matches. All Suncorp NetSetGo sessions are led by a friendly NFNL netball coach, using equipment built specially for kids.
What will I learn?
The key element of Suncorp NetSetGo is mastering the basics.
Over the program participants will learn:
• How to throw and catch a netball.
• How to take off and land safely.
• How to pivot and change direction.
• The mysterious art of goal shooting.
• Some basic movement skills and techniques.
• Why teamwork is so important.
• How to play fair, respect your umpire and have fun.
Participant Pack
Each player will receive a participant pack, included in the cost of their registration fees. The pack includes a netball in their favourite Suncorp Super Netball team colours and a Suncorp NetSetGo t-shirt!
Our NetSetGo Centres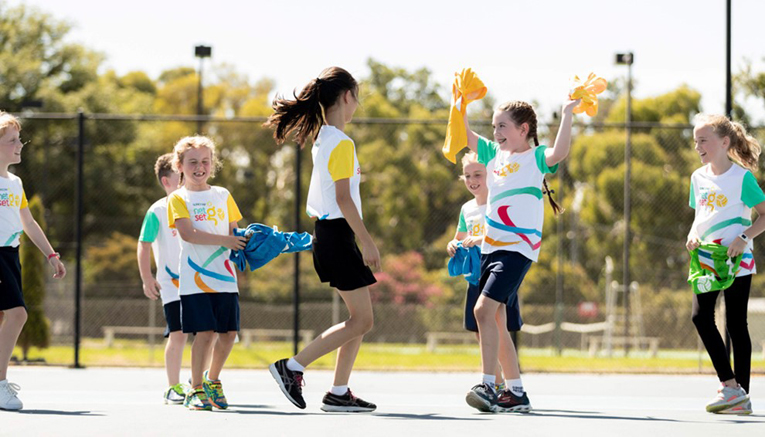 NFNL offer the NetSetGo program through local primary schools throughout the northern region.
If you are interested in registering into NetSetGo, please see our current centres below:
Donnybrook
Venue: Donnybrook Football Netball Club Courts – Cycad Avenue, Donnybrook VIC 3751
Day & Date: Wednesdays 4.00 – 5.00 PM
Contact to sign up: jessica.eastham88@outlook.com
Epping Views
Venue: Epping Views Primary School – 20 Mansfield Street, Epping Victoria 3076
Day & Date: Tuesdays 3.45 – 4.45 PM
Contact to sign up: ltheodosis@nfnl.org.au
Hazel Glen
Venue: Hazel Glen College
Day & Date: Wednesdays 4.00 – 4.45 PM
Contact to sign up: hazelglennetball@gmail.com
Hurstbridge Football Netball Club
Venue: Hurstbridge Primary School
Day & Date: Tuesdays 3.30 – 4.30pm
Contact to sign up: cssimpson@bigpond.com
Keon Park Stars JFC
Venue: JC Donath Reserve
Day & Date: Saturdays 9.30 – 10.30am
Contact to sign up: keonparkstars@gmail.com
Panton Hill Football Netball Club
Venue: Kangaroo Ground Primary School
Day & Date: Mondays 4.30 – 5.30pm
Contact to sign up: elly.synan@gmail.com
Plenty Parklands
Venue: Plenty Parklands Primary School – 48 Blossom Park Dr, Mill Park VIC 3082
Day & Date: Fridays 3.45 – 4.45pm
Contact to sign up: ltheodosis@nfnl.org.au