A review of the 2022 Melbourne Greyhounds Division 1 season. 
It was the Year of the Tiger in Melbourne Greyhounds Division 1 as Heidelberg went through the 2022 campaign only tasting defeat once to claim a 21st NFNL premiership.
Danny Nolan became a Tigers premiership coach to go with his five flags as a player, guiding the club to an impressive grand final victory over Bundoora.
The Bulls stayed in the top three after Round 7 and won their final four games in the home and away campaign to finish in second spot, before losing to the Tigers twice in the finals series to fall short of a fourth flag in 11 years.
Montmorency looked to be the second-best team for majority of the season, they became the only side to defeat Heidelberg (back in Round 3) and were in the top two from Round 7, but a poor final month saw them drop to third ahead of the finals series. After bouncing back from a qualifying final loss to Bundoora by defeating West Preston-Lakeside in the semi-final, they were no match for the Bulls again in the preliminary final.
West Preston-Lakeside struggled to maintain the form that had seen them win the last two flags in the competition and finish as minor premiers in 2021. The Roosters were only two points clear in the top five by Round 10 before an improved second half of the season saw them finish in fourth. They defeated Greensborough in the elimination final but couldn't keep up with the Magpies the following week.
Greensborough also found difficulty in replicating their form of previous years, with the side being vulnerable of dropping out of the top five right up until the final game of the home and away campaign. The Boro faced their 2019 grand final opponents in the elimination final but went down by 27 points.
It was an almost year for North Heidelberg as multiple close defeats saw them miss out on the top five by six points. The Bulldogs were involved in seven games that were decided by 10 points or less, only managing one victory.
Although they produced some big scalps, Macleod were still off the pace from the rest of the top five. They did have a better second half to the year after a slow start, going 4-4 and finishing six points behind fifth placed Greensborough.
Hurstbridge and Whittlesea were entrenched in a relegation battle for most of the season and with some vital wins in the backend of the home and away campaign, both sides were able to secure safety, ending the year in eighth and ninth respectively.
Northcote Park's incredible run in the topflight came to an end after finishing 2022 on the bottom of the ladder with three victories. They'll play in Division 2 for the first time since 1994.
Roosters' ruck Matthew Harman took home the Frank Rosbrook Medal. Montmorency big man Liam Wale-Buxton had received the most votes but was deemed ineligible due to suspension, leaving Harman to take home West Preston-Lakeside's first recipient of the award since 2010.
North Heidelberg's Jesse Tardio and Heidelberg's Matthew Smith shared the Coaches MVP Award, it was Smith's second consecutive time picking up the award, while Montmorency's Patrick Fitzgerald sat on top of the leading goalkicker charts with 67 majors.
Continue below for a season review for each Division 1 team:
Heidelberg
Premier (16 wins, 1 loss)
It was a near flawless season for Heidelberg, cruising through the home and away campaign before ending their season at the top of the NFNL mountain. Coming off back-to-back fourth place finishings, the Tigers bolstered their squad in the off-season with former Collingwood midfielder Brayden Sier and Montmorency's Luke Bunker headlining the inclusions. They did lose 2016 premiership player Jordan Treloar but from the outset, it was apparent that Heidelberg were looking dangerous. They opened the season with solid victories over Hurstbridge and Macleod before falling to Montmorency in one of the great games of the year in Round 3. After that match however, Danny Nolan's men did not miss a beat, failing to taste defeat for the remainder of the home and away campaign. They weren't just winning games either, the Tigers' 16 wins were by an average of just over 51 points, this included a combined margin of 116 points in victories against fellow top three sides Bundoora and Montmorency. Their biggest scare came in the second semi-final, when in an epic battle against the Bulls scores remained level when the full-time siren sounded. The same result threatened to happen again at the end of extra-time before a set shot conversion after the siren from Josh Minogue sent Heidelberg into their first grand final since 2016. They then became the first side in nine seasons to win the premiership after winning the second semi-final, defeating Bundoora by 15 points. The midfield was their main strength throughout the season, with Danny Nolan's side possessing strong depth in that area. Sam Gilmore was the star of the show, consistently providing his midfielders first use whilst also kicking 15 goals himself and finishing with 15 votes in the Frank Rosbrook Medal. Lachie Wilson's stellar senior career also continued, finishing in second place with 18 votes after winning the Frank Rosbrook Medal in 2021 whilst also adding goalkicking to his skillset with 14 majors for the season. Matthew Smith provided experience and class through midfield and finished with his second Division 1 Coaches MVP plus the Best on Ground Medal in the Grand Final. In attack Josh Minogue's rise up the key forward ranks continued, kicking 54 goals, including five in the Tigers two finals, to make it an astounding 86 majors in his last 31 games. Amongst others, Daniel O'Dwyer shone in defence alongside recruit Dylan Clarke while Ben Nikolovski and Tom Schnerring were also crucial contributors in midfield when called upon. The Tigers had six representatives in the Team of the Year while also producing four of the top six in the Frank Rosbrook Medal count, further highlighting their incredible dominance in 2022.
Most times in best: Sam Gilmore, Tom Schnerring and Matthew Smith (10)
Leading goalkicker: Joshua Minogue (54 goals)
Team of the Year representatives: Sam Gilmore, Joshua Minogue, Daniel O'Dwyer, Tom Schnerring, Matthew Smith, Lachlan Wilson
Bundoora
Runner Up (13 wins, 4 losses)
Following a promising 2021 campaign, the Bulls looked destined to continue their rise this season after recruiting the likes of Neville Jetta, David Zaharakis and for a couple of games, Jacob Townsend. Bundoora didn't kick off the year with a flyer however, going down in a heavy defeat to West Preston-Lakeside in the opening round, before dusting off the cobwebs and winning their next four matches in convincing fashion. They were no match for Heidelberg in Round 6 before going on a five-game win streak, which included a comprehensive 104-point victory over West Preston-Lakeside and a heart-stopping four-point triumph over Greensborough. Michael Ryan's men then suffered a difficult fortnight, first with another defeat to the Tigers before being shocked by a 15-point loss to Hurstbridge at home. That defeat turned the Bulls around, they would head into the finals as one of the most in-form teams in the competition after producing a four-game winning streak to round out the end of the home and away campaign. With Zaharakis unavailable for the remainder of the year, Sam Lloyd stood up in midfield and was arguably the most valuable player in the competition during the second half of the season with a superb patch of form. The streak to end the regular season included a brilliant 14-point win over Greensborough in co-captain Brent Marshall's 200th game and an impressive 22-point triumph over Montmorency away from home, a victory which saw Bundoora leapfrog the Magpies into second spot. The Bulls would again take care of the Montmorency in the qualifying final, as despite a big comeback brewing from Garry Ramsay's men. Bundoora would hold their nerve to claim a nine-point victory. They would fall short in dramatic style against the minor premiers a week later, losing in extra time in the second semi-final to force another rematch with Montmorency in the preliminary final. It was a much more comfortable victory for the Bulls in the penultimate game of the year, winning by 45 points on their way to a fourth grand final in 11 years. However, for the fourth time in 2022, the Bulls couldn't finish the job against Heidelberg, falling away in the final term to finish the season as runners up. John Jorgensen was excellent up forward, kicking 52 goals after a 27-goal season in 2021, he was assisted by Kyle Green and Danny Younan, who combined for 71 majors. Co-captain Luke Collins led the engine room in style, being named in the best in 11 of 20 games, while Hamish Shepheard constantly took it up to some of the best rucks in the competition.
Most times in best: Sam Lloyd (12)
Leading goalkicker: John Jorgensen (52 goals)
Team of the Year representatives: Luke Collins, John Jorgensen, Sam Lloyd
Montmorency
3rd (12 wins, 5 losses)
After finishing the previous two seasons in fifth and sixth, the Magpies made some strong reinforcements in the off-season as they looked to break a 43-year premiership drought. Montmorency Park welcomed Mitch Honeychurch, Lin Jong, Marcus Lentini and Liam Wale-Buxton ahead of season 2022 and judging by their start to the year, the competition quickly saw the Magpies as a premiership threat. Garry Ramsay's men won 10 of their first 12 games which included a famous one-point victory over eventual premiers Heidelberg. It was slowly panning out to be a two-horse race for the premiership by Round 12, however Montmorency would falter in the latter parts of the home and away campaign, winning just two of their last five games, with all three losses coming against top five sides in Heidelberg, Bundoora and West Preston-Lakeside. Trailing by 19 points against the Bulls at half time in the qualifying final, the Magpies were able to claw their way back into the match thanks to the heroics of Patrick Fitzgerald, who kicked five majors, but they would still fall nine points short of a second semi-final. They made amends the next week against an in-form West Preston-Lakeside outfit, absorbing the Roosters early pressure before kicking 10 goals to four after quarter time to win by 32 points. In a rematch with Bundoora in the preliminary final, Montmorency never got going, trailing at every change to bow out of the season with a 45-point defeat. It's still the Magpies best finish to a season since making the 2013 grand final and they were able to achieve that with some impressive performances. Arriving from Vermont, Liam Wale-Buxton produced an outstanding 2022 campaign, being in the side's best in 13 of 18 games, while also having a massive impact in his ruck duties. He earned a Team of the Year selection and would have won the Frank Rosbrook Medal had he not been suspended in Round 18. In his 14th season of senior football, Patrick Fitzgerald had a career best campaign, winning the competition goalkicking award with 67 majors in 17 games. Only once did he kick less than two goals in a match, and he also kicked 12 majors in his three finals games. Co-captain Sam Binion was a key figure in midfield, combining well with Wale-Buxton on multiple occasions while Jai Robinson led the way in defence, with his terrific season earning him another Team of the Year selection.
Most times in best: Liam Wale-Buxton (13)
Leading goalkicker: Patrick Fitzgerald (79 goals)
Team of the Year representatives: Patrick Fitzgerald, Mitchell Honeychurch, Jai Robinson, Liam Wale-Buxton
West Preston-Lakeside
4th (9 wins, 7 losses, 1 draw)
Following an up and down 2022 campaign, the Roosters' reign as the premier team of Division 1 came to an end this season. West Preston-Lakeside were still favoured to be a premiership threat this year, coming into the competition off the back of premierships in 2018 and 2019 as well as a minor premiership in the shortened 2021 season. Rob Maiorana did lose some handy contributors this season, mainly Jackson Clarke, Garrett McDonagh and Liam McVeigh, but with a brilliant opening round victory over Bundoora, the reigning premiers were expected to have another dominant year. But the Roosters struggled to maintain form, they would win just three of their next eight games, suffer disappointing defeats to Whittlesea and Macleod and enter the second half of the season with a 4-4-1 record. What didn't help either was a season ending injury to co-captain Ahmed Saad. One of the competition's most dangerous forwards in the last five years, Saad had kicked 31 goals in just eight games but didn't feature after Round 12 after picking up an ACL injury. West Preston-Lakeside were just two points clear in the top five at Round 10 and looked vulnerable in missing finals for the first time since 2016, however an improved back half to the home and away campaign saw them win five of their last eight games to finish in fourth position. Nobody was ruling the Roosters out of premiership contention in September, particularly after their unbelievable feat in 2019 where they took out the flag from fourth spot, that belief was made more so after an excellent 27-point triumph over Greensborough in the elimination final. However, despite defeating Montmorency in the final game of the home and away season, the Roosters couldn't complete another fairytale run, going down to the Magpies by 32 points in the first semi-final. Ruckman Matthew Harman won the Frank Rosbrook Medal, becoming the first West Preston-Lakeside player to win the award in 12 years. The big man had a terrific season, producing some great partnerships with midfielders Michael Ercolano and Alex Federico. Aidan Tilley stood up inside 50, kicking 34 goals in 20 games, which included 19 goals in matches without Saad. Along with his fellow co-captain, Nathan Valladares only featured in 11 games this year and didn't make an appearance after Round 13.
Most times in best: Max Dreher, Alex Federico and Adam Valeri (11)
Leading goalkicker: Aidan Tilley (34 goals)
Team of the Year representatives: Matthew Harman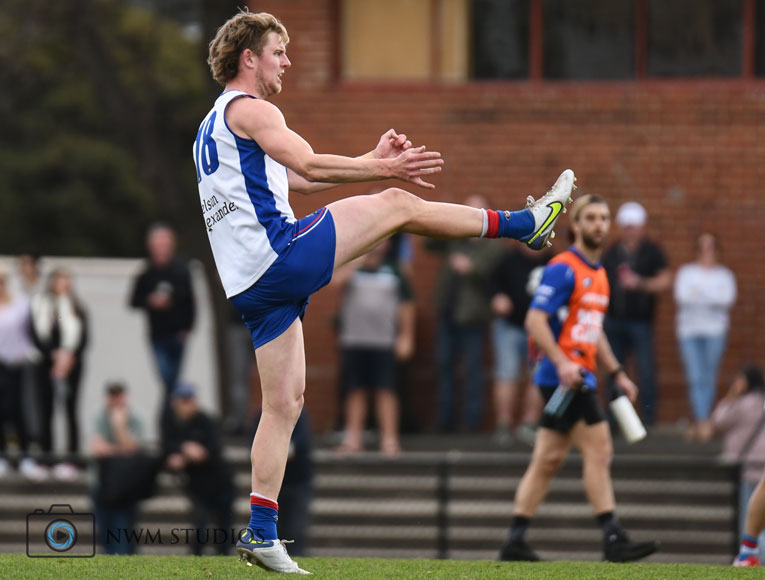 Greensborough
5th (8 wins, 8 losses, 1 draw)
Under a new coach in 2022 in Saade Ghazi, the Boro were hopeful to remain a top three side in order to contend for a first premiership in eight years. The club had some notable omissions from last year's squad but brought in some handy names such as Lucas Aquilina, Harvey Daniher and Joel Trudgeon while Tristan Stead returned from his stint overseas. Greensborough got off to a bright start in the opening few weeks of the season, after six games they had only tasted defeat once, registering four wins and producing a heart stopping draw with West Preston-Lakeside. However, the Boro looked like a different side in the middle third of the home and away campaign, losing five of the next six matches. Four of those opponents in that span were fellow top five sides. It left their position in the top five vulnerable with North Heidelberg and Macleod looking to pile the pressure on. Greensborough steadied the ship throughout July and August, as despite losses again to Heidelberg and Bundoora, they picked up crucial triumphs over the Bulldogs and Roos to secure another finals appearance. Their stay in September only lasted a week as they were no match for West Preston-Lakeside in the elimination final. In what has been a feature of their game for many years, the Boro's defensive efforts were outstanding again in 2022. Saade Ghazi's side conceded the least number of points in the competition outside the grand finalists and let an opponent score more than 90 points just twice. The back six was led by Jack Johnston and Nick Riddle, the duo would again receive Team of the Year honours, with Nick Riddle earning his seventh consecutive selection. 2019 Frank Rosbrook Medallist Tom Bell continued to play a key role for his side, this time having more of an influence up forward, finishing the season as the Boro's second leading goalkicker with 28. Zak McCubbin would take club leading goalkicking honours, he booted 33 majors and was only kept goalless once this season.
Most times in best: Jack Johnston and Nick Riddle (9)
Leading goalkicker: Zak McCubbin (33 goals)
Team of the Year representatives: Tom Bell, Jack Johnston, Nick Riddle
North Heidelberg
6th (7 wins, 10 losses)
The Bulldogs could consider themselves unlucky for not making the top five this season, after a string of close defeats saw them miss out on finals by just six points. Having finished in the top five in each season since returning to the topflight in 2018, North Heidelberg were hoping to keep their impressive form up in 2022. But Jason Heatley's men had a tough start to the home and away campaign, losing five of their first six matches by an average margin of just under 19 points, the last four of those games being against top five sides. It saw the Bulldogs sit on the bottom of the ladder before an important three game win streak, which included an impressive 25-point triumph over Greensborough, put them back in the finals hunt at the halfway mark of the season. But the close defeats continue to occur with North Heidelberg losing their next two games by a combined nine points to again put their finals aspirations in danger. Losses again in two of their next three matches put the Bulldogs 10 points behind fifth place Greensborough with just three games remaining, making the task almost out of reach. Jason Heatley's men managed to mathematically keep their finals hopes alive in the last home and away game but went down in yet another tight finish, this time by four points to Bundoora. Jesse Tardio produced an outstanding year at Shelley Street Reserve, the prolific midfielder was named in his side's best in 13 of 16 matches and won the Division 1 Coaches MVP alongside Heidelberg's Matthew Smith. Billy Hogan kicked 35 majors up forward, including bags of three or more goals on six occasions. Charles Le Fanu was solid throughout the 2022 campaign while Brent Harvey, despite playing just seven games, still had a huge impact, named in the best on five occasions and kicking six goals. His former North Melbourne teammate Majak Daw also only made five appearances after signing with the club later in the season, but a full year under his belt next year will go a long towards the Bulldogs returning to finals.
Most times in best: Jesse Tardio (13)
Leading goalkicker: Billy Hogan (35 goals)
Team of the Year representative: Jesse Tardio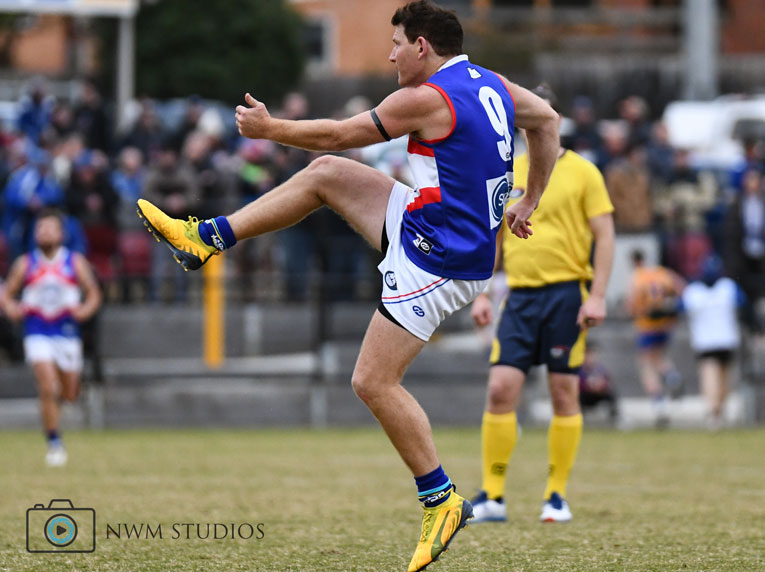 Macleod
7th (7 wins, 10 losses)
For the second completed season in a row, the Roos missed out on the top five by just six points. Under a new coach in Craig Hayes, Macleod got off on the right foot with an excellent 40-point victory over North Heidelberg. Mixed results followed as despite a gallant 25-point defeat to Heidelberg, they were thumped by Greensborough the next week on Good Friday. A four-point loss to the then winless Northcote Park had the Roos well and truly entrenched in the bottom half of the ladder before solid wins over West Preston-Lakeside and Hurstbridge put them back in the finals conversation. Again, the up and down results followed in the second half of the year for Craig Hayes' side, they defeated the Bulldogs again on Queen's Birthday weekend in an entertaining five-point triumph but just a fortnight later, had one of their most disappointing performances, going down to the Cougars by 47 points. Wins against Hurstbridge and Whittlesea throughout the next month kept Macleod in the mix to make a late push for finals, and that hope became a little closer to reality after a thrilling one-point win over West Preston-Lakeside in Round 16. It meant with one round remaining, the Roos could still qualify for finals if they defeated Greensborough who were sitting in fifth position, but they never looked likely to topple the Boro, going down by 24 points to end their 2022 campaign. Lucas Hobbs again excelled for his side, with his move up forward at times paying dividends, kicking 21 goals in 17 games to be the Roos' equal second highest goal scorer this season. He also finished fourth in the Coaches MVP award, finished with eight Frank Rosbrook Medal votes and earned a Team of the Year selection. Ruckman Patrick Flynn had some impressive moments throughout the season, he would go on to be Macleod's highest vote getter in the Frank Rosbrook medal. Sebastian Latina had a breakout year in midfield, he consistently had an impact around the ground but only played 12 games due to injury. Both Haydon and Kurt Manuel were also efficient this season while the returning Luke Joyce kicked 26 majors in 15 games.
Most times in best: Kurt Manuel (10)
Leading goalkicker: Luke Joyce (26 goals)
Team of the Year representative: Lucas Hobbs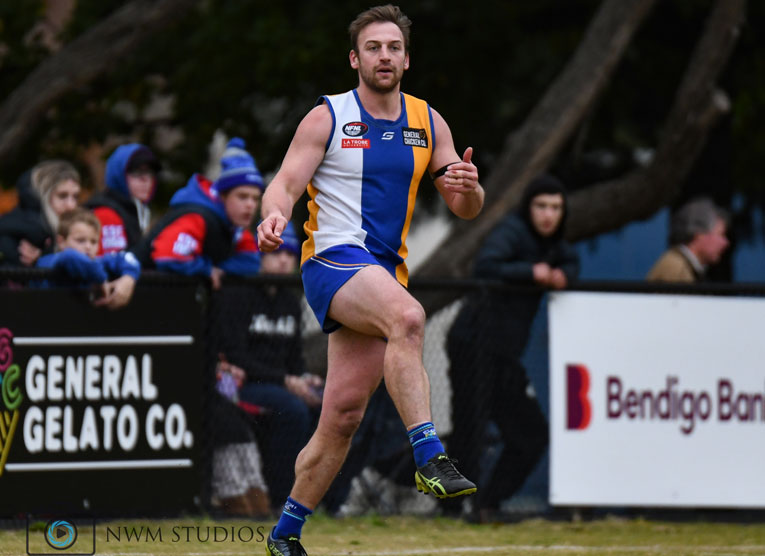 Hurstbridge
8th (5 wins, 12 losses)
Hurstbridge were able to bookend the 2022 home and away campaign with crucial wins in order to confirm a seventh consecutive season in the topflight. The club was able to sign some big names in the off-season, namely Sunny Brazier, Michael Florance and Ty Franks, in the hopes of improving their three-win 2021 season. The Bridges got off to a flyer in the opening rounds of the year, after a Round 1 defeat, they picked up an impressive win over Greensborough before claiming victory over Whittlesea away from home on Anzac Day. But a nine-game losing streak would follow, putting the potential of relegation high by Round 12. In what was arguably their best victory of the season, the Bridges would end their run by defeating Bundoora by 15 points at Yulong Reserve. The shock triumph sparked the side to win two of their final four matches, including comprehensive wins over Northcote Park and Whittlesea, to ensure they remained in Division 1. Their victory over the Cougars in Round 16 was highlighted by the incredible feats of Joel Naylor who kicked a career high ten majors, eight of those being in the first half. The young key forward enjoyed an excellent campaign in which he kicked 45 goals in 17 games, finishing equal third in the competition goalkicking leader board. He had some great support from fellow forwards Cooper Barbera, Sunny Brazier and Cooper Perrin, who all kicked 15 or more majors this season. Captain Lachlan East led the way in the defensive end, he would earn a second Team of the Year selection and produce a brilliant partnership with Ty Franks in the back half. Despite registering less wins than the 2019 season, Hurstbridge would defeat two top five sides this year (Greensborough and Bundoora) and fall six points short of West Preston-Lakeside in their Round 8 clash. As a result, they produced their best record over finals bound sides since joining Division 1 in 2017. With the club also boasting a better percentage than three other teams this year, the Bridges are in good stead to take another step in 2023.
Most times in best: Lachlan East (12)
Leading goalkicker: Joel Naylor (45 goals)
Team of the Year representatives: Joel Naylor, Lachlan East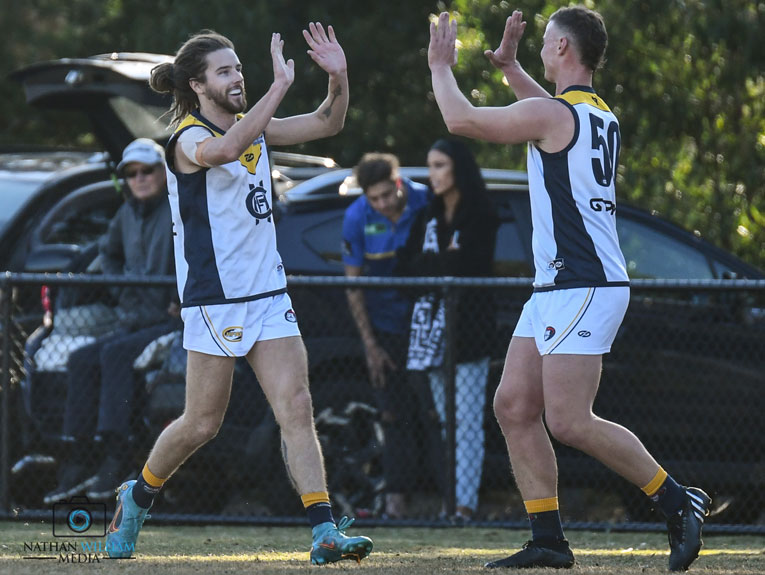 Whittlesea
9th (4 wins, 13 losses)
Whittlesea will take a lot of learnings out of the 2022 season after surviving in the topflight by one game. The Eagles headed into this year's campaign with a lot of potential despite having won only four of their last 30 Division 1 matches. They were able to replace the losses of Nathan Andrews and Nathan Stefanile by signing Jarrad Waite in a playing-assistant role, while also bringing in Curtis Brown and David Mennan. The Eagles faced the 2019 grand finalists in their opening two games of the season and after a brave 25-point loss to Greensborough, they were able to shock the reigning premiers with an eight-point triumph away from home. A defeat at home to Hurstbridge on Anzac Day kicked off a three-game losing streak before a seven-point triumph over Macleod in Round 6 saw them equal their win tally from the previous two seasons. A difficult fortnight followed for the Eagles as a 46-point defeat to North Heidelberg and a poor 157-point loss to Montmorency saw premiership coach Blair Harvey part ways with the club along with Waite and Mennen. A three-point victory over Northcote Park the following week gave the club's hopes of survival a boost at the halfway point of the season. Whittlesea would taste defeat in their next five matches, four of those losses coming against top five sides, however with a favourable run home and still sitting on the same points as Northcote Park and Hurstbridge with three rounds to play, the Eagles were in the hot seat to avoid a return to Division 2. Their win over the Cougars at Bill Lawry Oval in Round 15 would prove to be enough to avoid relegation as a six goal to three second half secured their fourth win of the season, their best return in the topflight since 2017. Only three players would play in every game this season, with Jaron Murphy proving to be a standout in 2022. He was named in the backline in the Team of the Year, but he would also be influential up forward, kicking 23 majors for the Eagles, 11 of those coming in a three week span between Round's 14 and 16. Brody Bell also had a breakthrough season, playing all 18 games and being named in the best eight times.
Most times in best: Brody Bell and Xavier Dimasi (8)
Leading goalkicker: Jaron Murphy (23 goals)
Team of the Year representatives: Jaron Murphy
Northcote Park
10th (3 wins, 14 losses)
Despite some glimmers of hope throughout the year, Northcote Park's reign in Division 1 came to a disappointing end, returning to Division 2 for the first time since 1994. Like Whittlesea, the Cougars recruited well in the off-season following a winless campaign in 2021, signing Alexander Boyse, Matthew D'Angelo, Thomas Hallebone and Jordan Schroder while Jordan and Lucas Perry would join brother Matt ahead of the season. It would quickly become apparent that the Cougars would again struggle in this year's campaign, with injury and unavailability hurting the side's chances of a consistent patch of form. Winger Ricky Fandrich would be the only player to appear in every game this season, with Schroder (5), Jordan Perry (10), Lachlan Boscarini (11) and Benjamin McNiece (13) all missing chunks of the 2022 campaign. The club's highlights came in their three victories this year. They broke a 17-game losing streak in Round 4 after defeating Macleod by four points at De Winton Park before claiming a 13-point win over Hurstbridge a fortnight later. Northcote Park did the double over the Roos in Round 11 in what would be their most impressive and comprehensive triumph in years. Stephen Saddington's men kicked 11 goals to four after quarter time with forward Michael Amad kicking five majors to help keep the Cougars' survival battle alive. Those wins would be the few joys the club would experience in 2022 as heavy defeats and a lack of scoring ability saw them become the only side to not register 1000 points or more this season. Despite winnable games against fellow relegation battlers in Whittlesea and Hurstbridge in the last few weeks of the season, the Cougars could not match it with their opponents and would ultimately lose their final six games of the season by an average margin of 58 points. Boyse proved to be their most impactful recruit, the forward kicked 27 majors which included a period between Round 6 and 13 where he averaged almost three goals a game and always kicked at least two majors. Captain Matthew Perry was consistent in the midfield, being named in the best in 10 of his 14 games.
Most times in best: Matthew Perry (10)
Leading goalkicker: Alexander Boyse (27 goals)
Team of the Year representatives: Nil
MEADOWS GREYHOUNDS DIVISION 1 – 2022 REVIEW
Finals Results
Qualifying Final: Bundoora 11.3 (69) def Montmorency 9.6 (60)
Elimination Final: West Preston-Lakeside 10.12 (72) def Greensborough 7.3 (45)
Second Semi Final: Heidelberg 10.10 (70) def Bundoora 9.10 (64) (AET)
First Semi Final: Montmorency 12.12 (84) def West Preston-Lakeside 7.10 (52)
Preliminary Final: Bundoora 10.16 (76) def Montmorency 4.7 (31)
Grand Final: Heidelberg 6.11 (47) def Bundoora 5.2 (32)
Best and Fairest
1st – Matthew Harman (West Preston-Lakeside) – 19 votes
2nd – Lachlan Wilson (Heidelberg) – 18 votes
= 3rd – Sam Gilmore (Heidelberg) – 15 votes
= 3rd – Joshua Minogue (Heidelberg) – 15 votes
5th – Luke Collins (Bundoora) – 14 votes
Leading Goal Kicker (home and away only)
1st – Patrick Fitzgerald (Montmorency) – 67 goals
2nd – Joshua Minogue (Heidelberg) – 49 goals
=3rd – John Jorgensen (Bundoora) – 45 goals
=3rd – Joel Naylor (Hurstbridge) – 45 goals
5th – Billy Hogan (North Heidelberg) – 35 goals
Coaches Most Valuable Player
=1st – Matthew Smith (Heidelberg) – 76 votes
=1st – Jesse Tardio (North Heidelberg) – 76 votes
3rd – Liam Wale-Buxton (Montmorency) – 71 votes
4th – Lucas Hobbs (Macleod) – 68 votes
5th – Sam Lloyd (Bundoora) – 66 votes
Team of the Year