The 2022 Women's Teams of the Year have been selected. 
The NFNL Teams of the Year are selected based on the following criteria:
• Nominations submitted by each senior coach within each division at the conclusion of the home and away season. Coaches must select a player for each position on the field.
• Coaches MVP votes
• Best and Fairest votes
The NFNL congratulates all players and coaches who have been selected in each of the three teams.
Please continue below to see the 2022 Women's Teams of the Year.
WINNING EDGE DIVISION 1 WOMEN'S
All clubs who competed in the Winning Edge Division 1 Women's competitions have a representative in the Mirvac Division 1 Women's Team of the Year.
This year's premiers in Diamond Creek Women's, has six players selected, including 2021 Team of the Year members Stacey Cross and Linda Thorp. This will be the duo's third appearance in the final 22.
Darebin and Montmorency both have four representatives in the side, with Falcons' winger Julia Phung and Magpies' ruck making it back-to-back Division 1 Team of the Year appearances
VU Western Spurs and Heidelberg each have two players in the side, while Greensborough and Lower Plenty-Bundoora are represented by one player.
SG PRINT & PAPER DIVISION 2 WOMEN'S
All eight clubs are represented in the 2022 SG Print & Paper Division 2 Women's Team of the Year.
Eltham have five members in the squad with grand final best on ground winner Angelique Reibelt and Panthers captain Jacki White among the players selected.
Banyule also have five representatives named, with Drew Barnes selected in her second consecutive competition Team of the Year.
Grand finalist's St Mary's have four players selected in the team while Whittlesea have three representatives.
Darebin have two players named in team with Diamond Creek Women's, Fitzroy Stars and Montmorency all having one representative in the final side.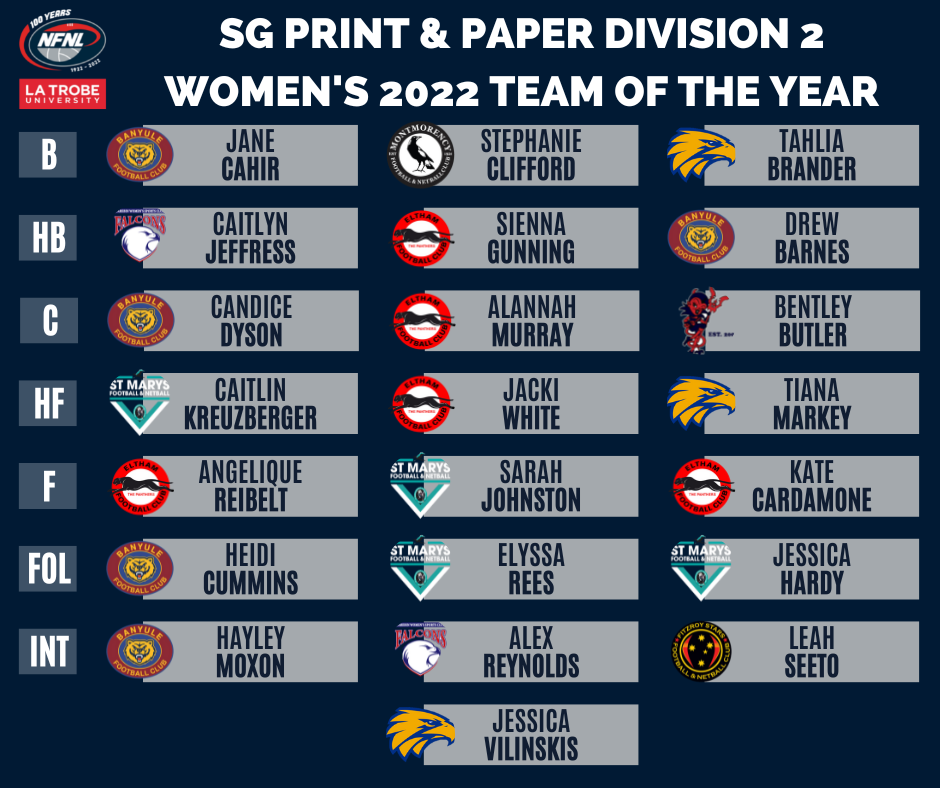 CLEANING MELBOURNE DIVISION 3 WOMEN'S
Again, all six sides that competed in the Cleaning Melbourne Division 3 competition have at least one representative in the Team of the Year.
The top-two sides, Hurstbridge and Mernda, are well represented, combining to have 10 players named in the team.
Conceding just 41 points for the season, the Demons have three players selected in the back six while the Bridges, who were the highest scoring side this year, have three members named in the forward 50.
West Preston-Lakeside have four players selected in the final 22 meanwhile both Laurimar and Wallan have three members named. Heidelberg has one player represented.